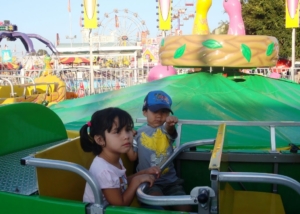 My son and his cousin
Vamos a la feria! Sunday nights are PERFECT for a trip to the OC Fair. This is our second year attending and as last year, it provided for a fun getaway. We park at the Experian lot and save ourselves the $7 parking fee. It takes about 10 minutes (maybe less) to get to the fairgrounds and the bus drops us off right at the yellow entrance. Last year we were shuttled over there via yellow school buses. This year, it was air-conditioned buses with cushy seats. We had the funnest bus driver, Suzanne, too. She made the trip back to our car as eventful as our visit to the fair.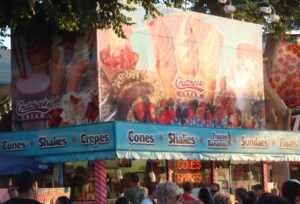 Crutchees Ice Cream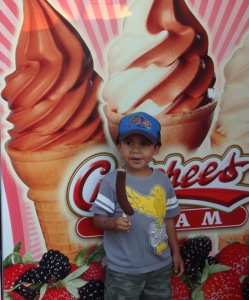 Chocolate covered banana from Crutchees
We make it a point to take two visits to the fair so that we don't feel rushed and overwhelmed with everything. There is A LOT to see and do and tugging along a 3.5 year old and carrying around a 2 month old isn't exactly a winning combination when it comes to experiencing everything that the OC Fair has to offer.
Our formula for a fun evening goes like this: Enter through the blue entrance (closest to Fair Drive), walk through the different spots that vendors have set up, go to Kidland and ride a few rides, grab a delicious snack and then visit a few more vendors and exhibits. We end up at the yellow entrance and exit through there.
This year, we stopped at Crutchees Cream for a chocolate dipped banana, strawberry sundae, ice cream cone and strawberry shake – grand total of $19.25. It was very delicioso! It can get pretty overwhelming though when it comes to choosing where you're going to eat. I chose Crutchees because of the pretty colors (no, I'm not joking).
Though there is a $11 admission fee to the fair, there are plenty of admission discounts which you can take advantage of until August 15th, when it bids "adios" and moves on. Get out there and diviertete!
This is not a sponsored post. I received complimentary tickets, food vouchers and ride tickets to experience the OC Fair this year. All thoughts and opinions remain my own.
Originally published on August 2, 2011. Last Updated on July 26, 2017 by Pattie Cordova