Holidays
5 Must Have Items for Visiting Relatives
[disclaim]This is part of a compensated campaign with Latina Mom Bloggers and Huggies. However, all opinions expressed are my own.[/disclaim]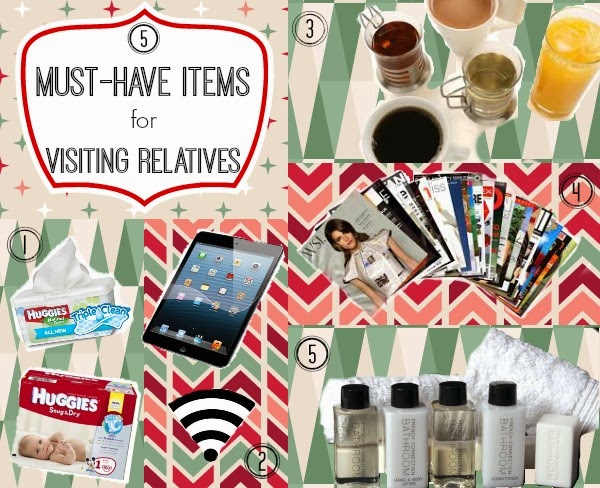 The holidays are here. They are HERE! So now is the time when I start bringing out all the good stuff because we have people coming through our home visiting, staying with us, saying "hi", etcetera.
Though my home isn't absolutely perfect, there are a five must-have items in our home for visiting relatives that I'm sure will be must-haves for you too.
Diaper station
New parents carry diapers and wipes with them everywhere. Even so, it's nice to have something set up for them so that parents don't feel like they're being put out when visiting a baby-less home. Place everything together in a nice basket for easy access and place in restroom. Bonus points for grabbing Huggies Snug & Dry Diapers with New SureFit Design and Huggies Natural Care Wipes with New Triple Clean Layers! Those are my fave and always affordable.

Computer and tablet station with Wifi
Check your WiFi passwords and make them easily accessible for visitors by printing them out and placing them around the home for easy access. Life goes on even when on vacation, and I'm sure your visitors will want to check emails, catch up on their favorite shows and other digital tasks when they're away from home.
Beverages – and lots of them
The rule of asking visitors if they would like a beverage is one that you will ask many times. Make it a very pleasant visit by having an array of hot and cold beverages at their disposal. Add some syrups and whipped creams to your offerings and have your relatives and visitors customize their drinks.
Magazines and assorted reading materials
It's nice for visitors to just come and hang out at your home. Not every moment needs to be filled with conversation. So it's nice to have some magazines and random reading material at hand. Load up on an assortment of magazines then donate them to a waiting room after the holidays.
Quality toiletries
I've said it once and I'll say it again. When I visit a hotel I can feel how much thought they put into their guests by the brand of toiletries that they offer. Same can be said for houseguests. It's nice to splurge on a few new sets of mini body washes, shampoos, lotions and so on. Get at least one set that has a masculine smell so even the guys get pampered.
I love the holidays and I love for my guests to feel as though I've put thought into their visits. The five must-have items listed above are inexpensive, thoughtful and will make your visitors feel loved.
Don't forget to grab a pack of Huggies Snug & Dry Diapers with New SureFit Design and Huggies Natural Care Wipes with New Triple Clean Layers and join Zuleyka as she puts Huggies to the test. Zuleyka and her baby, Sebastian are sharing their parenting struggles and wins every month and can be viewed on the Huggies Latino Facebook page.

[disclaim]This is part of a compensated campaign with Latina Mom Bloggers and Huggies.  However, all opinions expressed are my own.[/disclaim]
Originally published on November 27, 2013. Last Updated on January 10, 2019 by Pattie Cordova