Holidays
Mother's Day Weekend Guide List
If you are in need of ideas how to celebrate this Mother's Day weekend. Here is some finds throughout the OC that Mama will enjoy!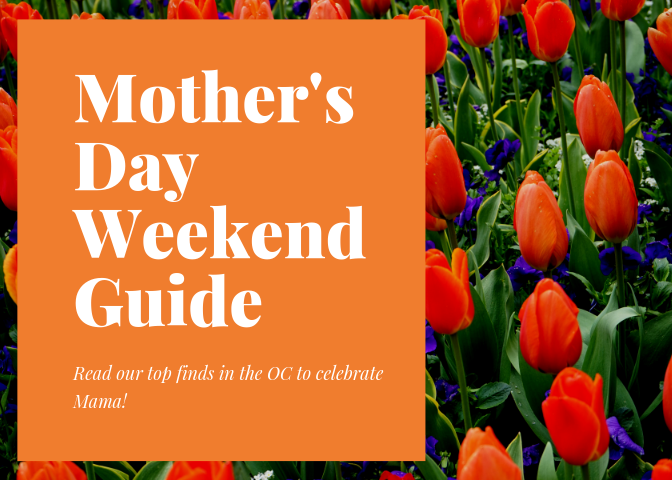 Mother's Day Weekend Guide List
Events
1. Pirate's Dinner Adventure-Buena Park
Take your mam to celebrate with a Dinner Theatre show of the Legend of the Lochness Monster. Moms gets in free with a paid adult admission. There is an upgrade to a Mother's Day packet for extra goodies for Mama to enjoy.
Showtimes:
May 11th 6 & 8:30 p.m
May 12th 5:30 & 8:30 p.m.
May 13th 4 & 7 p.m.
Adult: $36.95;
Kids (3-11): $26.95;
Mother's Day Package: Additional $20;
7600 Beach Blvd.
Buena Park
714-690-1497
Reservations Required
2. Mother's Day Coastal Cruise- Dana Point
Take your mom on a 2 hour coastal cruise along the coastline of Laguna Beach. Champagne, fresh seasonal fruit, juices, pastries, and muffins will be served.
Dana Wharf Sportfishing
34675 Golden Lantern
Dana Point, CA
949-496-5794 ext .7
3. Mother's Day Celebration at Pretend City – Celebrate moms everywhere with a special day at Pretend City. Treat her with our mommy and me activities, games, and art projects!
Saturday, May 11 10am-5pm
Pretend City
29 Hubble
Irvine, CA
4. Rose Garden Tour- Give mom a tour of these enchanting gardens of four unique and innovative private gardens in south Orange County.
28987 Jaeger Drive, Laguna Niguel
19231 Jasper Hill Road, Trabuco Canyon
949-837-2141
Purchase tickets in advanced at http://www.rosesrosesroses.org/gardentour2019.php
*No children under 6 or strollers.
5. The Improv-Brea
A comedy show date night is a great treat for Mom.
Catch Rob Schneider at the Brea Improv.
Various showtimes.
Brea Improv,
120 S. Brea Blvd., Brea.
714-482-0700.
Admission $15;
18 and over.
"Letters from a Nut"
Irvine Improv,
71 Fortune Drive, Irvine.
Admission $30
21 and over. 949-854-5455.
6. Gondola Beach Cruise- Newport Beach
Cruise your mom on a gondola beach cruise around Newport Beach. It's a special treat for that special woman in your life.
May 12th , 2019
200 Bayside Drive
Newport Beach, CA
Reservations Required
949-646-2067
Dining
7. Moms in the World Celebrate- Black Angus-Fountain Valley
May 10th 3pm-1pm
Start your 3 day Mother's Day celebration at Black Angus!
8. "Wine and Seafood Dinner" Chapter One: The Modern Local- Santa Ana
May 10th 7pm-9pm
Celebrate Mom with a 5 course dinner of seafood paired with five delicious summer wines! $75 pp
9. TAPS Fish House & Brewery-Brea
May 11th 9am-3pm
Enjoy delicious buffet options, including free-flowing champagne!
10. Mother's Day Champagne Brunch- Dana Point
May 12th, 2019 10am-2pm
Celebrate Mom with an ocean view Champagne Brunch! Omelet station, velvet cheese blintzes with a mixed berry compote, eggs benedict, carvery station, gourmet mac and cheese made to order, display of smoked fish and Bustamante's Chocolate fountains plus other desserts will be some of the items available. Arts and craft for children will also be provided.
Adults: $65 pp
Children (ages 5-12): $30 pp
Bottomless Champagne: Additional $15.00 pp
Tax and gratuity not included
Laguna Cliffs Marriott Vue Restaurant
25135 Park Lantern
Dana Point, CA
949-487-7577
11. Old World German Restaurant Mother's Day Brunch – Huntington Beach
Sunday, May 12, 2019
All You Can Eat Mother's Day Brunch with Unlimited Champagne Coffee & OJ. Enjoy Scrambled Eggs, Bacon, Ham, Sausage, Bratwurst, Carving Station with Roast Beef, Roasted Pork, In-House Smoked Pork Loin, Cheese Tortellini, Cheese Ravioli, Fried Potatoes, Mac & Cheese, Roasted Vegetables, Fried Potato's Waffle Bar, and European Deli Cold Cuts with assorted Mustards, Imported Cheeses, Salad Bar, Pastry, Danish, Rolls & Bread, and Fresh Fruit.
10am-3pm
Adults (13-64yrs old): $39.95 pp
Seniors (65+ yrs old): $32.95 pp
Children (ages 4-12): $16.95 pp
Kids (under 3 yrs old): FREE
7561 Center Avenue, #49
Huntington Beach, CA
714-895-8020
12. Orange County Mining Co. Mother's Day Buffets
May 11-12, 2019
9am-3pm
May 11th, 2019
Pre-Mother's Day Saturday Brunch includes a traditional Champagne brunch serving from 9:00 am to 3:00 pm.
May 12th, 2019
They will be serving a Sunday brunch as well as a special Mother's Day dinner.
The combination of well prepared foods with the unique decor makes the Orange County Mining Company a truly enjoyable experience with family and friends.
10000 Crawford Canyon Rd.
Orange, CA 92705
714-997-7411
13. Bowers Museum Mother's Day Buffet at Tangata
Sunday May 12, 2019
11am-3pm
Celebrate Mom on her special day with a brunch at Tangata! Located in the Bowers museum's Mission-style courtyard, the 160-seat restaurant is offering a menu crafted with Mom in mind by Executive Chef Brian Kiepler, including homemade assorted pastries, Shrimp Tostada, and Chef's selection of petit fours.-
Bowers Museum-
Tangata
2002 N. Main St.
Santa Ana, CA 92706
14. Pelican Hill's Resort Alfresco Dining- Newport Beach
Sunday, May 12
7am-10pm
22701 S. Pelican Hill Rd.
Newport Beach Coast, CA
15. Mother's Day Breakfast & Lunch at Eat Street Kitchen-Mission Viejo
Sunday, May 12, 2019
7am-4pm
Take Mom for a Mother's Day eat street kitchen.
No reservations required.
16. Mother's Day Brunch at Catal Mediterranean Grill-Anaheim
Downtown Disney
1580 S. Disneyland Drive, Anaheim
Sunday, May 12, 2019
8am-3pm
17. Mozambique Steakhouse- Laguna Beach
May 11-12th
10am-4pm
This weekend celebrate a brunch with amazing ocean view and jazzy tunes. There is indoor and outdoor spaces to dine.
1740 S. Coast Hwy.
Laguna Beach, CA 92651
18. Gratitude Kitchen & Bar- Newport Beach
This vegan brunch offers a yummy dining experienced completely plant-based. Fresh-pressed juices are utilized in a mimosa flight! Yum!
1617 Westcliff Drive
Newport Beach, CA 92660
949-386-8100
19. Javier's- Newport Beach
Enjoy some huevos rancheros, chilaquiles verdes, or Machaca along with your favorite margaritas which include pina and jalapeno.
7832 E. Coast Hwy
Newport Beach, CA 92657
949-494-1239
20. Habana- Irvine Spectrum
Enjoy some Cuban cuisine with your Mama. Mama will enjoy their specialty cocktails and famous Latino favorite dishes.
708 Spectrum Center Drive
Irvine, CA 92612
Originally published on May 9, 2019. Last Updated on May 9, 2019 by Pattie Cordova