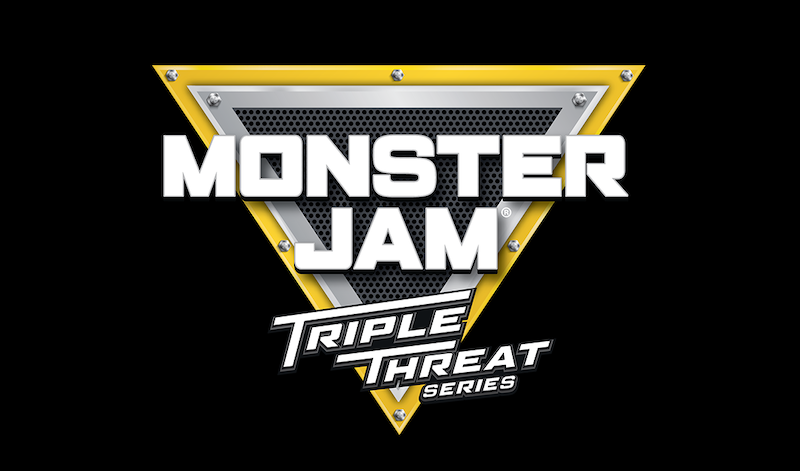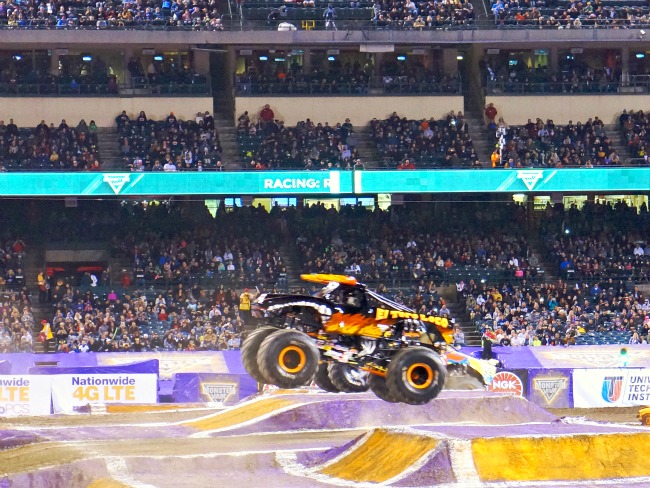 Monster trucks, loud noises, and cotton candy? Sign us up. Monster Jam brings us Monster Jam Triple Threat in Downtown Los Angeles this year. This all-new show features monster trucks, speedsters and ATV's, and it's all at the STAPLES CENTER. If it was already a crazy adrenaline packed show with only trucks, Triple Threat will blow your mind. Monster Jam is crazy loud fun. If you don't lose your voice the following day, you didn't do Monster Jam right.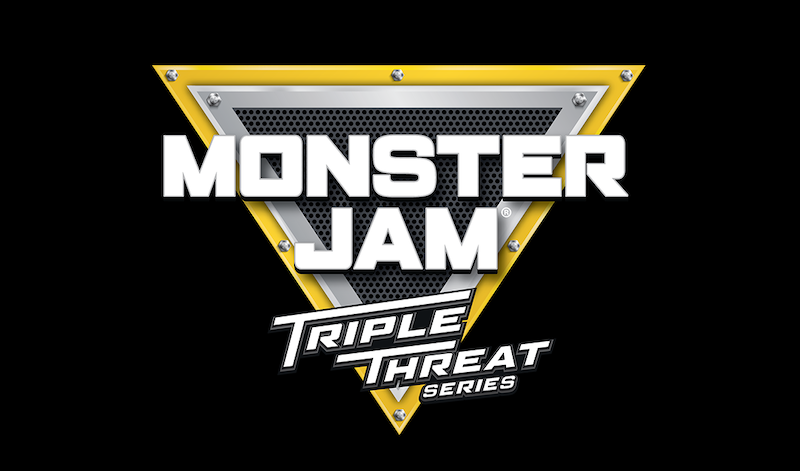 Once Monster Jam starts, the engine revving is non-stop. Make sure to bring ear plugs or earmuffs for the kids. I found that they enjoy it better with the sound muffled. Since Monster Jam is a competition there are races, stunt competition and freestyle. After each event the crowd's pick is decided by a Cheer-o-Meter. The audience participation is part the fun of Monster Jam. Freestyle was the craziest and funnest part of Monster Jam. Every truck is given a set time to do stunts. Some trucks took the safe route of jumps and spins while others took the dare. They used the huge ramp to do 360 flips. It was awesome!!! Read our article on our best Monster Jam tips to get a feel for what you need to pack (and what to leave at home).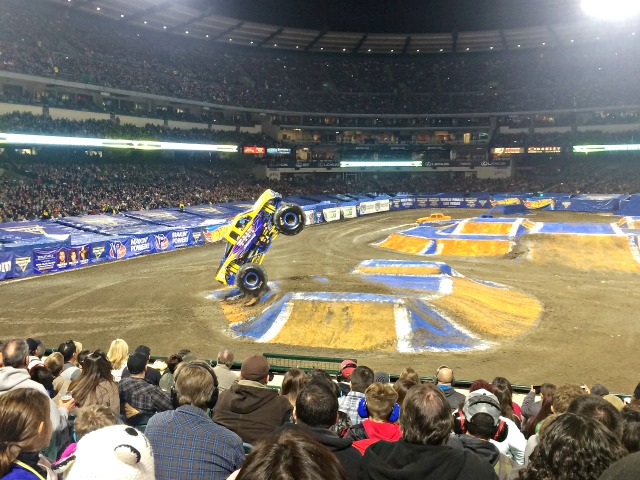 Unlike other Monster Jam events seen in SoCal/Anaheim before, the Monster Jam Triple Threat Series features eight of the most intense Monster Jam athletes in a fierce battle for the championship that tests the versatility and endurance of the athletes as they go head-to-head in a points-based format with seven different competitions driving three customized high-powered vehicles:  the larger-than-life 12,000 lb. Monster Jam trucks, Monster Jam Speedsters and Monster Jam ATVs.  These extreme athletes battle for points in challenging Racing and Freestyle events that push themselves and their machines to the limit – delivering what fans want to see the most… more trucks, more racing, more freestyle, more donuts, more wheelies, more action!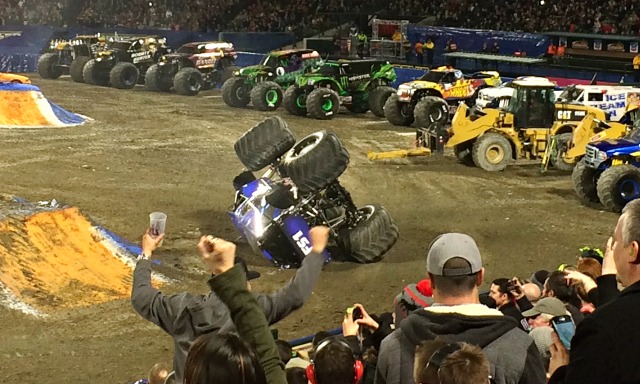 Monster Jam: Triple Threat —- Show and Ticket Information
After packed-crowd season of Monster Jamstadium events at Angel Stadium earlier this year, Monster Jam Triple Threat Series™ will be revving through Downtown Los Angeles with another action-packed weekend of indoor arena events at STAPLES Center that will keep motorsport fans on the edge of their seats with adrenaline-charged, high-flying, four-wheel excitement that is fun for the entire family!  New this year as a special fan bonus during Freestyle driving segments, one Monster Jam truck/driver will be attempting SoCal's FIRST-EVER Monster Jam indoor arena-based truck back flip stunt!
Staple Center
1111 S. Figueroa St., Los Angeles, CA.

Friday, July 12th at 7:30 pm
Saturday, July 13th at 1:00 pm
Saturday, July 13th at 7:00 pm
Sunday, July 14th at 1:00 pm
Sunday, July 14th at 7:00 pm
Competitors
Monster Jam Triple Threat Series world-class athletes vying to become champions will be:
Grave Digger driven by Tyler Menninga  (2017 Triple Threat East Series champ)
Max-D driven by Colton Eichelberger
El Toro Loco driven by Armando Castro (local Whittier hometown driver)
Soldier Fortune Black Ops driven by Tony Ochs
Scooby-Doo driven by Myranda Cozad
Megalodon driven by Austin Minton
Zombie driven by Bari Musawwir
Monster Mutt driven by Tanner Root (2019 season rookie)
*Line-up subject to change
Tickets
Prices start from $25 for Adults; Kids (age 2-12) tickets plus processing fee. Kids 2 and younger free on parents lap.
All seats are reserved; Monster Jam Triple Threat Series tickets are available for purchase online at Staples Center or in-person at the Staple Center box office.
**Tickets may be subject to service, convenience and handling fees.
Online Deals & Coupons
Groupon has a great deal on Monster Jam: Triple Threat Series tickets. Regularly priced tickets at $40.50 now at $28, that's a 31% savings. Check deal for fine print and seating options.
Originally published on June 15, 2019. Last Updated on July 9, 2019 by Pattie Cordova