We had the most wonderful time at Monster Jam at Anaheim Stadium last night.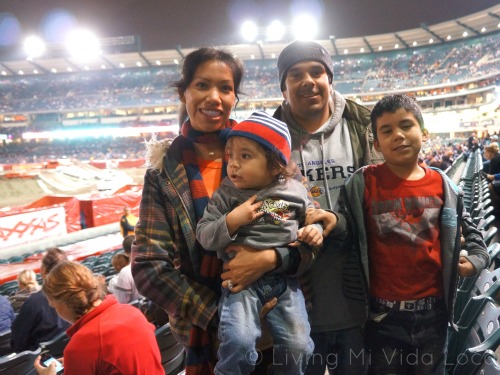 We got there around 6 p.m. and noticed that the parking lot was already full. As it turns out, it's a "thing" to get together with other monster truck fans and tailgate before the event. We walked through the parking lot and I can already tell you that we'll be doing that next year.
I had my hair up in a pony tail with the full intention of it frizzing out during/after the rain – but it never came! We were super lucky and enjoyed the entire show without so much as a drop on our heads.
I highly recommend bringing out the family for the next Monster Jam show at Anaheim Stadium or to another show near you. It's two and a half hours of fun monster truck competitions, lots of screaming fans and maybe an over-turned truck or two.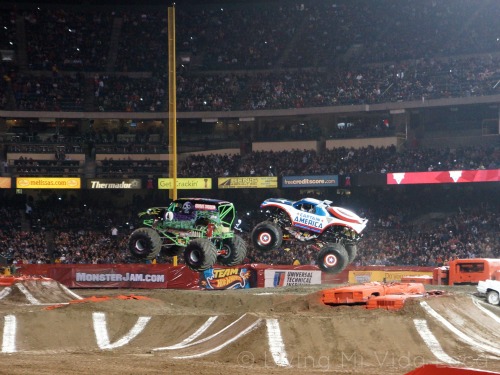 And remember how I was telling you that it was my youngest's first time attending the show? Well, I wish I had left him at home. It wasn't the show, but it was the fact that he couldn't sit through the entire event. He lasted a few races (about a half hour), and then spent most of the time bouncing from lap to lap. Thankfully, kids under 2 are free!
Anyhow, I still stand by the fact that Monster Jam is A LOT of fun for the whole family. It's very kid-friendly, there is a lot of excitement and every show will give you a different experience. Don't forget to look over these Monster Jam tips and make the most of your experience.
Follow Monster Jam online
facebook // https://www.facebook.com/mjonline
twitter // https://twitter.com/monsterjam
instagram // http://instagram.com/monsterjamlive/
For more information on all Southern California dates and updates log onto http://www.MonsterJam.com.
[disclaim]This is not a sponsored post. I received media tickets to experience this event. All thoughts and opinions remain my own.[/disclaim]
Originally published on January 27, 2013. Last Updated on January 2, 2019 by Pattie Cordova