Remember reading Matilda by Roald Dahl and then watching the film later? Well… now you can take the chiclets to see the musical too!!! Matilda the Musical is playing now at Segerstrom Center for the Arts in Costa Mesa. I'm super excited to be taking the nine year old to see it because he's a fan of the film and the book, and Segerstrom Center is the perfect kid-friendly venue to enjoy the musical.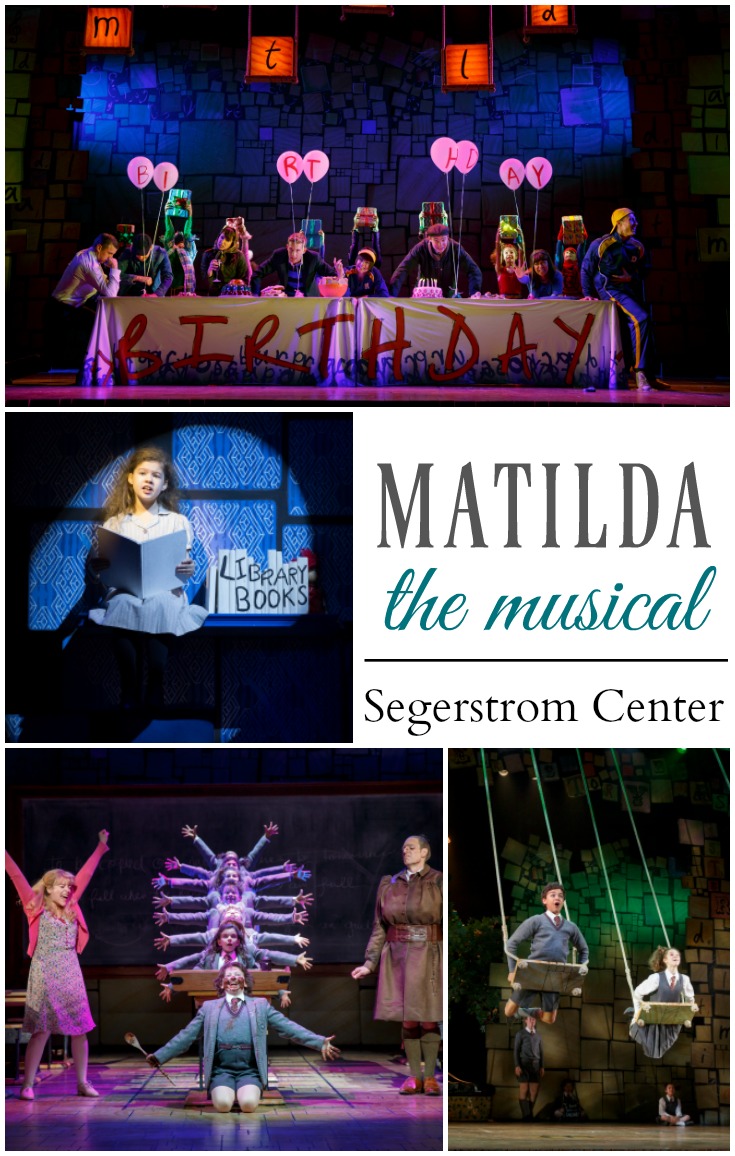 Matilda the Musical at Segerstrom Center
TIME Magazine's #1 Show of the Year, MATILDA THE MUSICAL, is coming to Orange County as part of Segerstrom Center for the Arts 2016-17 Broadway Series. Produced by the Royal Shakespeare Company and the Dodgers, this first national tour of MATILDA THE MUSICAL will be performed in Segerstrom Hall January 17 – 29, 2017. Winner of 70 international awards, including four Tony Awards® and a record-breaking seven Olivier Awards® including Best Musical, MATILDA THE MUSICAL is based on the beloved novel by best-selling author Roald Dahl (Charlie and the Chocolate Factory, Fantastic Mr. Fox). It is the story of an extraordinary girl who dreams of a better life. Armed with a vivid imagination and a sharp mind, Matilda dares to take a stand and change her destiny.
About the Cast of Matilda the Musical
Direct from Toronto, the three girls sharing the title role are Hannah Levinson, Jaime MacLean and Jenna Weir. The principal cast also features (alphabetically): Paula Brancati (Miss Honey), Dan Chameroy (Miss Trunchbull), Keisha T. Fraser (Mrs. Phelps), Brandon McGibbon (Mr. Wormwood) and Darcy Stewart (Mrs. Wormwood).
Ticket Information
Single tickets for Matilda the Musical start at $29 are now available online at SCFTA.org, at the Box Office at 600 Town Center Drive in Costa Mesa or by calling (714) 556-2787. For inquiries about group ticket discounts for 10 or more, call the Group Services office at (714) 755-0236.
Schedule
January 17 – 29, 2017
Tuesday – Friday at 7:30 p.m.
Saturday at 2 p.m. and 7:30 p.m.
Sunday at 1:00 p.m. and 6:30 p.m.
The 2 p.m. performance on Saturday, January 28, 2017 will include audio description, open captioning and sign-language interpretation.
Visit http://www.scfta.org for more information.
Running time
ACT I: 46 minutes
Intermission: 15 minutes
ACT II: 48 minutes
photo credit: Cylla von Tiedemann
Originally published on January 17, 2017. Last Updated on January 2, 2019 by Pattie Cordova