Holidays
Look Good Feel Better launches Live, Streaming Spanish-language "Virtual Workshop"
Look Good Feel Better® is a program dedicated to boosting cancer patients' self-esteem and confidence through lessons on how to manage the appearance-related side effects of cancer treatment. Soon, they will partner with Univision's Lourdes Stephen for a FREE Spanish-language "virtual" workshop.
Ms. Stephen will be joined by beauty experts who will offer instruction, tips and advice – tailored to Latina women – for dealing with hair loss, changes in skin, complexion and nails during your cancer treatment, taken straight from the live LGFB community based group workshop program.
This event is a big deal for the Latino community because breast cancer is the most commonly diagnosed cancer in Latinas, followed by colorectal cancer and thyroid cancer. In fact, 1 in 3 Latinas will be diagnosed with cancer in her lifetime. And even though Latinas have lower breast cancer rates than white women, they are more likely than whites to be diagnosed at a later stage, when the cancer is more advanced and harder to treat.
I invite you to check in on the webinar and listen to some tips on how to look your best, despite going through cancer. Y muchos abrazos if you're currently dealing with it.
WHEN
Wednesday, January 16
2:00 PM – 3:30 PM EST
WHERE
WHO
Lourdes Stephen, host of Univision's Sal y Pimienta
Louanne Roark, Executive Director, Look Good Feel Better
Lilly Rivera, makeup artist, and Petra Belen, hair stylist
Win an Oscar de la Renta Scarf
I am so excited to be giving an Oscar de la Renta scarf to help you look good and feel better. I received a similar one and I'm loving it because the bright colors really help to put a fresh spin on my black trench coat, and it'll look just as good during the Summer.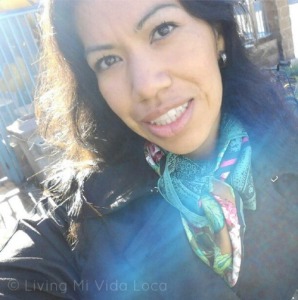 a Rafflecopter giveaway
This is not a sponsored post. I received a similar Oscar de la Renta scarf to enjoy. All thoughts and opinions remain my own.
Originally published on January 15, 2013. Last Updated on January 30, 2015 by Pattie Cordova