There are many toys and products that parents will buy for their babies. Some of them we'll buy just because they're so cute ! But it's even better when said product is not only cute, but it entertains the baby and keeps them happy.
Little Tikes makes this activity walker that fits the bill. It's modeled after the Cozy Coupe that we all know and love. It's the perfect "First Car" for every future Cozy Coupe driver!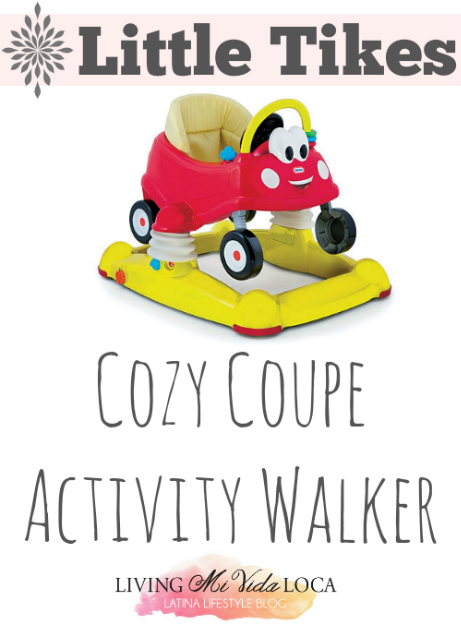 The Cozy Coupe Activity Walker has lots of great features including:
The Iconic Cozy Coupe Activity Walker is perfect for playtime fun and stimulation. It features:
Stationary activity center and lockable bouncing feature
Adjustable height for comfort for your growing infant Steering wheel turns for additional play
Sounds and music on steering wheel for interactive play
Anti-skid pads on bottom for child's safety
Corner exterior bumpers to prevent scuffing walls or furniture
Handles to aid walking child
Play mirror for child's enjoyment
Lockable bounce feature
Easy to clean fabric seating surface
If you have a baby who is in the beginning stages of walking, I invite you to read more about the Little Tikes Cozy Coupe Acitivty Walker. Check out the site and then come back and tell me which of your babies would love the walker.
p.s. If you have an older child, the Little Tikes Cozy Coupe with Trailer might be a great choice for them! Read about ours here: https://livingmividaloca.com/?p=11.
Originally published on July 3, 2014. Last Updated on August 9, 2017 by Pattie Cordova