I am a Brand Ambassadör for IKEA U.S. This ikea kids room ideas is a sponsored post.
Last year I shared our new "American Dream" and I talked about how we were going to decorate our home. And it FINALLY happened (well, one room but hey – progress!) It took me a while to decide that we needed to convert a previous guest room into the chiclet's bedroom. The IKEA kid's room makeover was a weekend project that the Hubster and I pulled together, with the five year old helping too.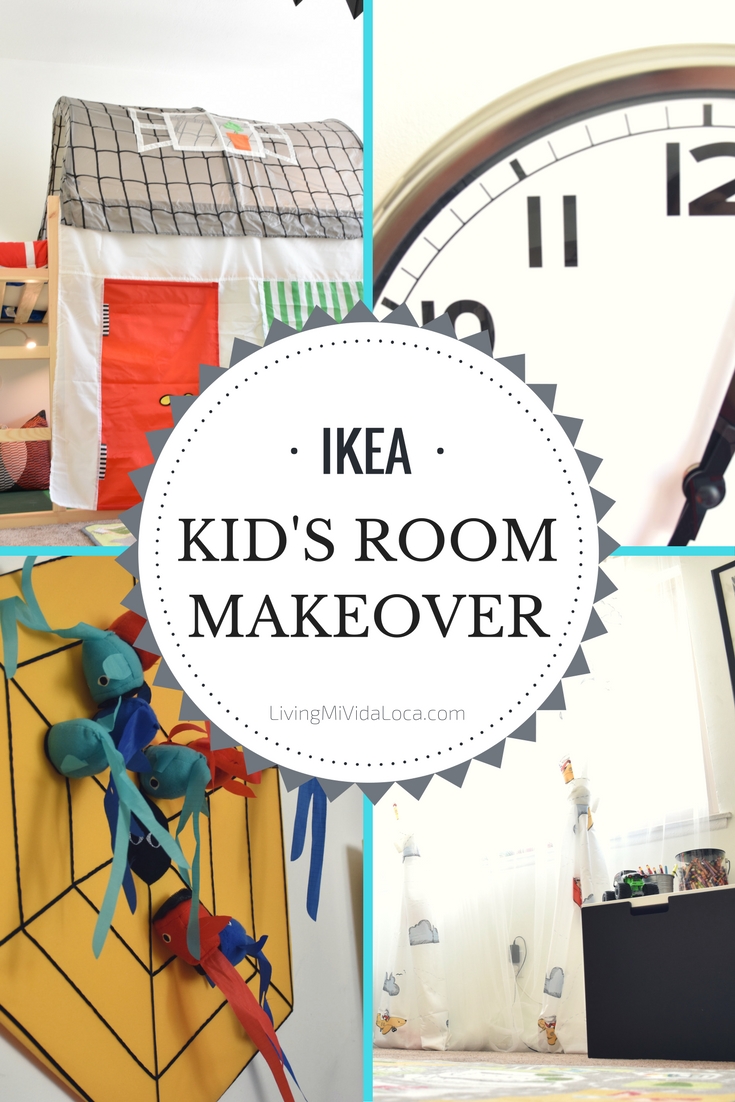 The kid had a hand in putting together his room, from start to finish. He started by browsing the baby & kids section on the IKEA.com website and I let him create a gift guide to make it easy for us to shop. Having a shopping list before visiting the store kind of sped up the process. Of course, we still spent a fair amount of time in the kid's section once we actually got to the store, but in all honesty the majority of it was the chiclets trying out the different room set-ups.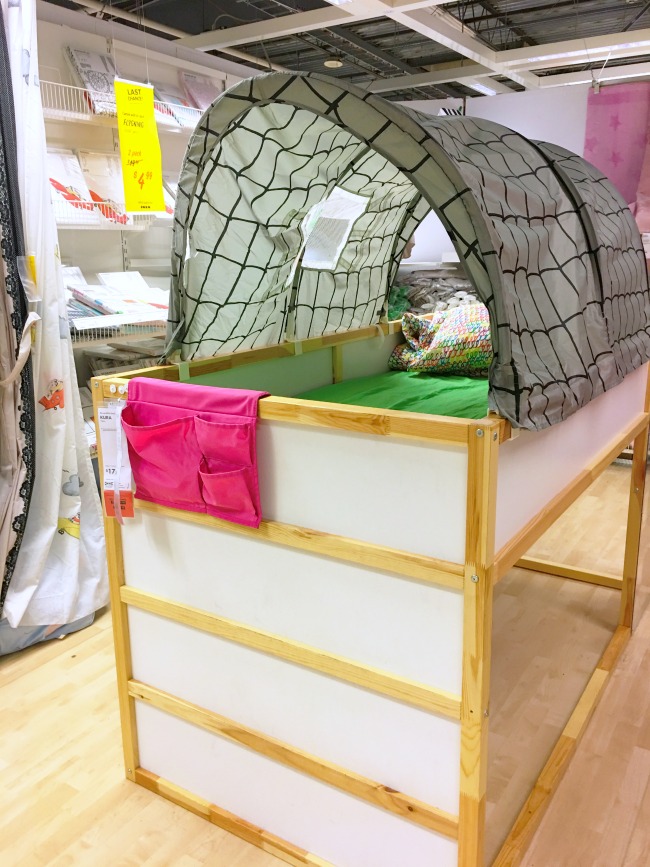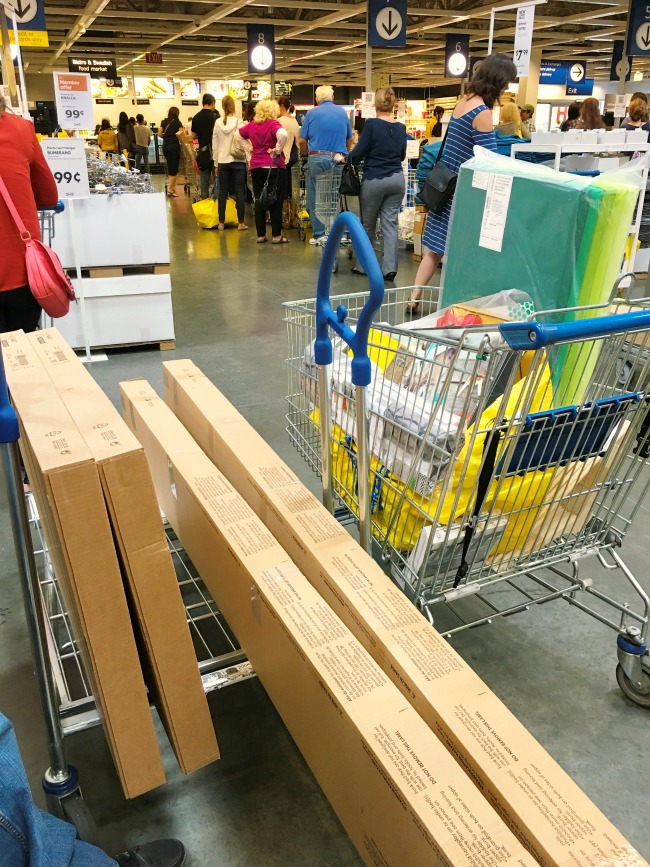 And have I mentioned how much we love the whole IKEA packaging. We fit ALL of it in the car. Well, that was our first trip. We went back the next day to get more accessories because we still had money in our budget and the walls were looking a little bare.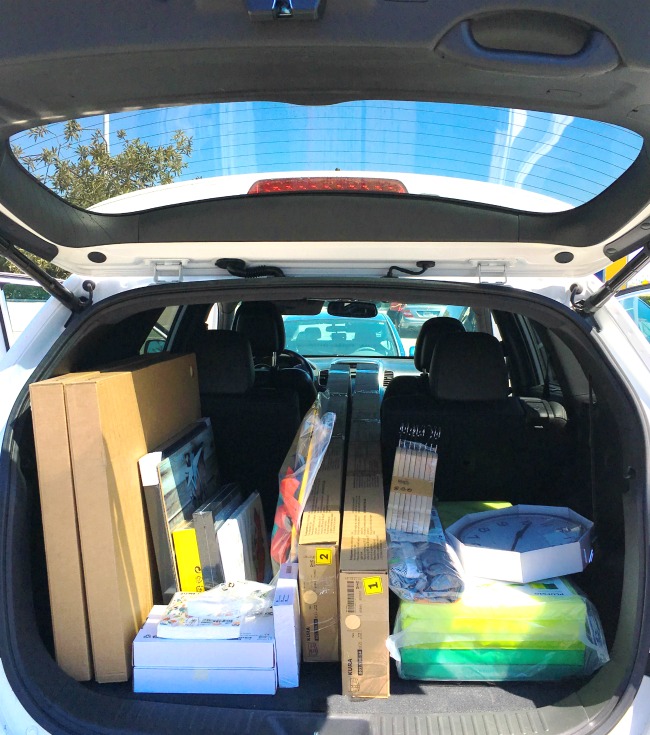 We picked up the furniture and headed home to start building everything. In all honesty, there wasn't that much furniture to put together. The big piece, the KURA reversible bed, was the one that we were the most scared to build. I mean… the kid is going to sleep there! As it turned out, it was way easier than I thought it would be. We put the whole thing together in about two hours (keep in mind, we had a five year old "helping"). He wanted it to be loft style, so he could have room to play underneath. It turned out so cool!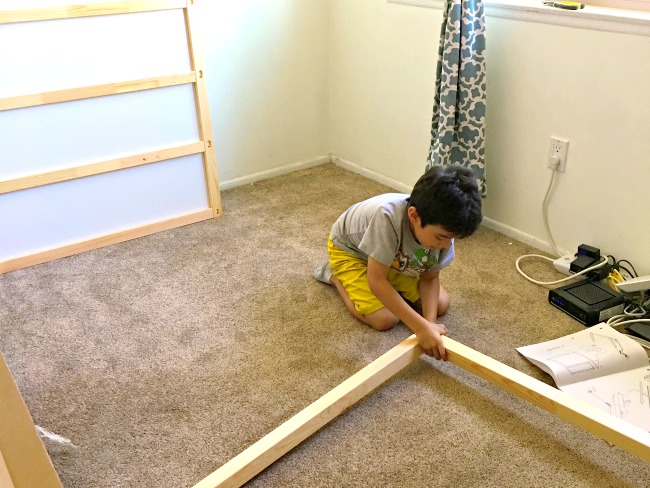 The loft bed is definitely the star of the room. It doubles as a play area underneath while he gets to sleep on the bunk above. He loves the canopy that covers the frame. We were lucky that we didn't have to purchase another mattress. With this type of bed, you need a certain type of mattress (it can't go above a certain height) and we had it from a previous IKEA purchase. Though if you do need to pick it up, it's under $100!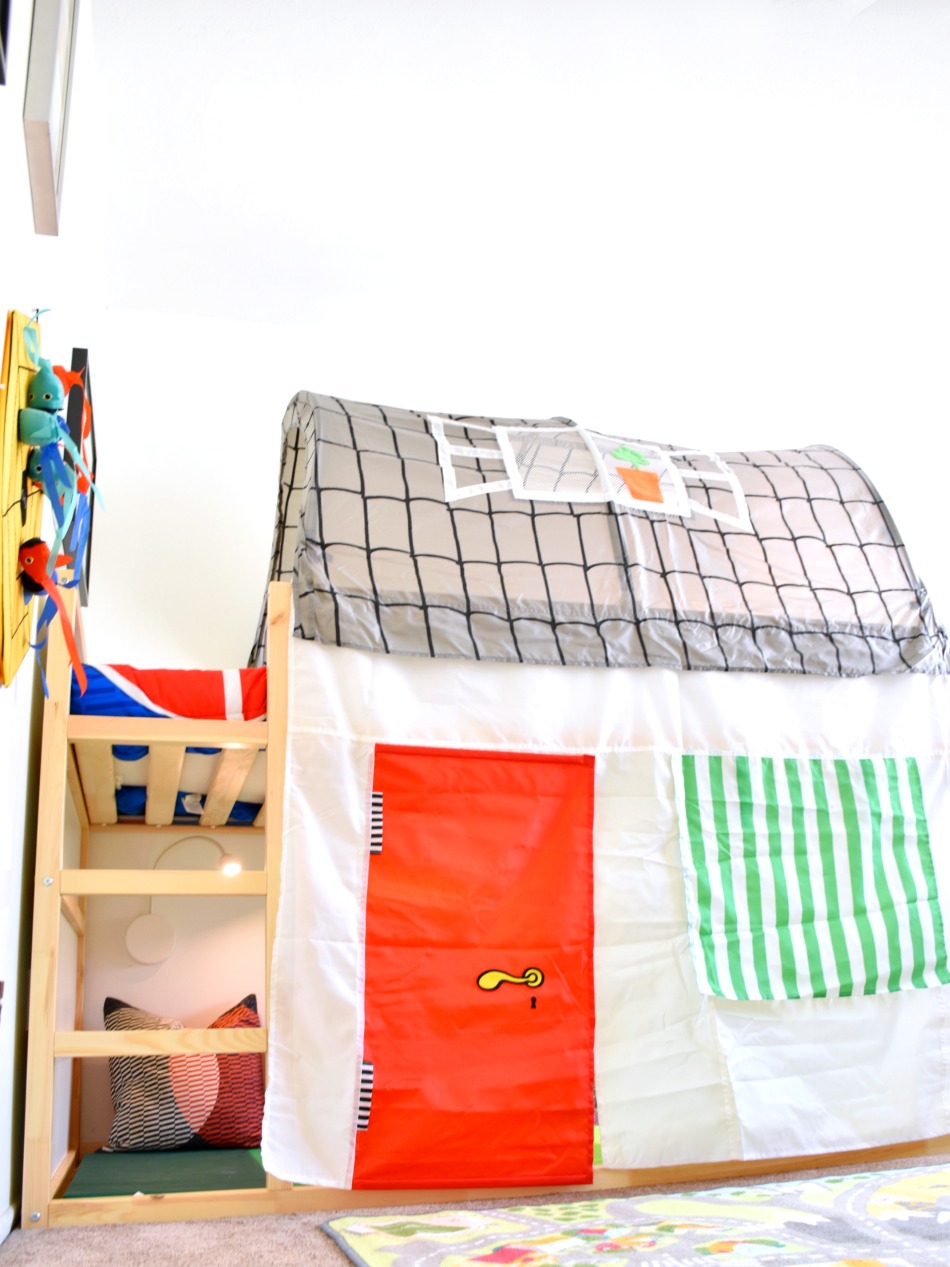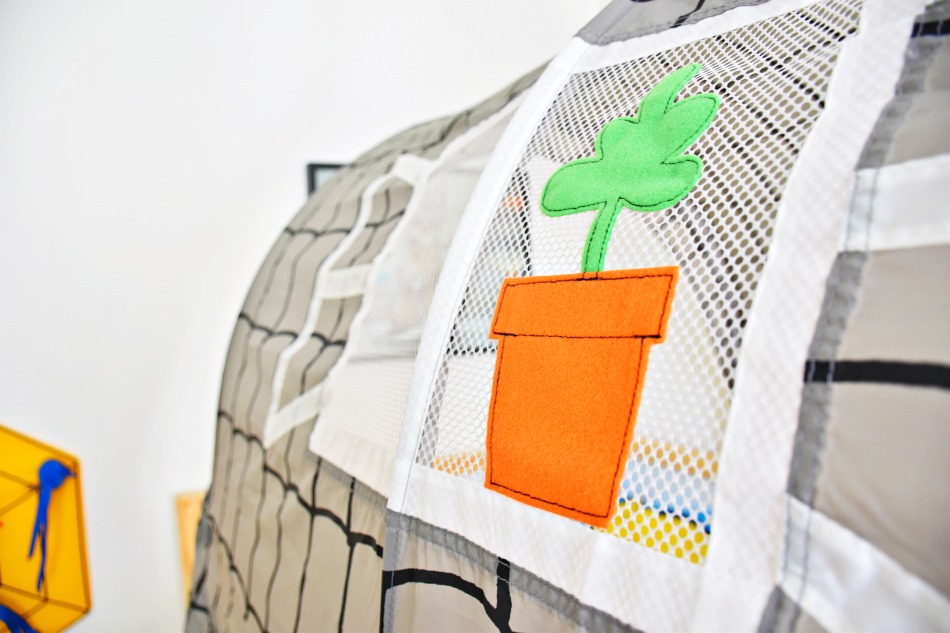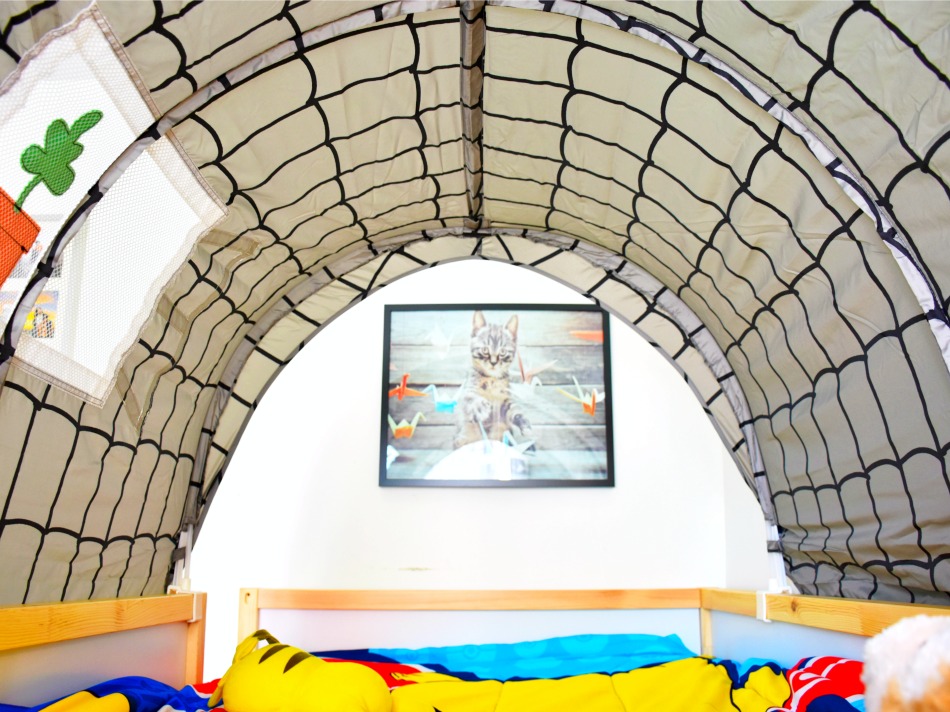 We purchased the KURA bed tent with curtain so he could have a place to read under at night, and then he could use the little cottage set-up for make-believe stories.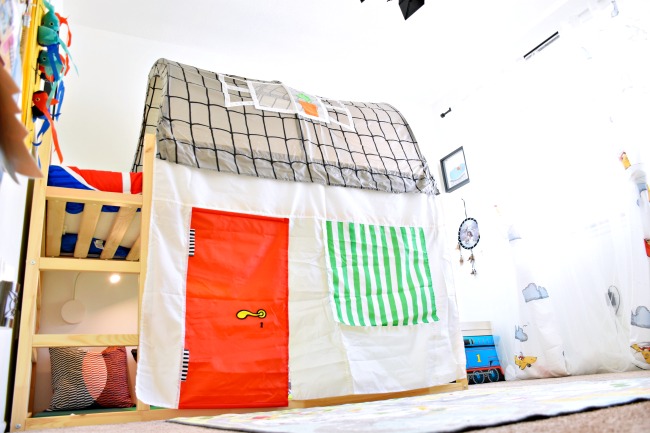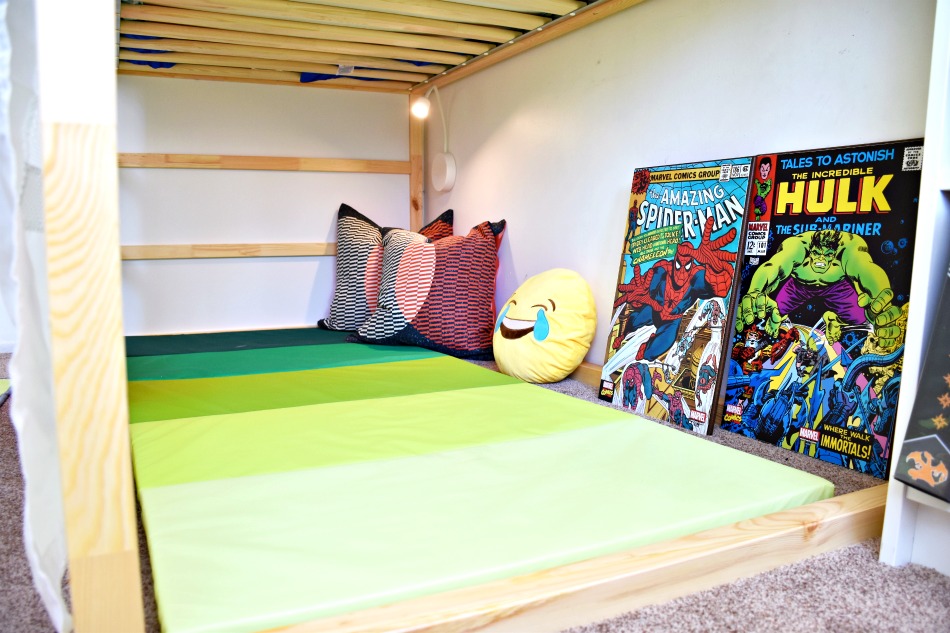 Of course we had to pick up some accessories too, and that was a lot of fun. Once we had the bed set up, everything else fell into place.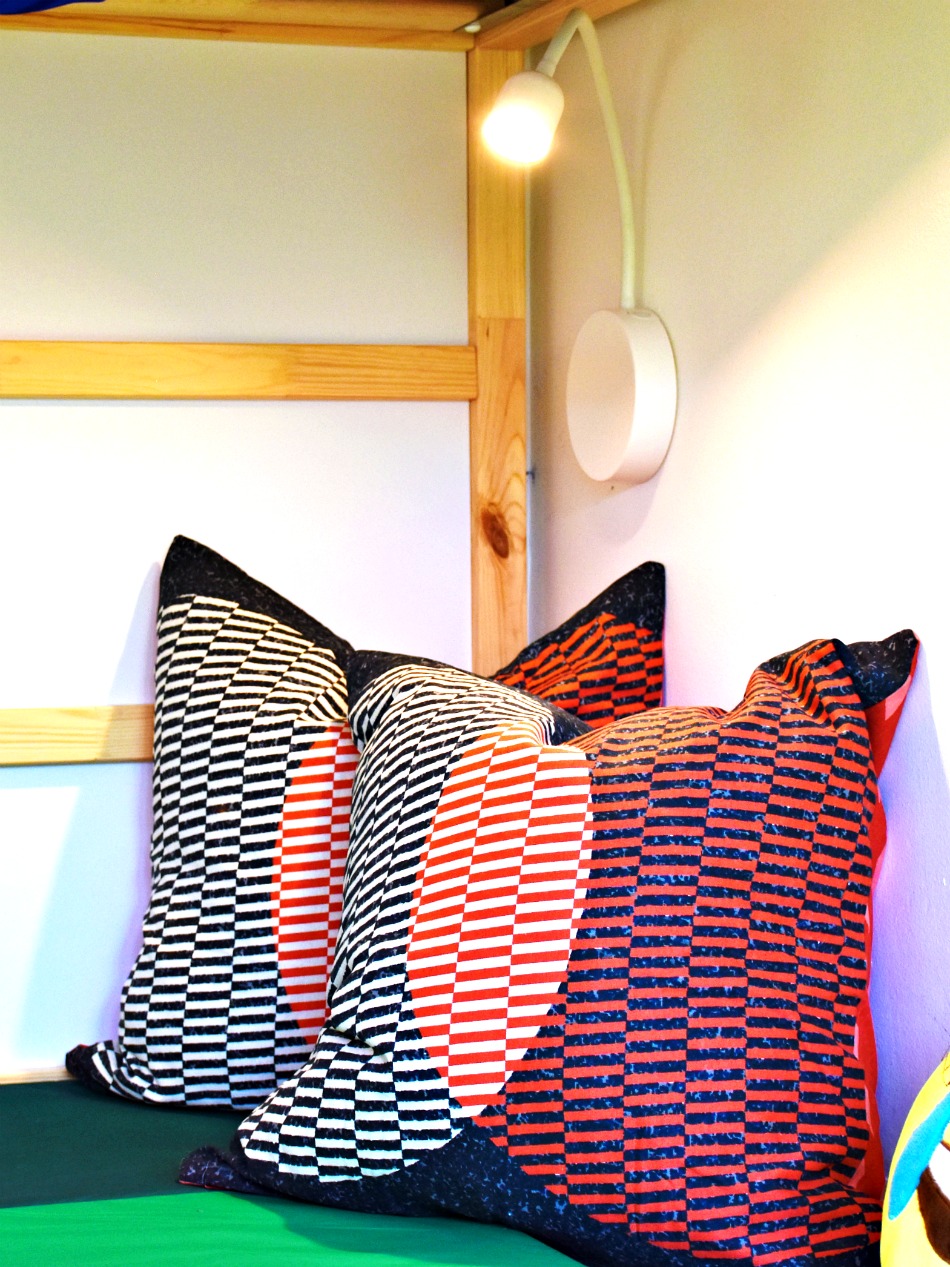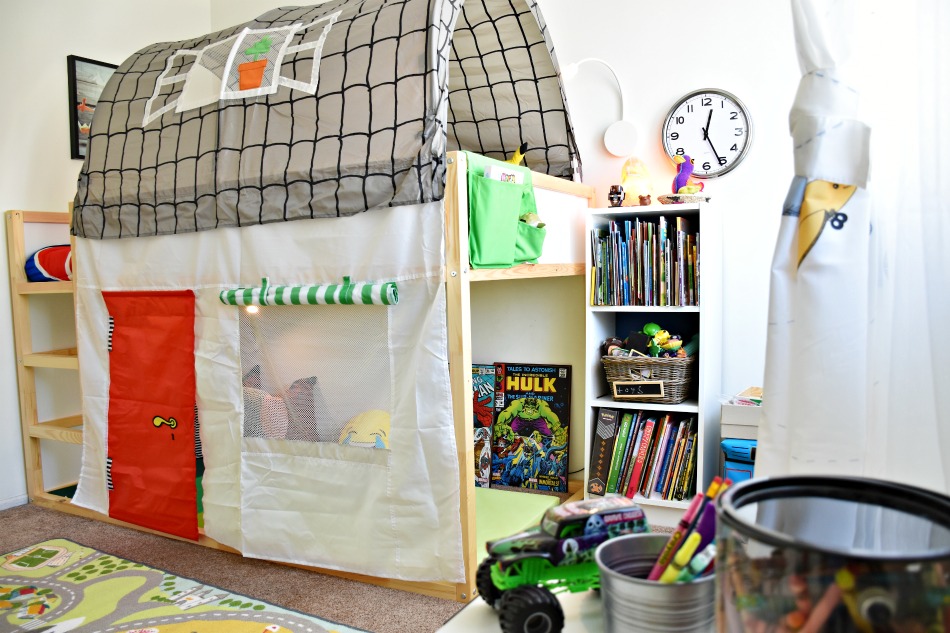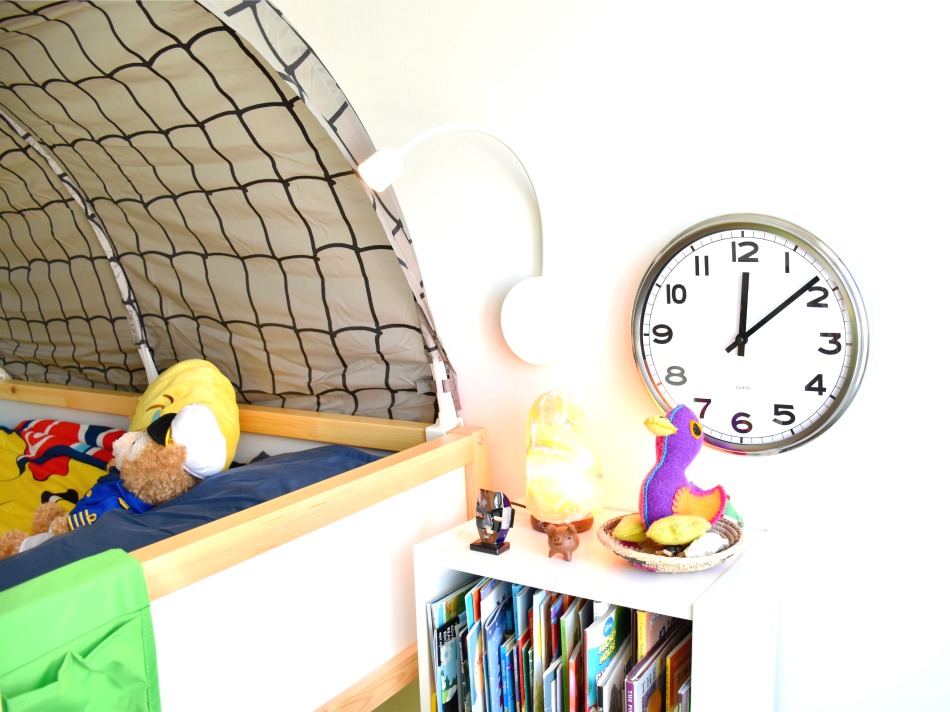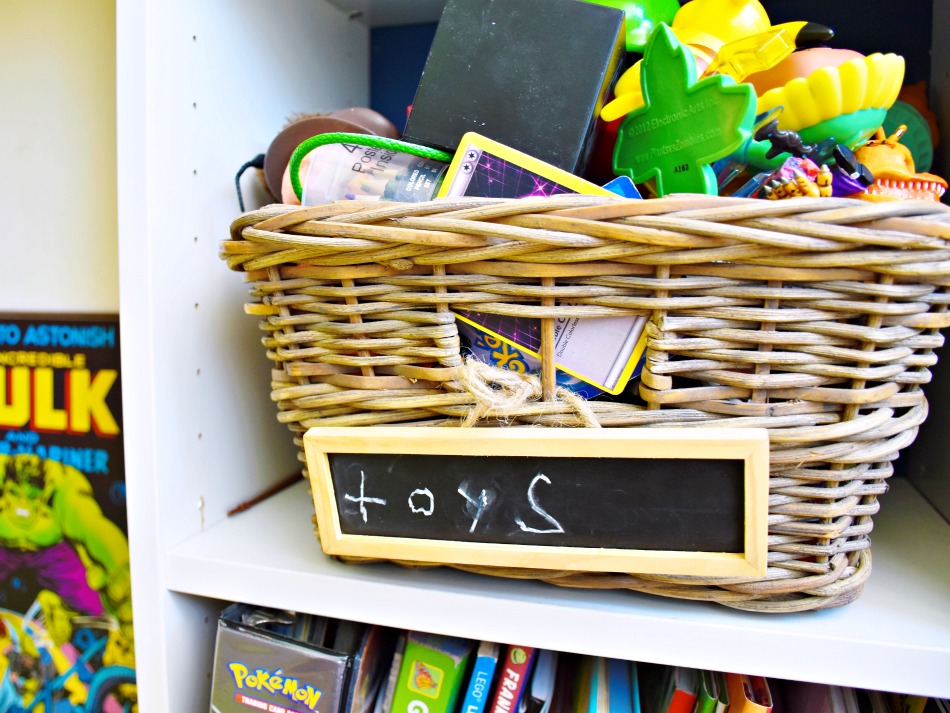 We found a way to incorporate his art into his room by choosing black frames, using clothespins to hang up a few of his favorite things, and then also adding in a cute dart game that he could play with his older brother, or alone.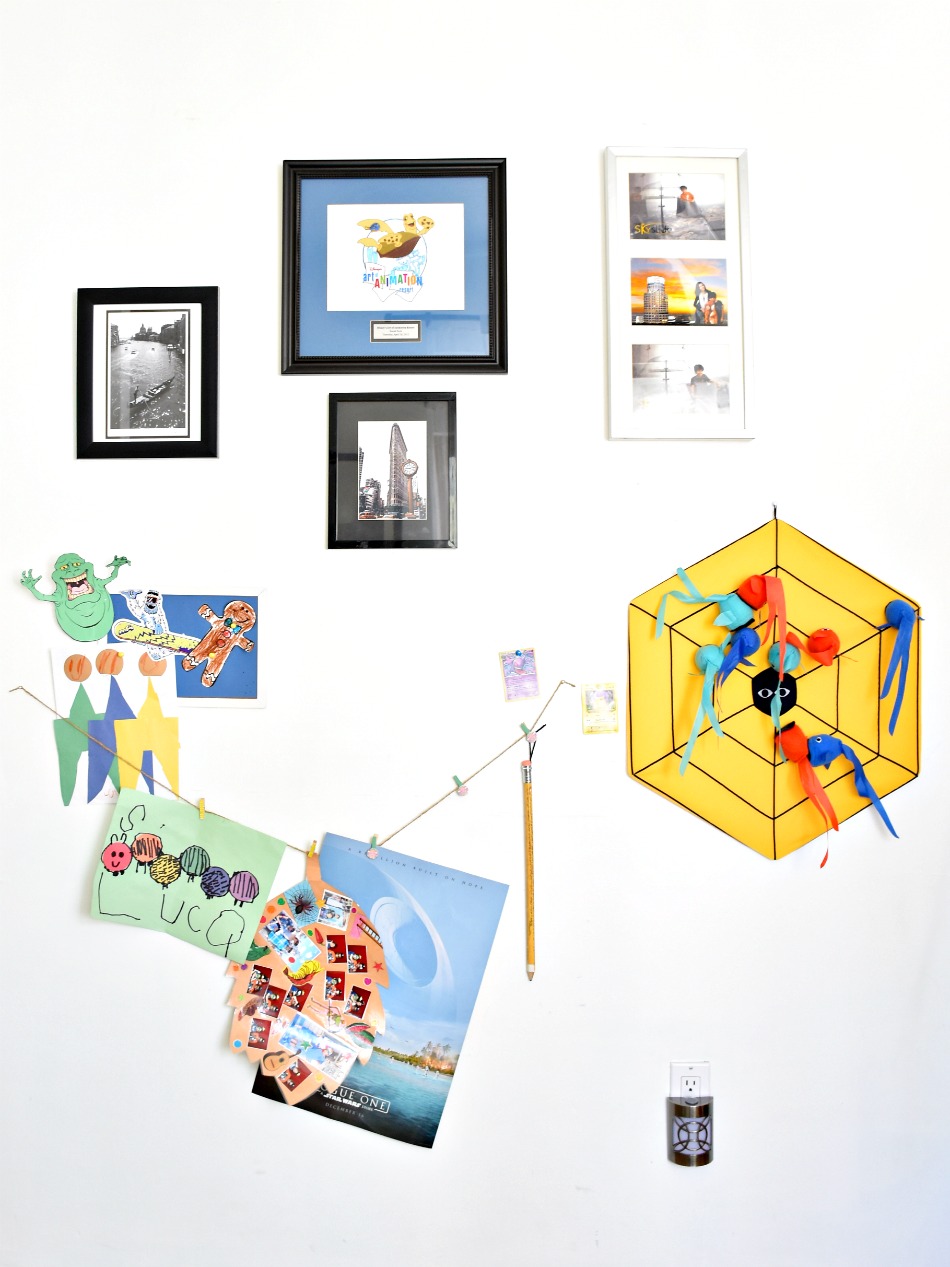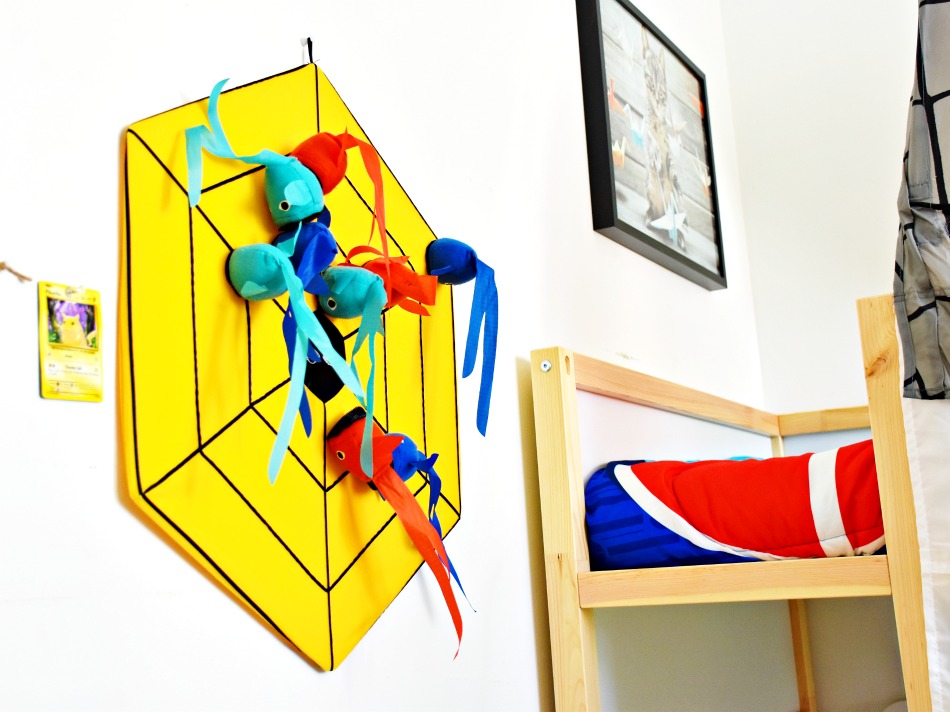 The chiclet also needed space for his clothes, so we picked up two RAST 3-drawer chests because it provides the most flexibility for us. We can put them together, or separate them if we want to move them around. We'll probably end up painting them down the line, but it was way more important that we get it done that weekend so for now, they're good.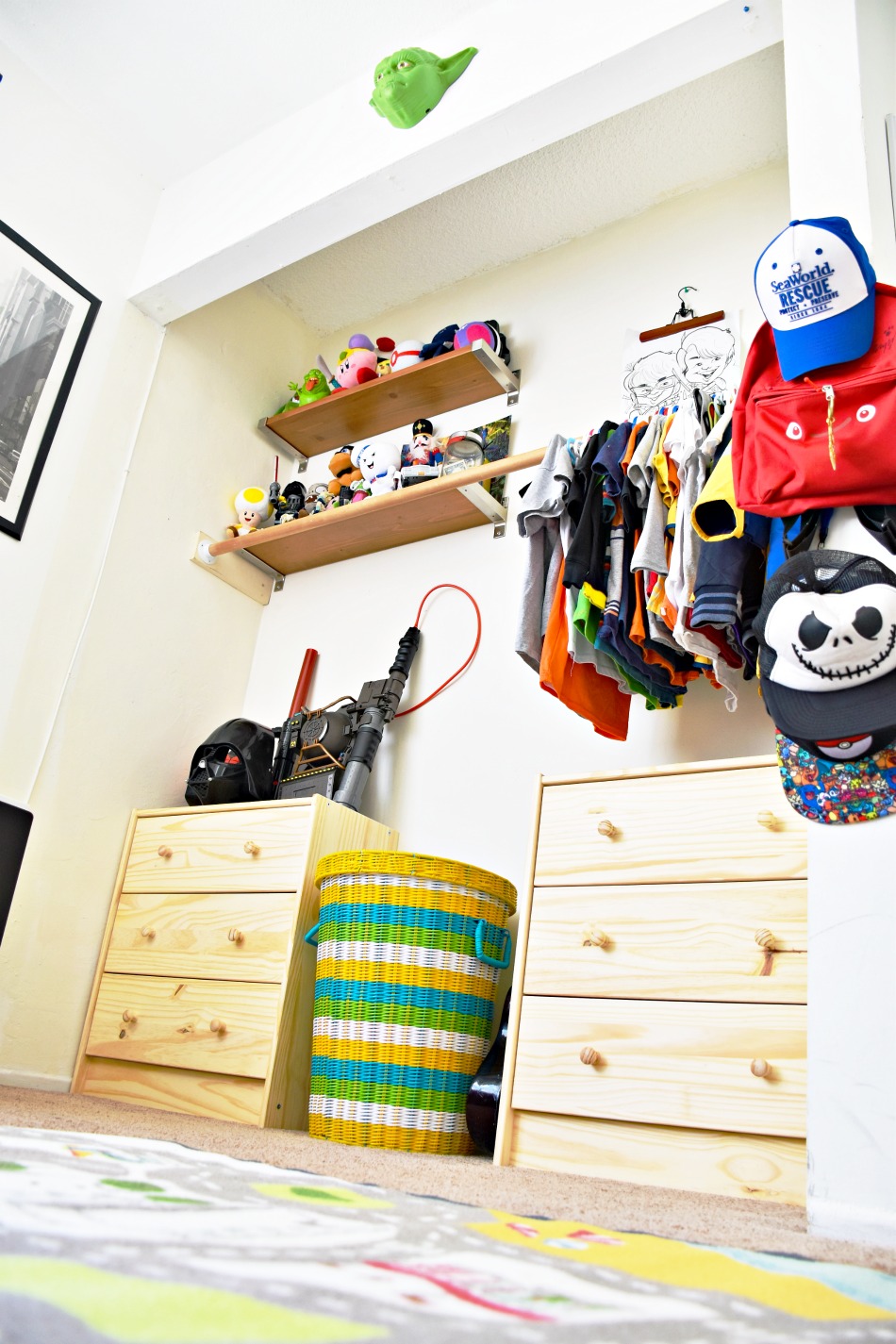 To prepare for the years ahead, we picked up one of those clocks that look like they belong in the classroom. He likes telling time on it and he can easily have it even ten years down the line.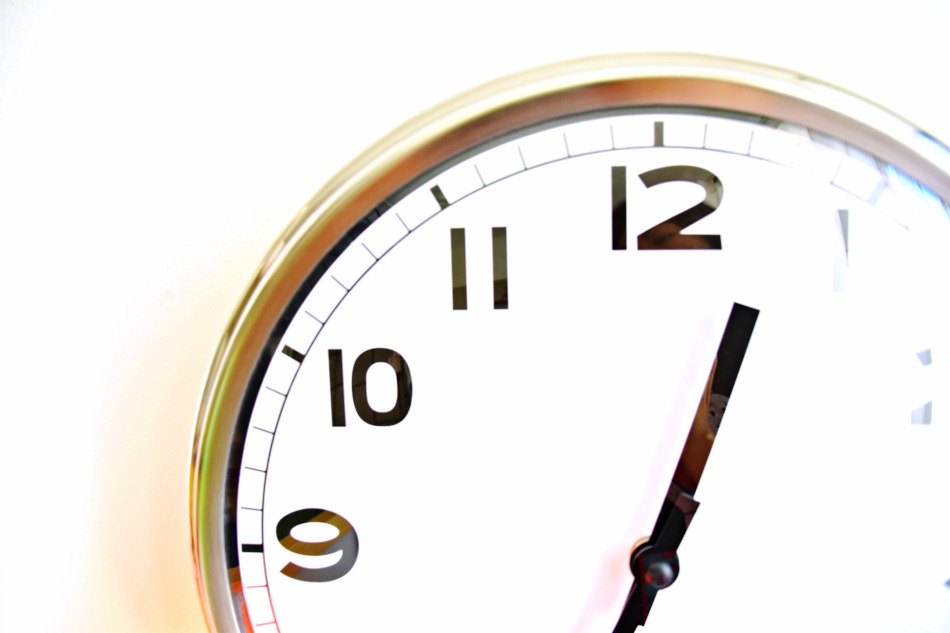 We also got him a nice little organizer for his books that sits on the bed, a little more wall art to fill up empty space and a rug that he can play on.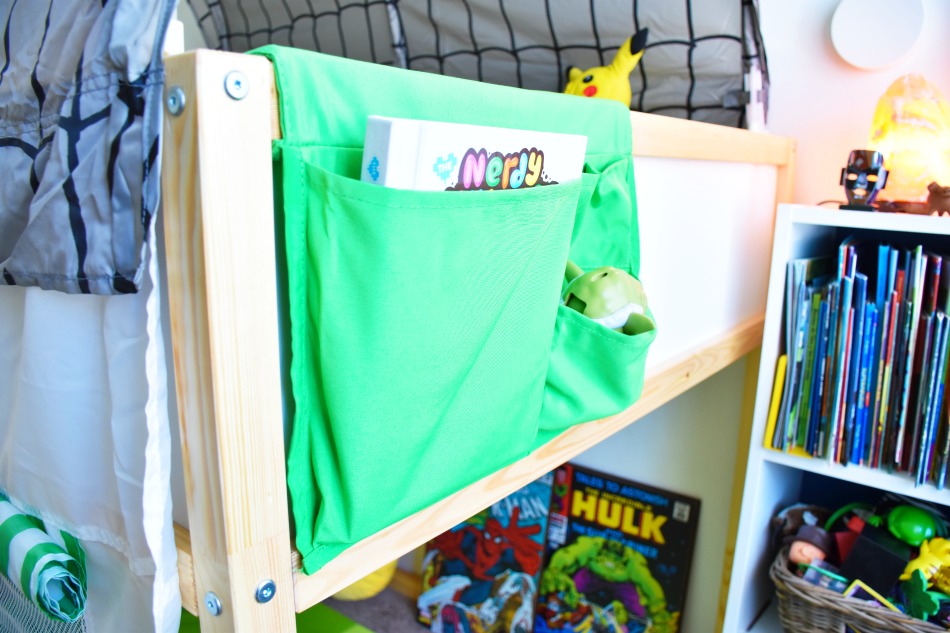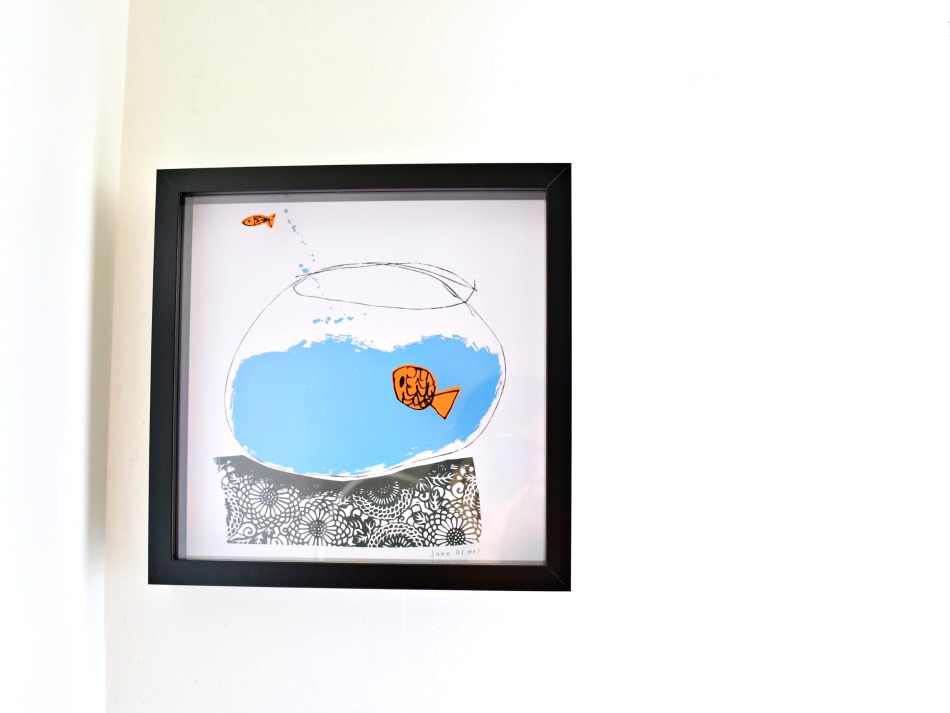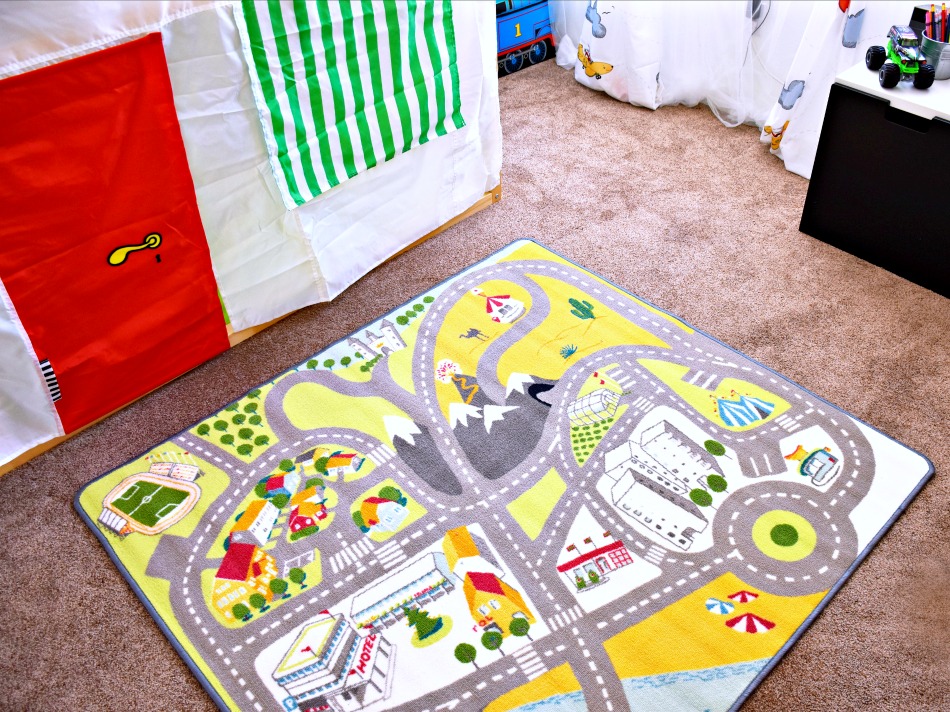 Our last thing that we put up were the curtains. They're light and airy and super long (which I love). They allow light to come into his room so the room looks bigger than it really is. Plus, did I mention that the lace curtains are only $4.99?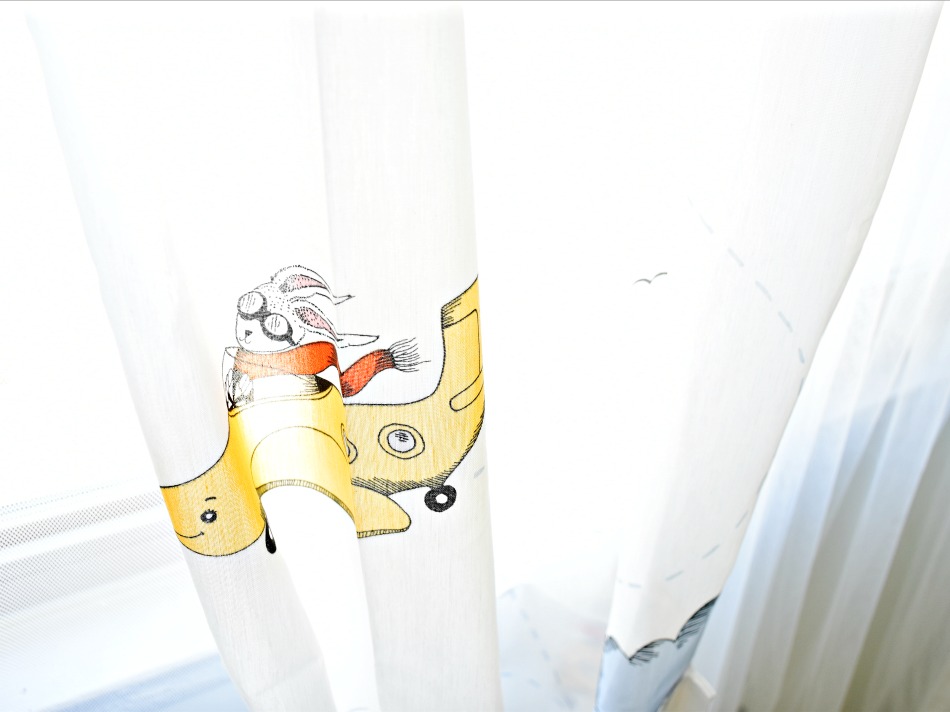 One thing that we had to work around is the fact that our modem is housed in his room. Then there's also my cloud storage and a few other devices that we need to keep our home running smoothly. I would love to move them out of his room someday, but for now we found the perfect workaround. We dumped them all into a STUVA storage bench and now it's out of sight, out of mind.
We absolutely love how the room turned out. Seeing it every day reminds me of our American dream. The one that has been with me since my childhood years where I yearned to have my own room. My own piece of home that could represent me and my personality. I may not have gotten it back then, but I'm thankful that my kids are able to live it themselves.
You know that I love IKEA. Not only because they have the coolest products for your home, but also because they believe in supporting your American Dream – whatever that may be.
IKEA is a registered trademark of Inter IKEA Systems B.V. and is used with permission. The views, ideas and opinions expressed here are my own.
Originally published on April 16, 2017. Last Updated on June 2, 2021 by Pattie Cordova