Holidays
Halloween Placemat – Easy-peasy Sunday morning project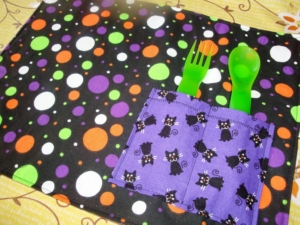 Had a few hours on Sunday morning and very cute fabric to work with… it turned into this totally portable and useful placemat for the bebe.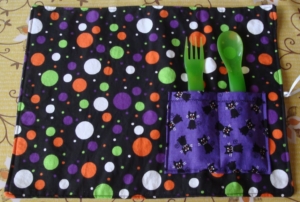 I cut two pieces of coordinating fabric measuring 14.5″x11.5″ and lightweight interfacing measuring 14″x11″. I then cut a smaller piece of fabric for the pocket – big enough for the spoon and fork. I ironed on the interfacing to one of the pieces of fabric and then sewed both printed fabrics right-sides together adding ribbon on the side for it to roll up and tie with. Leaving a little opening for the fabric to be turned inside out with, I then did so and whip stitched it closed. A quick topstitch around the sides, I finished the placemat by stitching the pocket to one side.
(This fabric's background is actually a dark purple – not the weird purple color it looks like in this picture)
Fabric from Jo-Anns: Multi Dots and Black Cats.
Originally published on September 10, 2009. Last Updated on February 14, 2016 by Pattie Cordova