I am so crazy in love with spicy cocktails right now. During my visit to Villa del Palmar at the Islands of Loreto, I took the opportunity to ask David Ortiz, bartender and mixologist, to share with me one of his favorite spicy martini cocktail recipe. He told me about his famous Green Devil Martini.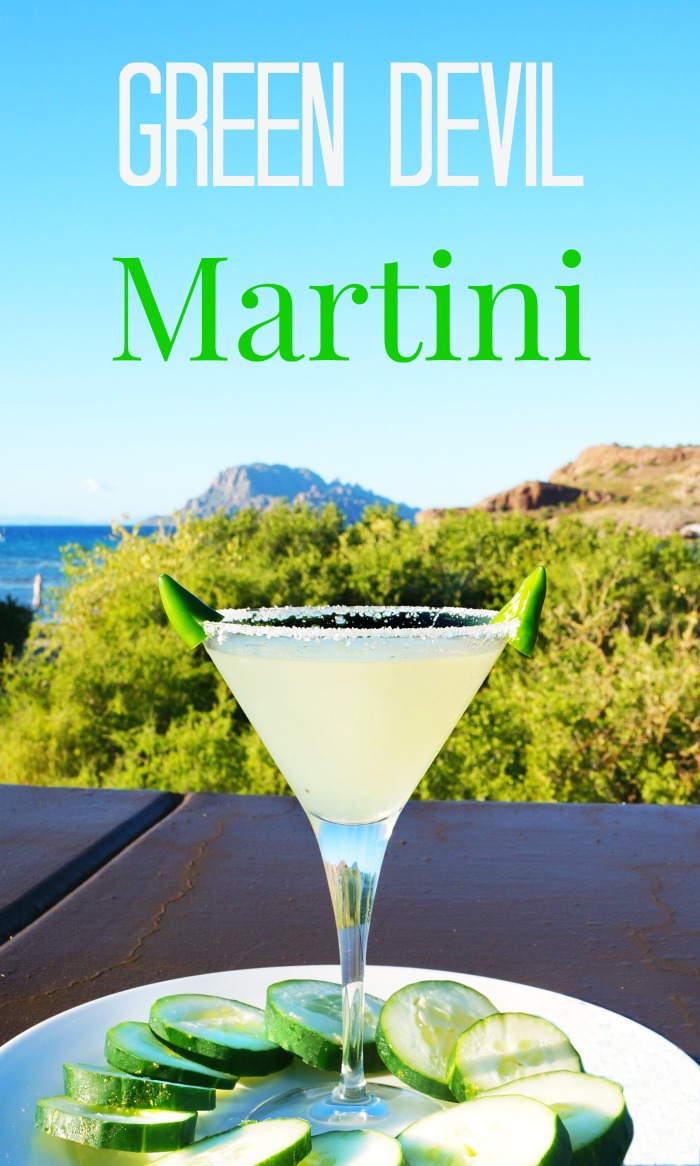 The Green Devil martini cocktail was absolutely delicious. Not so spicy that it overpowers the flavors – it was smooth. If you think it's too spicy when you make it at home,  you can adjust it to make it less spicy by fully removing the seeds and membrane from the chile.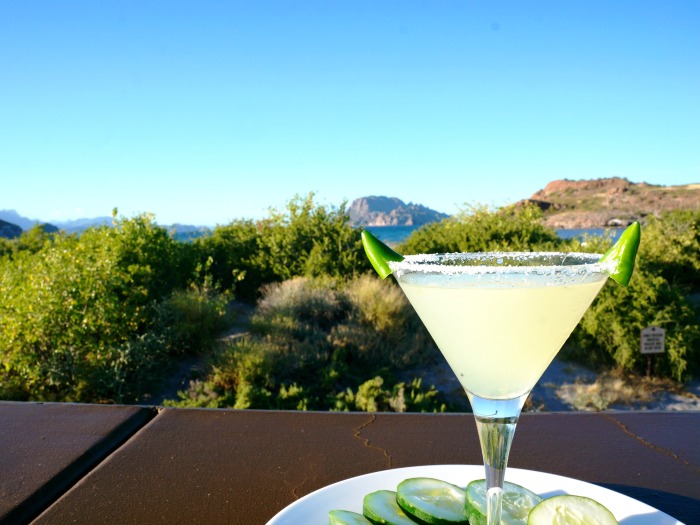 Spicy Martini Cocktail Recipe: The Green Devil Martini
Ingredients
3 cucumber slices
1/2 chile serrano with seeds out
1.5 oz. tequila
1 oz. triple sec
juice of 2 limes
Ice
Garnish: 2 chile serrano
Directions
Muddle cucumber slices and chile serrano
Add liquids and ice. Shake.
Serve on salt rimmed cocktail glass.
Garnish with tips of two chile serranos

I have since tried to recreate the recipe at home, and I've successfully done it. However, it's one thing sipping on this delicious cocktail with a view of the ocean and the mountains. It's another thing sipping it at home as I have two kids running around me screaming.
Villa del Palmar at The Islands of Loreto
Villa del Palmar at The Islands of Loreto is a luxury destination resort on the Sea of Cortez, off the eastern coast of the Baja peninsula overlooking Danzante Island (one of five in the region). It features 181 new, spacious, beautifully appointed Deluxe Ocean View, one, two and three bedroom Suites with balcony or terrace, stunning ocean views, mountain views, three restaurants offering gourmet dining, an attentive English-speaking staff, five swimming pools, a 39,000 square-foot Sabila Spa and Wellness Center, two tennis courts, beautiful beaches, a private beachfront Danzante Bungalow villa for glamping and a mild and warm climate year-round. The upcoming 7,400-yard Rees Jones-designed Danzante Bay golf course will offer a challenging, yet friendly course that works with the natural beauty and serenity of the surrounding environment. Travelers can take a short flight from LAX on Alaska Airlines to the Islands of Loreto. With a new service beginning on February 14, 2015, travelers can also fly to the Islands of Loreto from Calgary, Canada aboard WestJet, Canada's most-preferred airline.
RECIPE COURTESY OF VILLA DEL PALMAR AT THE ISLANDS OF LORETO
photo credit // Pattie Cordova
Contributors of LivingMiVidaLoca.com receive products, compensation and/or complimentary/discounted services to facilitate posts. All thoughts and ideas remain the reviewer's own.
Originally published on November 21, 2014. Last Updated on September 17, 2018 by Pattie Cordova