As I've mentioned before, I love holiday-themed movies and show episodes. Because my kids watch TV, I feel like it really ties in all the deco and activities that they're involved in during the holidays.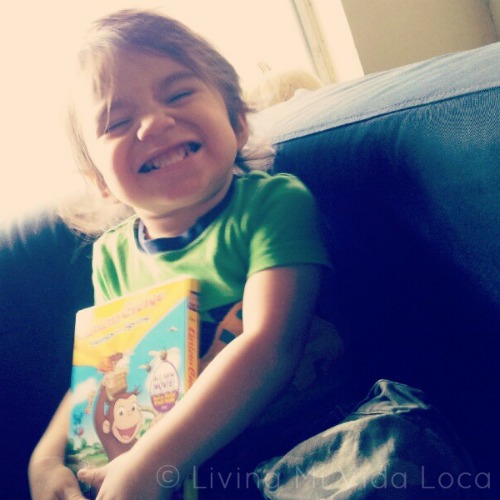 This year, Curious George is releasing a Spring-themed DVD and so far, my kids are enjoying it (especially my youngest one pictured above). My littlest one is 19 months old, and I definitely think Curious George is at the top of the list as far as favorite characters. I think it's the fact that George doesn't talk, but he can still communicate with others. Or maybe it's all the jumping around. Either way, George intrigues him and I love that.
Total run time is 57 minutes and it is set to be released on March 12, 2013. Perfect addition to your growing DVD collection! Perhaps for the Easter basket?
Curious George Swings into Springs is available for pre-order at Amazon.com for $14.99 (MSRP $19.98).
About Curious George Swings Into Springs
Spring has sprung and the world's favorite monkey returns — as curious as ever — in this high-flying, full-length feature.
George and his best friend, Hundley, explore all the wonders of the season together— including blooming flowers, baby animals and canoe rides. But when Hundley loses his way, George takes to the skies to find his pal, in a wild adventure that ends with a very fun surprise!
Curious George Swings into Spring – Fly Your Kite clip
This is not a sponsored post. I received a copy for my kids to enjoy. All thoughts and opinions remain my own.
Originally published on February 22, 2013. Last Updated on January 2, 2019 by Pattie Cordova