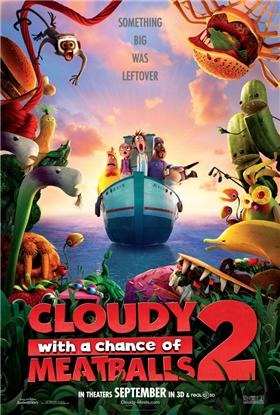 Cloudy with a Chance of Meatballs 2 is coming to a theater near you on Friday, September 27th. If you live within the following major U.S. cities, I have a fun giveaway for a chance to see a screening of Chance of Meatballs 2 on Saturday, September 21st!
Advance screening cities include:
Phoenix, AZ
Pico Rivera, CA
Sacramento, CA
San Diego, CA
San Jose, CA
Washington DC
Miami, FL
Atlanta, GA
Chicago, IL
New York, NY
Philadelphia, PA
Houston, TX
McAllen, TX
San Antonio, TX
For added fun, print out these Cloudy with a Chance of Meatballs 2 activity sheets and learn to draw some of the new characters!
GIVEAWAY HAS ENDED.
Congratulations to Jessica M!
Originally published on September 10, 2013. Last Updated on January 2, 2019 by Pattie Cordova