[disclaim]This is a sponsored post. [/disclaim]
My mom has a flip phone. She won't send texts and she definitely won't (and can't) update her Facebook status from the road. Unfortunately, she still has to go buy a calling card when she calls relatives in Mexico. Well, she had to until she found out that I have Cricket Passport on my phone. Now our drives in the car feature my mom like in the pictures below. Her on the phone while I drive around town doing errands.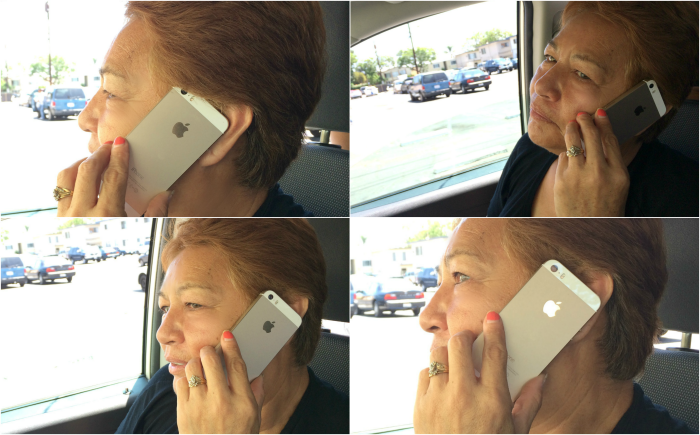 What is Cricket Passport
For $15 a month you get one low rate on calls and messaging to 35 countries – and that includes Mexico, Canada, the United Kingdom, Colombia, and Israel! Purchase it as an add-on to your Basic, Smart or Pro plan and you'll also receive unlimited text/picture/video messaging to mobile numbers. With the Talk & Text plan of $25, you'll also receive unlimited text messages to mobile numbers. As an add-on, you'll have access to unlimited calling to landline numbers and 100 mobile minutes. Best part? You can cancel at anytime. So if you're traveling out of the country, you can end up saving a lot of money with this add-on.
My mom loves this new feature and I've had to practically pry the phone from her hand. She likes the freedom of just picking up the phone whenever I'm around and call her family in Mexico. She saves herself a trip to the grocery store where she had to choose from a hundred different kinds of calling cards. It also makes me feel good to be able to do this for her – and it's only $15 a month!
I invite you to check out CricketWireless.com for more information on Cricket Wireless service, plans and phones. You should also check out their other add-ons, especially if you need phone protection, have family and friends outside the U.S. and want more data. 
[disclaim]This is a sponsored post on behalf of Cricket Wireless. I received compensation and cell phone service to facilitate this post. All thoughts and ideas remain my own.[/disclaim]

Originally published on July 1, 2014. Last Updated on January 2, 2019 by Pattie Cordova