The kid's first birthday is coming up this Sunday and we are going to have the best birthday weekend he has ever experienced! It's too bad he won't remember any of it… nevertheless, it is going to be so much fun and it's going to start with an awesome birthday party at Pretend City!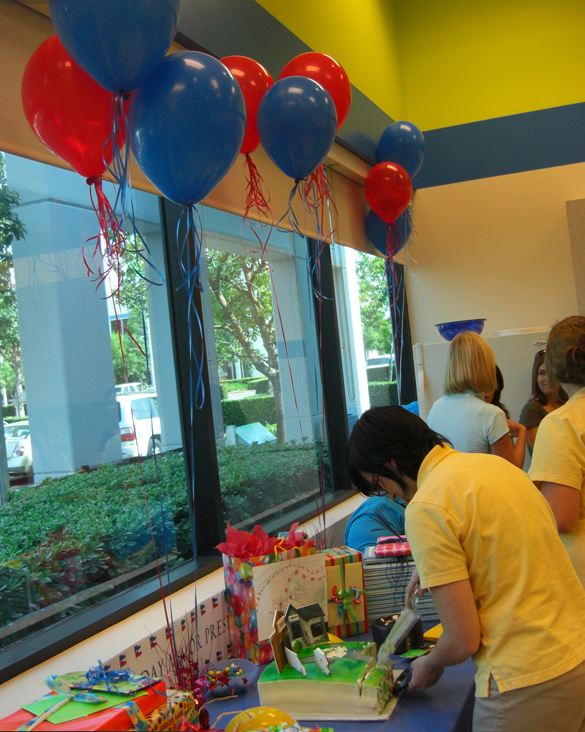 On Saturday we'll be heading over to Pretend City and straight into their party room. That boy isn't going to know what hit him when he walks into the party room and sees it all set up for him with bright blue and green colors everywhere. He'll get to eat, babble with his guests and then he'll roam around Pretend City until closing time. We're going to have a GREAT time. We'll get in the car, he'll zonk out on the way home and then be all nice and rested for Disneyland the following day.
So how has the planning process been so far with Pretend City? Easy-peasy! Pretend City will be hosting his birthday party and it has seriously been the easiest party planning EVER. All I did was coordinate a date, chose a party package and that's it. They got to work and now a week until his party they are asking for the number of confirmed guests and which flavor of cake and filling we want. Isn't that the greatest? I just sit here, type out my choice and that.is.it. I don't have to go out, buy matching tableware, shop for a cake, worry about setting up… nada.I do have to worry about what we'll be feeding our guests, but that won't be that hard, especially since the party room at Pretend City has a sink, refrigerator and a freezer.
We chose the Pretend City Experience party package and that package includes all of this:
• Private party room for 1 hour beginning at 10am, 12pm or 2pm.
• Unlimited time in the museum until closing following time in private party room.
• Museum admission for up to 30 guests (including both children and adults). Any guests above the 30 included in the package are an additional $10 per guest.
• Birthday Party Child is complimentary.
• Tables, chairs, sink with running water and refrigerator/freezer provided.
• Two Pretend City party hosts to facilitate the party room set-up, service and clean-up.
• One return pass for all party children.
PLUS all of this:
• Pretend City themed cake
• Hat activity for 20 children
• Tableware (includes tablecloths, silverware, plates and cups for 30 guests)
And in case you're sitting there with a cup of coffee in your hand and wishing you had something sweet to go with it, here's a sneak-peak at his cake. I apologize in advance if you start drooling over your keyboard.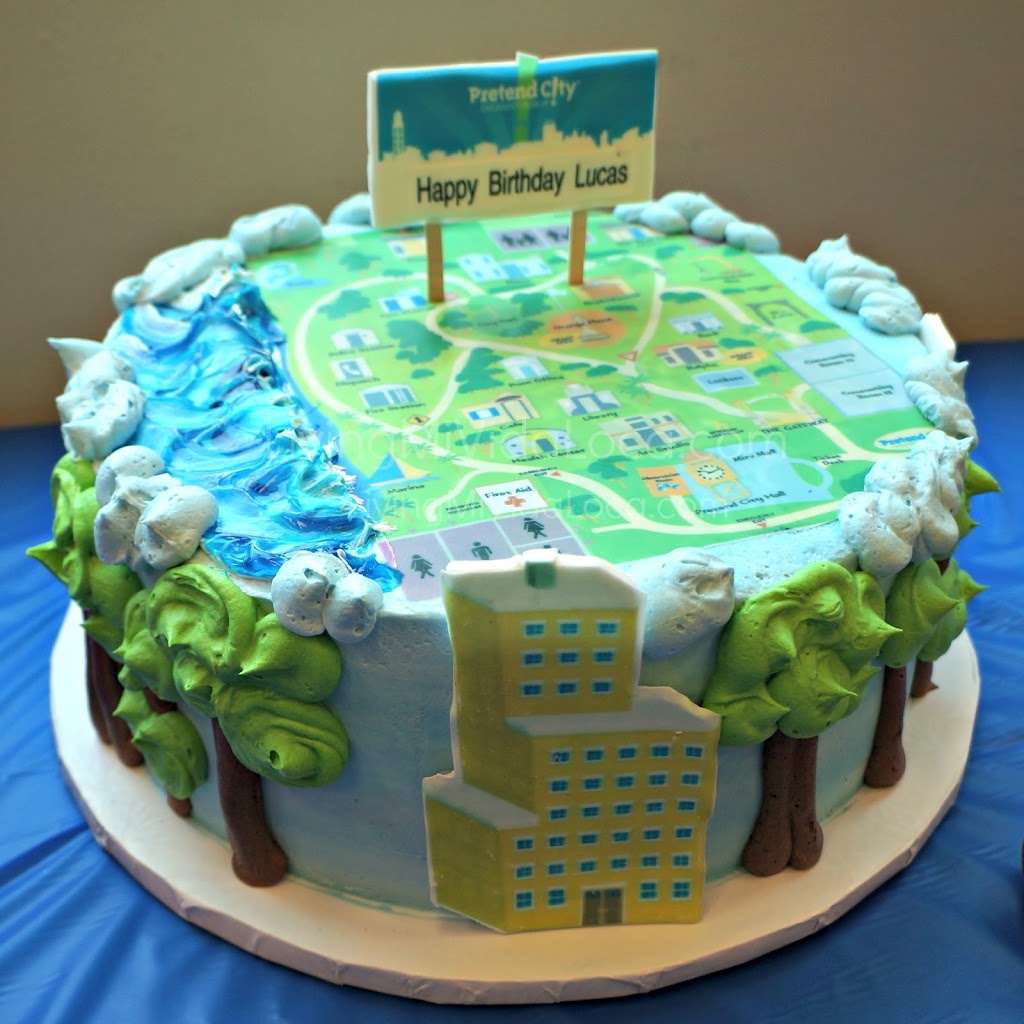 Katherine Enriquez (949.428.3900 x211 | [email protected]) is the party supervisor and she has been a joy to work with. Quickly returns phone calls, thorough in her emails, the whole package. With her and her team working on my baby's party, I'm sure that it's going to make for a very memorable weekend.
I can't wait to see the end product. You can follow all of my pics and tweets on Saturday.
p.s. You can sign your kids up for the Birthday Party Club and they'll get a ticket for a FREE admission anytime during their birthday month!
More on Pretend City
In addition to Pretend City being a really fun place for a birthday party, the museum is a non-profit organization designed to build better brains through purposeful play, hands-on learning experiences, role-playing and educational programs. Rich learning experiences help children develop such foundational skills as critical thinking, problem solving, leadership, teamwork and creativity…all of which lead to future success in school, work and life. If you'd like to read more about what children learn at Pretend City, please go to the following link: http://pretendcity.org/challenge/exhibit/index.html.
Pretend City Children's Museum
29 Hubble
Irvine, CA 92618
Phone: 949.428.3900
Fax: 949.428.3908
Pretend City is generously sponsoring my son's birthday party. All thoughts and honest opinions remain my own because you know I wouldn't steer your wrong. Pretend City is a joy to work with and they are an organization that I fully support.
Originally published on May 28, 2012. Last Updated on August 8, 2018 by Pattie Cordova