Over the weekend I had the pleasure of meeting this little Latinita by the name of Becky G. This 16 year old girl owned her look, her demeanor and her newfound fame. She was a complete sweetheart and I love that she represented everything that Latinas should strive for – success, a supportive family and an attitude that will take her places.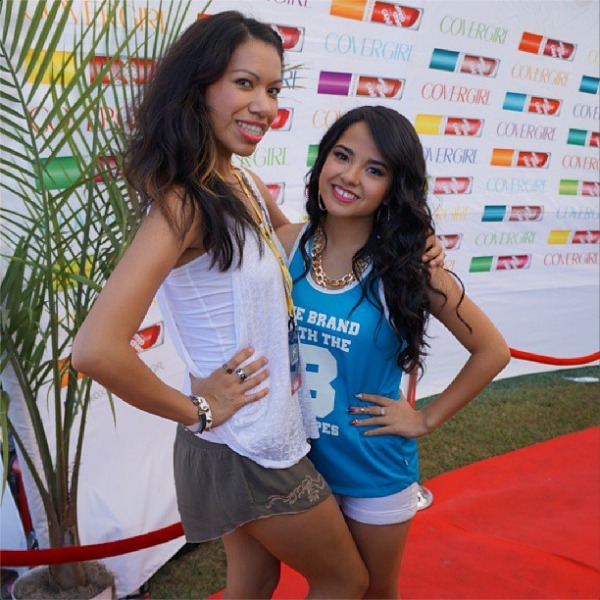 I also had the opportunity to ask Becky G a few questions about being Latina, wearing COVERGIRL and what it's like to be successful at such a young age.
What is it like to be Latina and be successful at such a young age?
I'm very proud to be Latina. I'm Mexican-American and to be doing what I'm doing today is just incredible. To be part of COVERGIRL and releasing my album at the top of next year… it's just a dream come true.
What are you looking to bring to your audience as the new face of COVERGIRL?
I think being the new face of COVERGIRL and only being 16, I think it's really special. I like that COVERGIRL is acknowleding the fact that girls are wearing makeup at a young age and expressing themselves through that. I started wearing makeup at a really young age and the first makeup that I used was COVERGIRL. I was ten years old and I went to CVS and I bought COVERGIRL makeup and I've been using it ever since! COVERGIRL gives girls the chance to express themselves and feel beautiful at the same time.
Is it important that girls express themselves through their makeup? Do you see that as an art form?
I definitely see that as an art form. For me, it's a way of expressing myself. For me, it's all about how I feel that day. Some days I'm really chill and I go with a fresh face, and other days, like when I'm performing, I like to go va-va-voom and really bright colors. I think it's definitely an art form.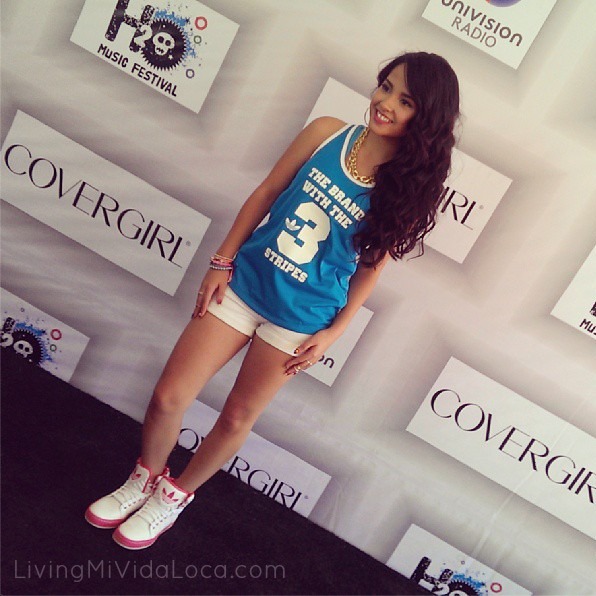 Recreate the look COVERGIRL Becky G, Rocked at Univision's H20 Music Festival 
As you can see from Becky G's look above, that day she sported a look that consisted of bold gold eyes and soft pink lips that popped. Given the right COVERGIRL makeup, you can recreate the look that was created by her celeb makeup artist, Sarah Ulsan.

Face
Start out by applying COVERGIRL Clean Whipped Crème Foundation. To accent the cheek bones apply COVERGIRL Clean Glow Blush in Roses #100.
Eyes
Apply the COVERGIRL Flamed Out Shadow Pots in Charcoal # 335 around the crest. Then use the Flamed Out Shadow Pencil in Gold Flame #330 to add gold shimmer to the look. Then apply the Ink It! in Black Ink # 230 by making a thick line that will make your eye pop! Finish this eye look by adding volume to your eyelashes for a bold look, with Flamed Out Mascara in Very Black.
Lips
Finish the look with a soft nude, pinkish lip with first applying COVERGIRL Lip Perfection in Spellbound #325 and then the COVERGIRL Smoochies in Sweet Tweet # 255 on top.
Stay updated on everything beauty via COVERGIRL's social media pages:
Tumblr: http://covergirl.tumblr.com/
Facebook: www.covergirllatina.com
Twitter: @COVERGIRL
YouTube: www.youtube.com/covergirl
Instagram: www.instagram.com/covergirl
Pinterest: http://pinterest.com/covergirlxo/belleza-latina/
This is not a sponsored post. I received media tickets to attend H2O Music Festival. All thoughts and opinions remain my own.
Originally published on August 21, 2013. Last Updated on January 2, 2019 by Pattie Cordova