I recently received a copy of Beautiful Creatures to read. One look at it and I was wondering just when I was going to have time to read that many pages. Not that I don't love to read. Not at all. I LOVE to read, I just can't find the time! However, I heard nothing but good things about Beautiful Creatures so I wanted to find the time to read it – and I have!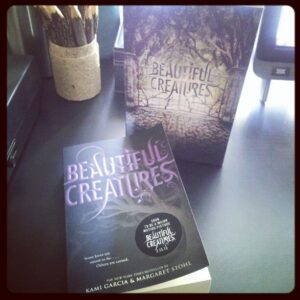 I read it while the kids take their evening shower before their bedtime. I read it to them at night and any other chance I get. I'm a few days into the book and every time I put it down I can't wait to get back to it. It's well written, interesting, engaging and more importantly, believable.
About Beautiful Creatures
A supernatural love story set in the South, "Beautiful Creatures" tells the tale of two star-crossed lovers: Ethan (Alden Ehrenreich), a young man longing to escape his small town, and Lena (Alice Englert), a mysterious new girl. Together, they uncover dark secrets about their respective families, their history and their town. Oscar® nominee Richard LaGravenese directs from his adaptation of the first novel in the best-selling series by Kami Garcia and Margaret Stohl. The film stars Alden Ehrenreich, Alice Englert, Academy Award® winner Jeremy Irons, Oscar® nominee Viola Davis, Emmy Rossum, Thomas Mann and Academy Award® winner Emma Thompson.
"Beautiful Creatures." opens February 13, 2013 and will be distributed by Warner Bros. Pictures.
Stay connected
Website
Facebook
This is not a sponsored post. I received a paperback copy of Beautiful Creatures to read at my leisure. All thoughts and opinions remain my own.
Originally published on October 16, 2012. Last Updated on January 2, 2019 by Pattie Cordova