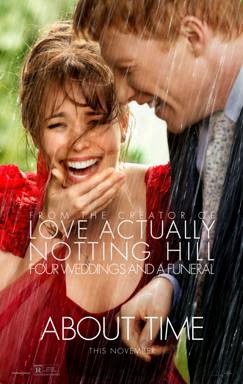 The day I watched "About Time" will go down in my life as the day that my life changed. I saw About Time last night and once I was able to compose myself a bit better, I recorded my film reaction because I couldn't begin to sit down and let you know what it made me feel, how it changed me and why I'm so glad I watched it. Suffice to say that it's my favorite movie, of all time, and that I highly encourage YOU to watch it when it releases in theaters next month, November 2013.

Also, make sure to enter the About Time contest to win a trip for two to London. To enter, simply share meaningful memories from your life via Twitter, Instagram and Pinterest using hashtag #AboutTimeMemories.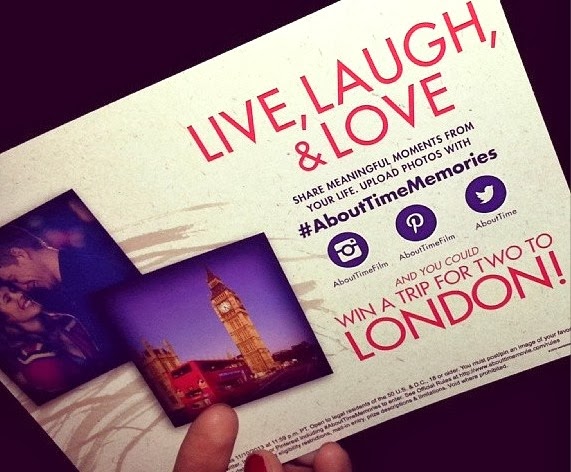 About Time – The Story
At the age of 21, Tim Lake (Domhnall Gleeson) discovers he can travel in time…
The night after another unsatisfactory New Year party, Tim's father (Bill Nighy) tells his son that the men in his family have always had the ability to travel through time. Tim can't change history, but he can change what happens and has happened in his own life—so he decides to make his world a better place…by getting a girlfriend. Sadly, that turns out not to be as easy as you might think.
Moving from the Cornwall coast to London to train as a lawyer, Tim finally meets the beautiful but insecure Mary (Rachel McAdams). They fall in love, then an unfortunate time-travel incident means he's never met her at all. So they meet for the first time again—and again—but finally, after a lot of cunning time traveling, he wins her heart.
Tim then uses his power to create the perfect romantic proposal, to save his wedding from the worst best-man speeches and to save his best friend from professional disaster. But as his unusual life progresses, Tim finds out that his unique gift can't save him from the sorrows and ups and downs that affect all families, everywhere. There are great limits to what time travel can achieve, and it can be dangerous, too.
About Time is a comedy about love and time travel, which discovers that, in the end, making the most of life may not need time travel at all.
ABOUT THE FILM
RATED: R
RUN TIME: approx. 123min
From the creator of Love Actually, Notting Hill, and Four Weddings and a Funeral. Starring Domhnall Gleeson, Rachel McAdams, Bill Nighy, Tom Hollander, Margot Robbie.
Originally published on October 9, 2013. Last Updated on January 2, 2019 by Pattie Cordova