This conversation on choosing a convertible car seat is sponsored in collaboration with Evenflo and Latina Bloggers Connect.
When I had my first child, I didn't think much about what went into a car seat. I chose something within my budget and mostly based on looks. Now, as a more experienced mami, I look for a few must-haves when I purchase a car seat – and between the two kids and two cars, I've done it about six times now! So here are my tips on choosing a convertible car seat, which in fact are my favorite because they end up saving you money in the long run.
5 tips for choosing a convertible car seat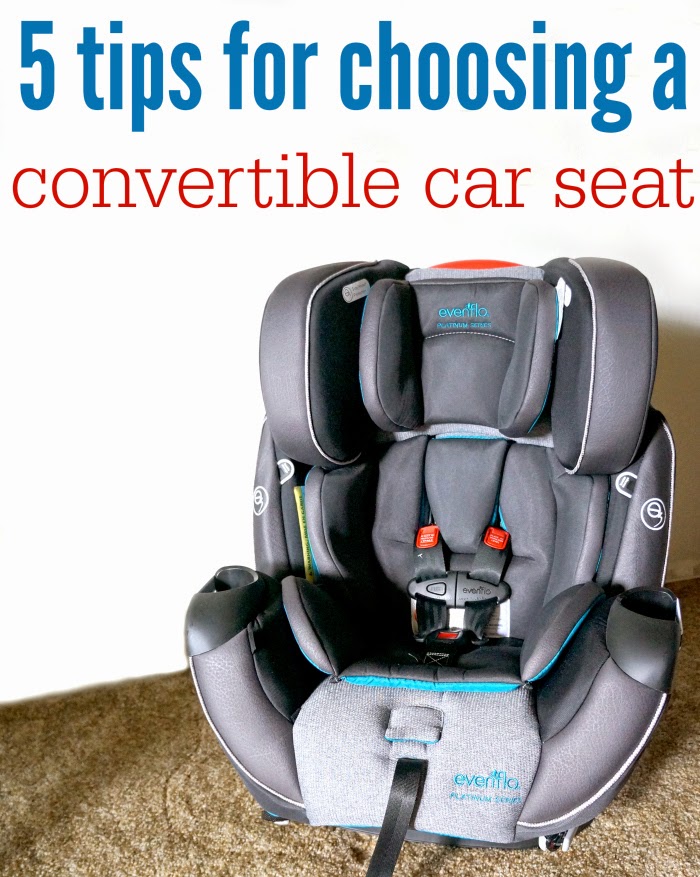 A convertible car seat converts from a rear-facing seat for babies and toddlers to a forward-facing seat. It's differs from an infant car seat in that it's not made to be taken out and carried with the child secured inside it. I chose to skip the infant car seat with my second child because I didn't want to deal with taking the car seat in and out of the car. So in fact, the convertible car seat saved me about an average of $300!
LATCH system
I don't know that there are convertible car seats that don't have the LATCH system, but just in case – this is a MUST. Many vehicles will have the rings, where the LATCH belt clips onto, under flaps of fabric. Look for them in your car and whenever possible, use them and place the car seat as close to the middle as possible. If your child is over 65 pounds, do not use the LATCH system. According to new regulations, you should be using just use the seat belt to secure the car seat, and the tether, if available. All LATCH systems will be used the same way, but the one above features a retractable LATCH belt that makes it easier to install.
Upfront Harness Adjustment
Your child will grow up before you know it, and once you get your car seat secured in your vehicle, you won't want to pull it out every time you need to adjust it. Look for a car seat that makes it easy to to tighten and loosen the harness to easily get your child in and out of the car seat and to adjust it for your growing child. To use the upfront harness adjustment, you'll just need lift up the flap of fabric, push down on the switch and pull on the harnesses. To tighten pull on the black strap at the bottom front of the car seat.
Side Impact Protection
Side impact protection does make your convertible car seat take up more space – but it's worth it. Look for side impact protection like the e3 Side Impact™ Protection that has multiple layers of foam and tested to reduce side impact forces up to 50%. It will also significantly reduce the forces in side impact crashes through advanced energy absorption and an expanded zone of protection.
Multiple-Position Headrest
Like the upfront harness adjustment, the multiple-position headrest will make it easy for you to adjust to your growing child. These types of headrest will allow you to easily adjust with one-hand. All you do is pull up the lever and the headrest will pull up at the same time. Have your child in the car seat for a more accurate adjustment.
Machine washable fabric
Believe it or not, this is majorly important. Your kid will throw up, poop, spit, spill and so much more in their car seat. You'll most likely need to wash it at least once a month, and it's important that the fabric be machine washable. Of course, if you can find a fabric that is machine washable AND does more than that too – go for it. Look for fabrics like those in the Evenflo Platinum Protection Series car seats which feature NASA-developed Outlast™ Performance Fabrics. Their temperature regulating fabric in the padding of the seats to keep babies and toddlers comfortable during hot or cold weather. It also reduces perspiration so the child stays drier and more comfortable. My kids sweat – A LOT – so I welcome this new technology with open arms.
The above tips are my 5 must-haves that all my car seats must have. However, sometimes you need just a little more to tip the scales. Extra features that other car seats don't have. One of my favorites that I found in the Evenflo Platinum Symphony™ DLX All-In-One Car Seat were the buckle pockets. These little pockets allows you to tuck the buckle tongues away and also keeps them cool when they're in direct sunlight (when not in use). Trust me, little innovative features like this makes a big difference.
Note: My son (pictured above) measures 38 inches tall. He'll use this car seat until he weighs 110 pounds.
What tips do you have to share when choosing a convertible car seat? Please leave a comment below and let us know!
This is a sponsored post in collaboration with Latina Bloggers Connect and Evenflo. I also received the Evenflo Platinum Symphony™ DLX All-In-One Car Seat to facilitate my review. All thoughts and opinions remain my own.
Originally published on April 14, 2014. Last Updated on July 11, 2019 by Pattie Cordova