This is a sponsored post.


Don't miss the premiere of Devious Maids Sunday, June 23 at 10/9c on Lifetime.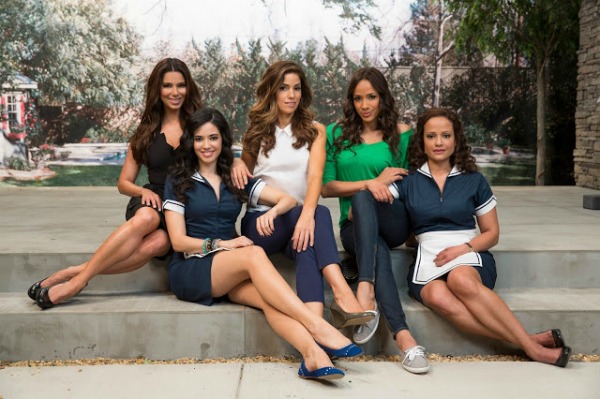 I may have grown up watching
novelas
as a young adult, but I stopped once I got married. It was then that I got into the Desperate Housewives-type of shows. Similar to
novelas
, but in English and where Latinos/Latinas are in the minority. However, ever since Desperate Housewives ended, I've gone from drama to drama looking for the perfect show to captivate me week after week. And yes, I found a couple, but nothing where you'll hear my gasping at what the gal did, or rewinding the episode to watch it again – that is, until
Devious Maids
. Maybe it has to do with the fact that Marc Cherry is the mastermind behind this show, or maybe it's that it has everything that a
novela
has – but in English. Regardless, here are five reasons why you should watch Devious Maids:
1. The women are not your stereotypical beauties. The five main characters (pictured above) are all gorgeous, confident and they own their own space in the show. However, you'll notice that they all look different from what one typically sees on TV as the "beautiful" ones. It gives us the power to embrace our differences.
2. The story lines are captivating. While I've only had the opportunity to watch the first episode, I can tell you that it's one of my few shows that I will religiously watch. I like the type of shows where there is more than just infidelity betweens spouses and money problems. I want murder, mystery and the opportunity to relate to the characters. This show gives it to me.
3. The clothes are gorgeous. We can all use a little inspiration every now and then when it comes to clothes, makeup and hair. Because of the heavy female cast and their differing taste in style, we get it in every episode!
4. Interior decorating ideas galore. Just like beauty and fashion, there is nothing more that I enjoy more than to see the insides of homes. That's where I learned the trick on clearing out your bathroom counters so they looks as nice as the ones on TV! I can DIY, or at least pay a visit to my local Home Goods to recreate a look I see on the show.
5. Diversity in characters. Not only do we see Latinas playing a large part in the cast, but we also see some of our favorites come back like Susan Lucci, Mariana Klaveno and Brett Cullen. It's a great diverse cast and it won't matter which background we come from, because we'll all find someone we can relate to in the show.
I invite you to catch the premier of
Devious Maids
on Sunday, June 23 at 10/9c on Lifetime and then come back and tell me if you liked the first episode as much as I did!

This is a sponsored post. All thoughts and ideas remain my own.
Originally published on June 18, 2013. Last Updated on January 2, 2019 by Pattie Cordova