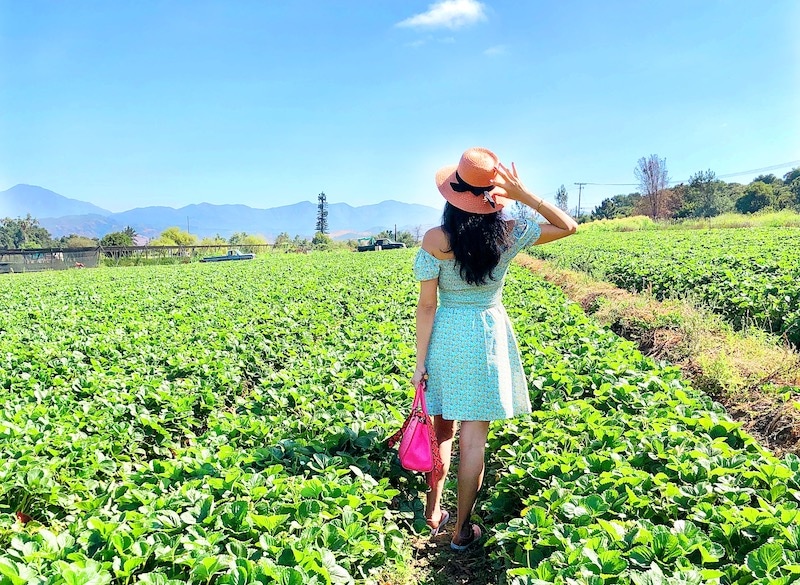 South Coast Farms Strawberry Picking
South Coast Farms in San Juan Capistrano is open for strawberry picking!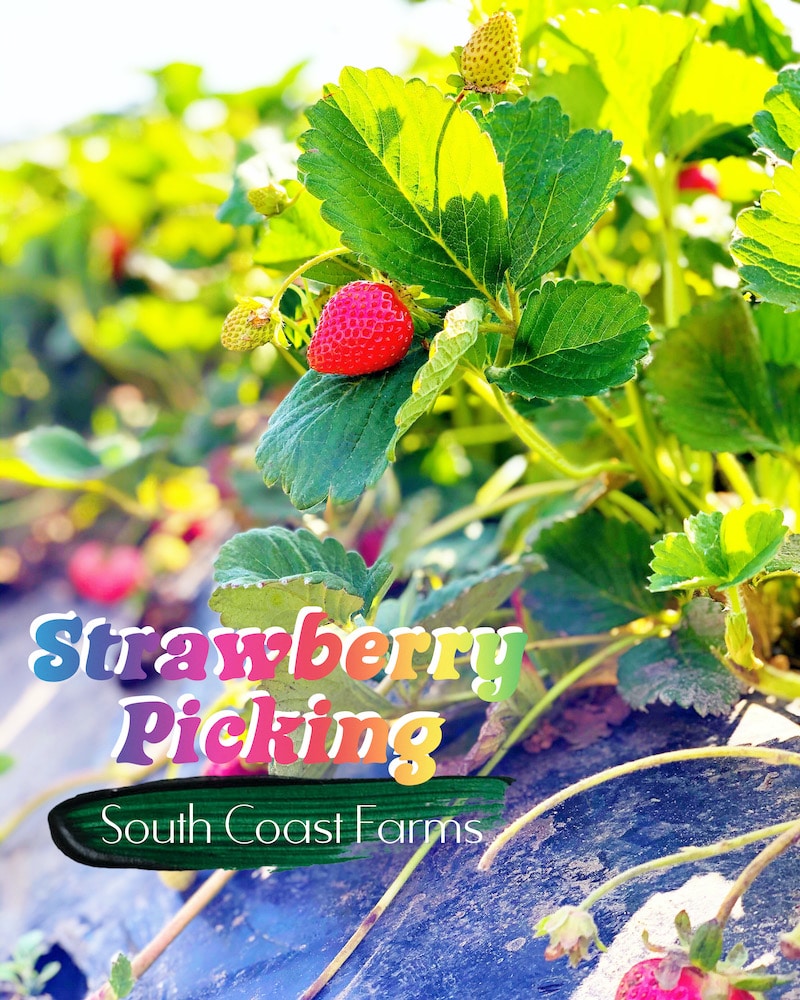 Let me start off by saying that it's not lost on me that for a lot of Latinos, strawberry picking is work and the compensation for it isn't much. I completely felt the privilege while we were doing it, and yes, I felt a little uneasy.
When we left, Anakin (my oldest chiclet), asked us if we did it to show how much work the field workers did and to tie it into the McFarlane USA movie that we watched a few weeks ago. I hadn't even though about that connection, and I was proud of him to be woke enough to see that. I think that strawberry picking (this was our first time doing it), is not only a fun family outing, but can also be a great educational experience.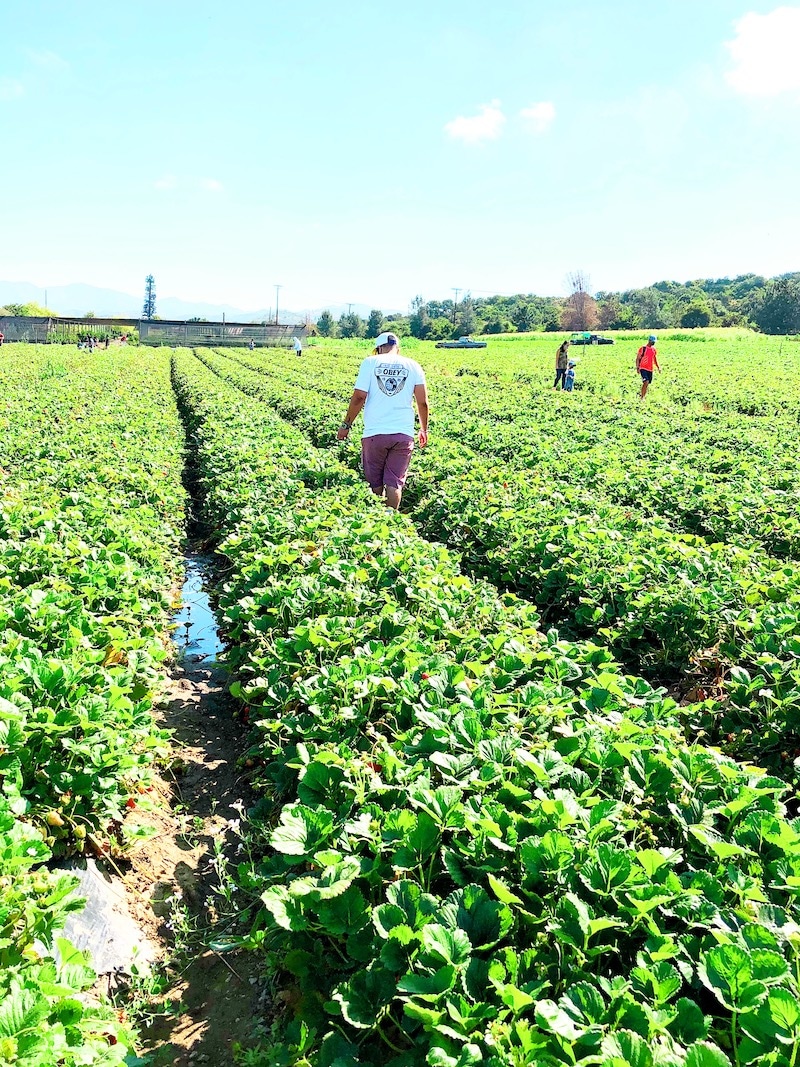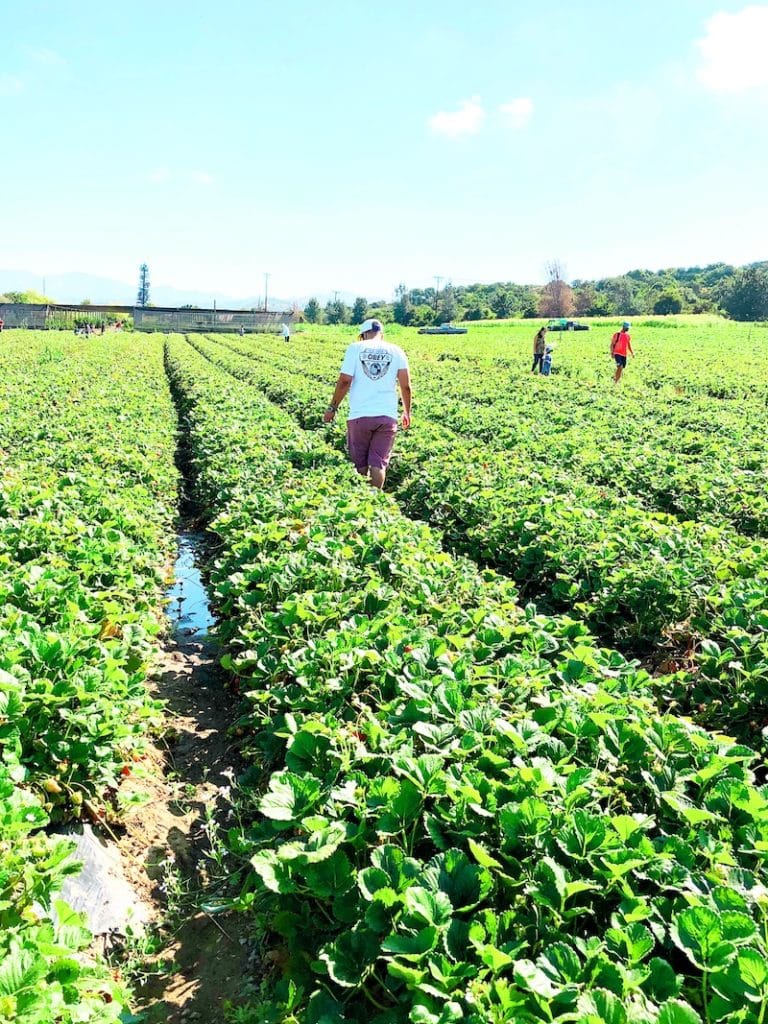 South Coast Farms U-Pick Strawberries
To get to South Coast Farms, type in 33201 Ortega Highway, San Clemente in your GPS. If you're taking the 5 South, GPS will tell you you're there even though you're clearly not there. Keep driving about a mile down further and make a left when you see the "Tree of Life Nursery" sign – it will be on your left hand side.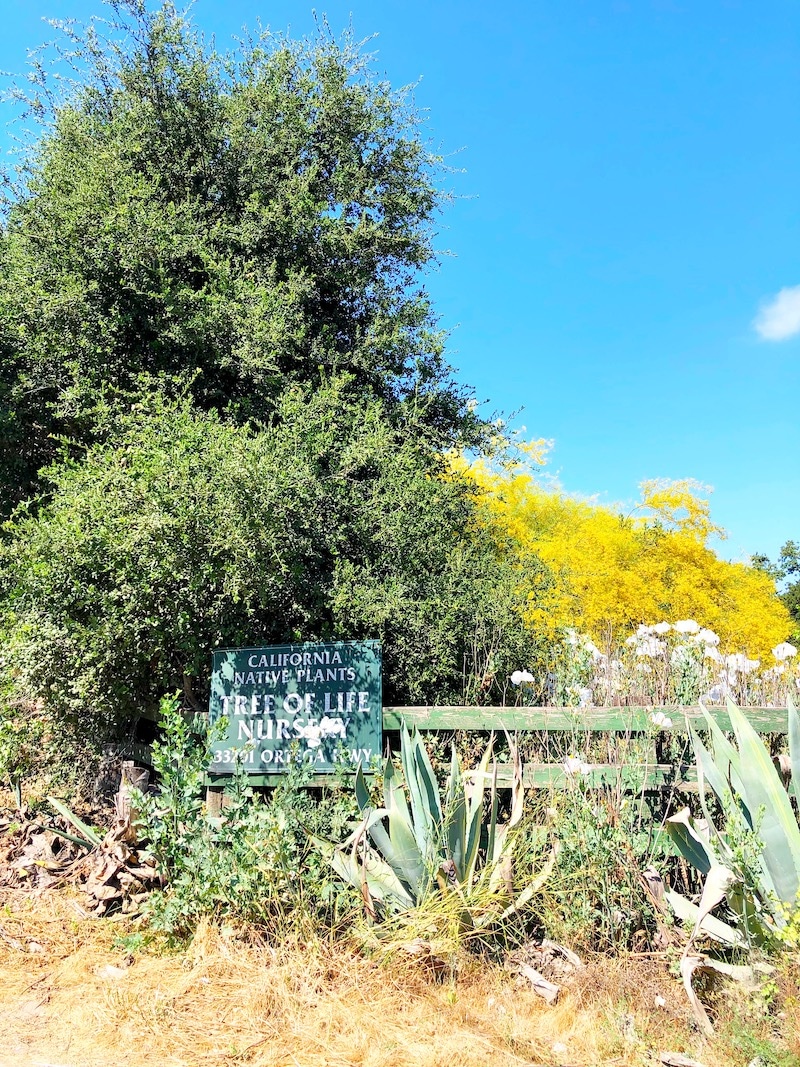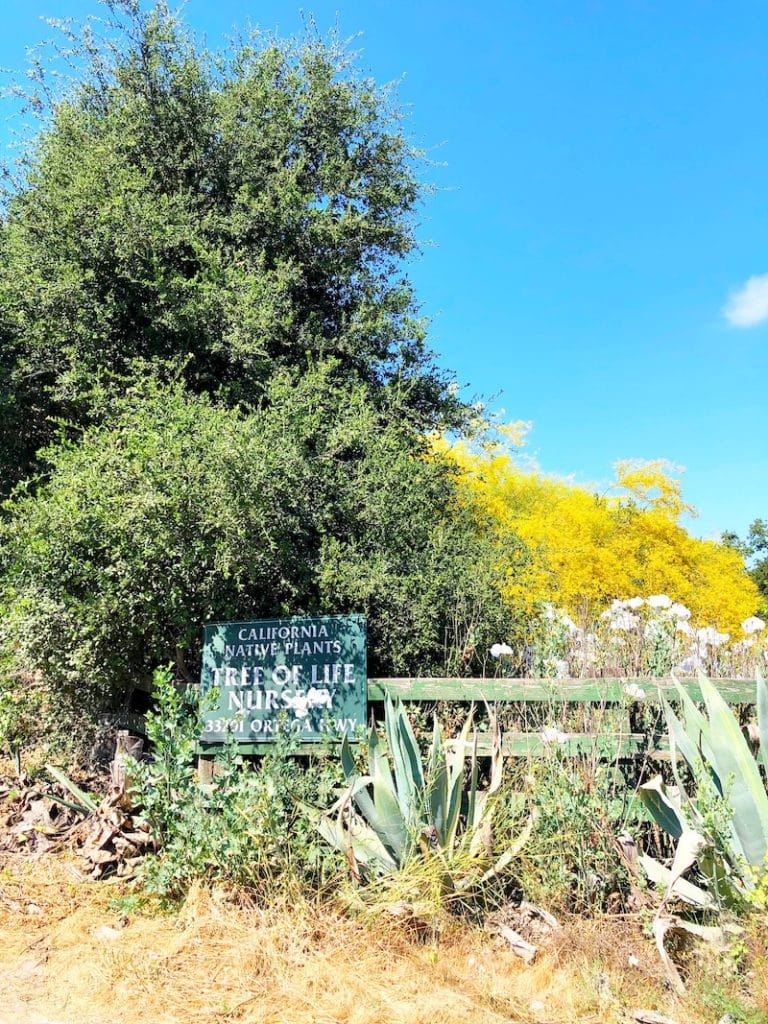 Slowly (like 5 miles per hour slow) continue down the path and follow the "U- Pick" signs. There's a ton of them so you won't get lost.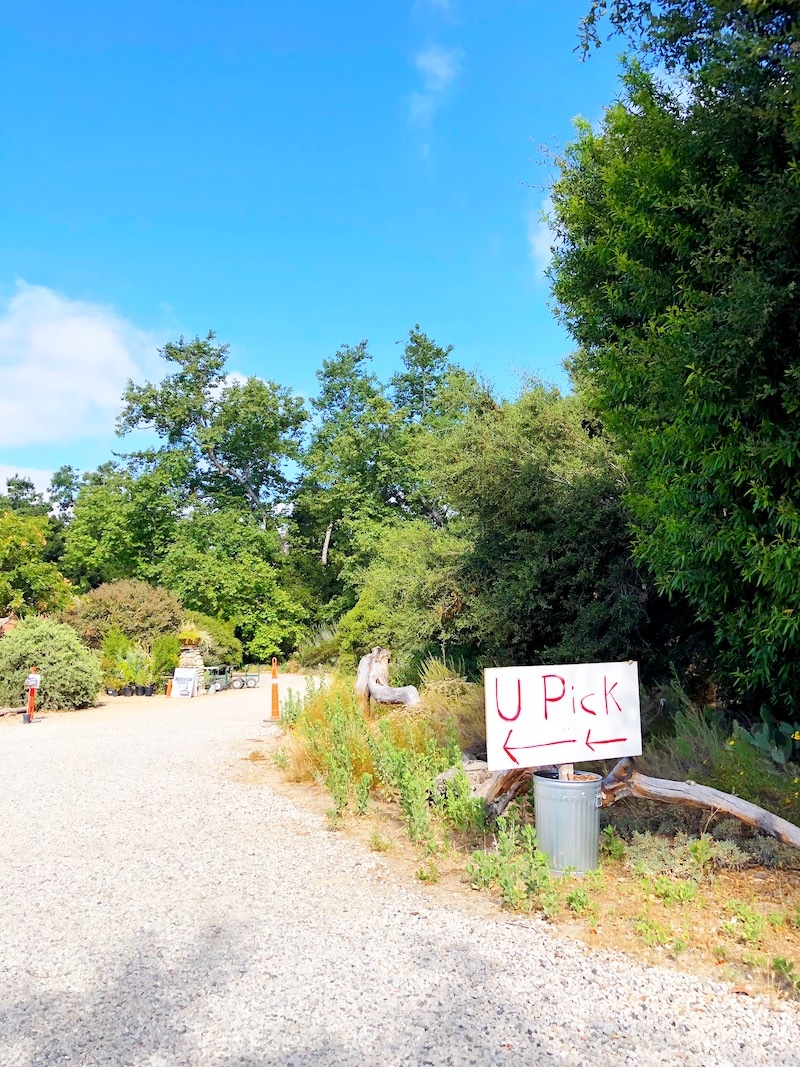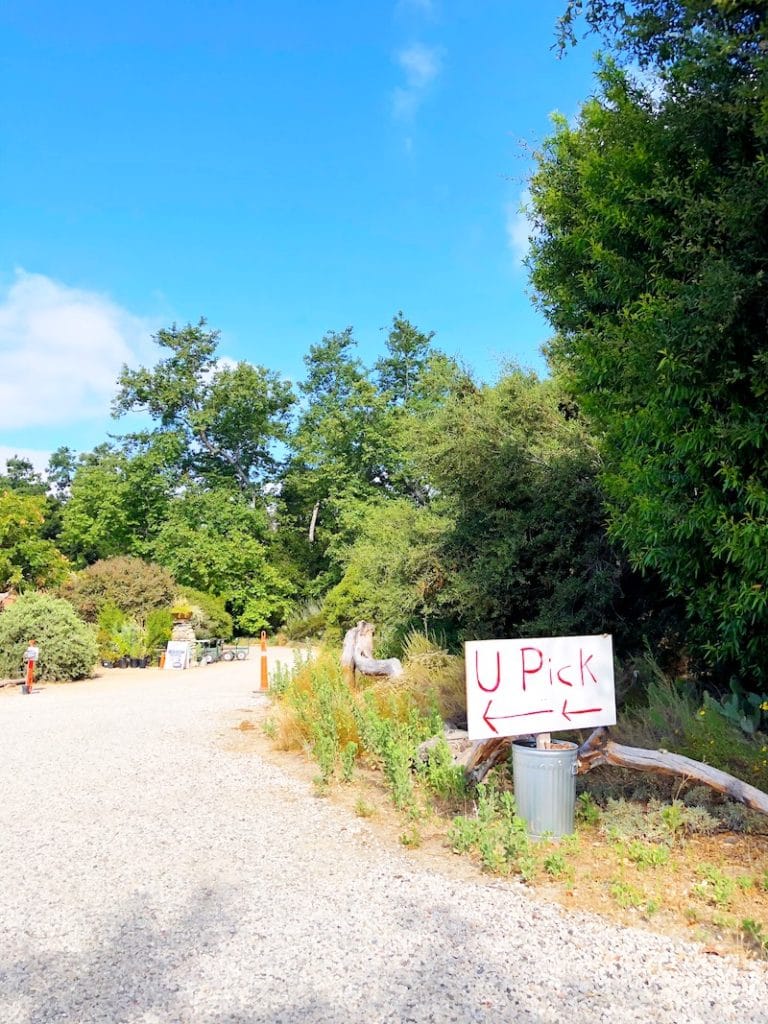 After you park, walk up to the table with small green baskets and white boxes. It's located next to the table with the cash register on it.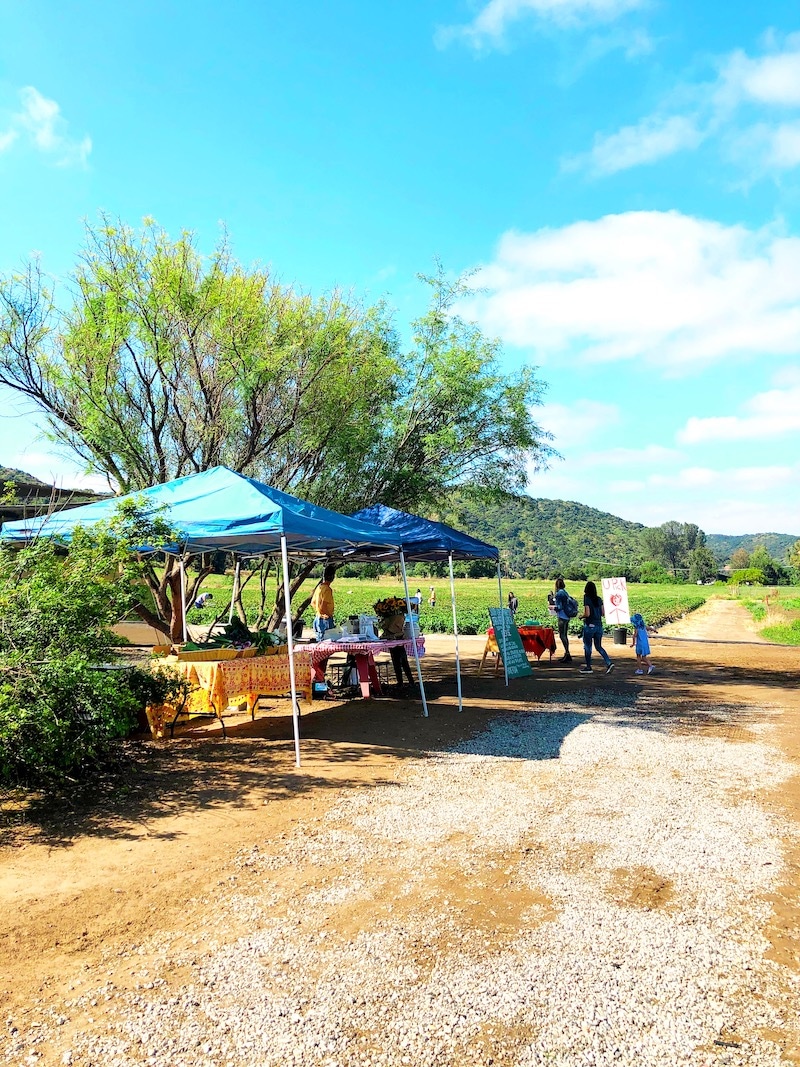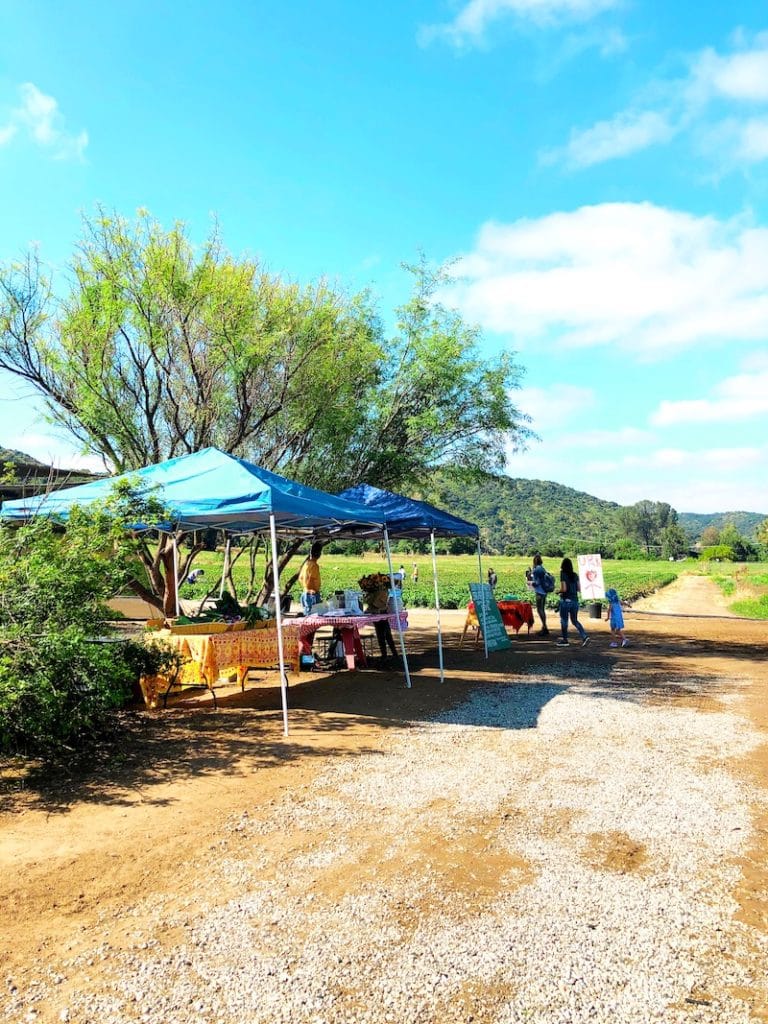 You can choose a basket, or both a basket and a box. Each box holds three baskets. Please note that during these times (as in, COVID-19 times), you'll also need to practice social distancing and wear a mask during your visit.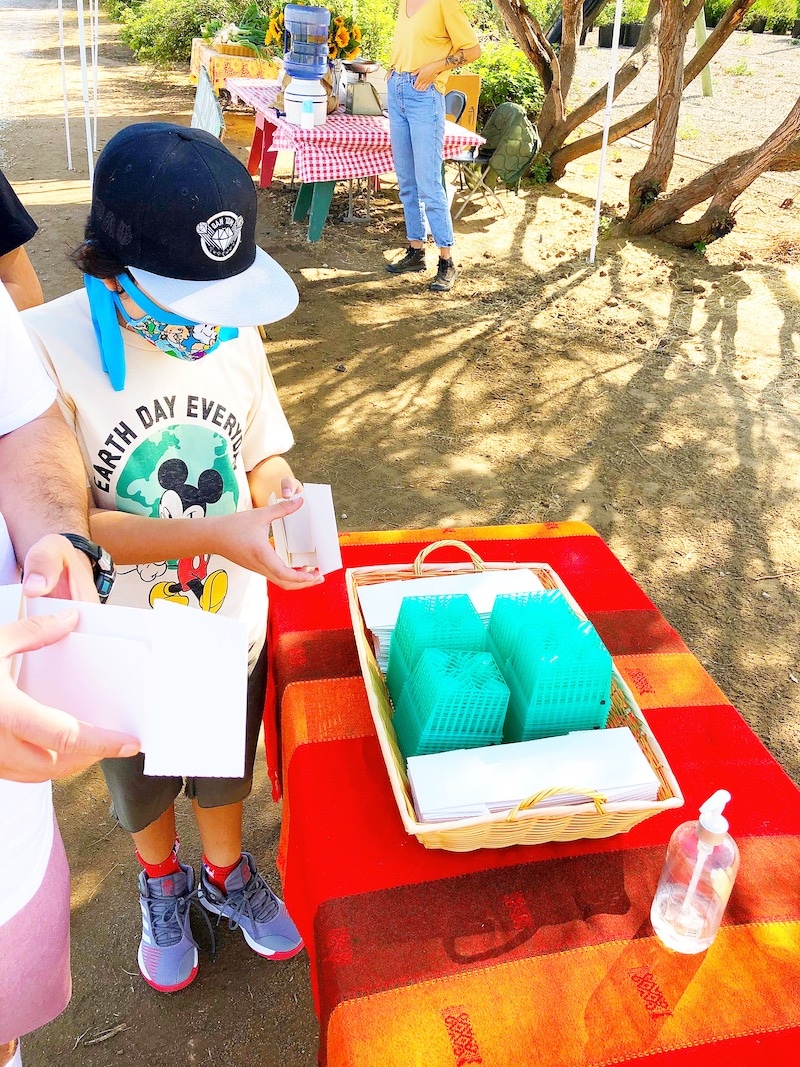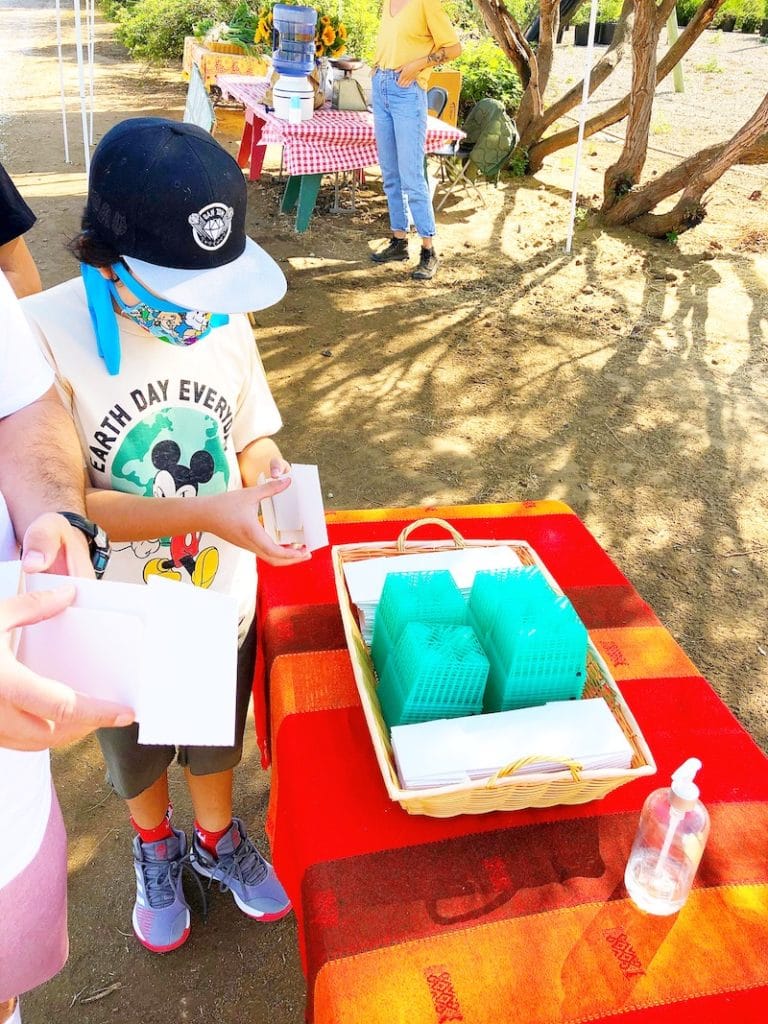 If you get there early enough, practicing social distancing isn't very difficult. There's a ton of open space.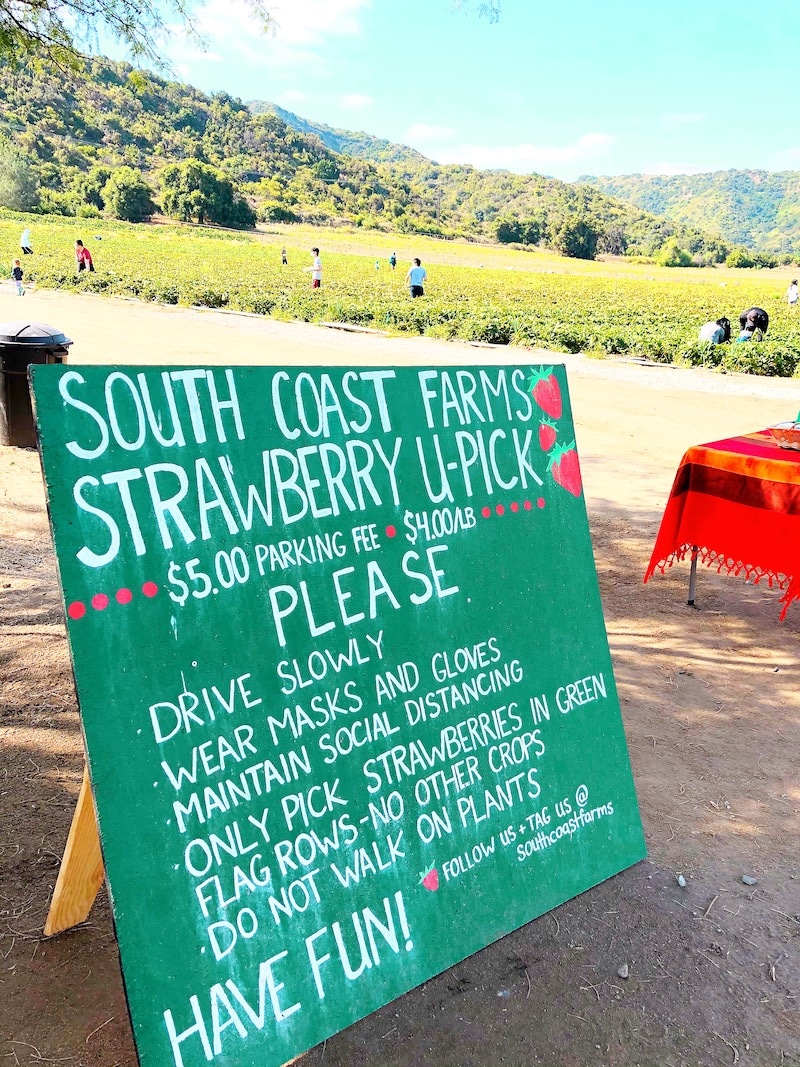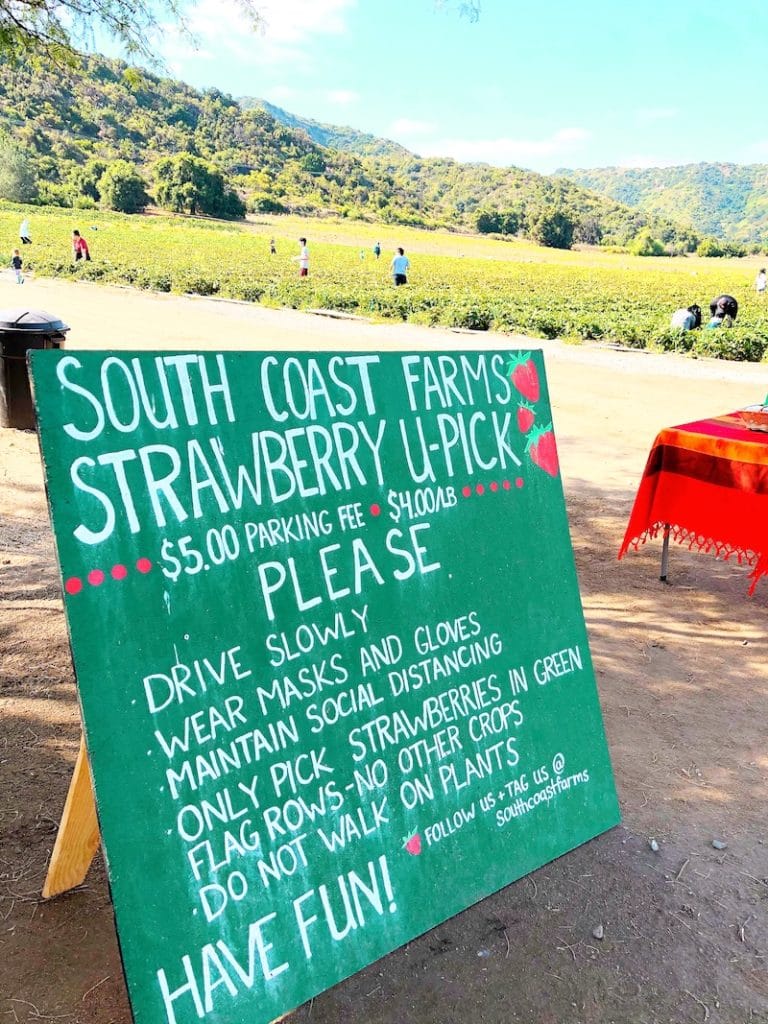 Parking
Parking is the dirt parking lot marked with white lines in front of the strawberry fields.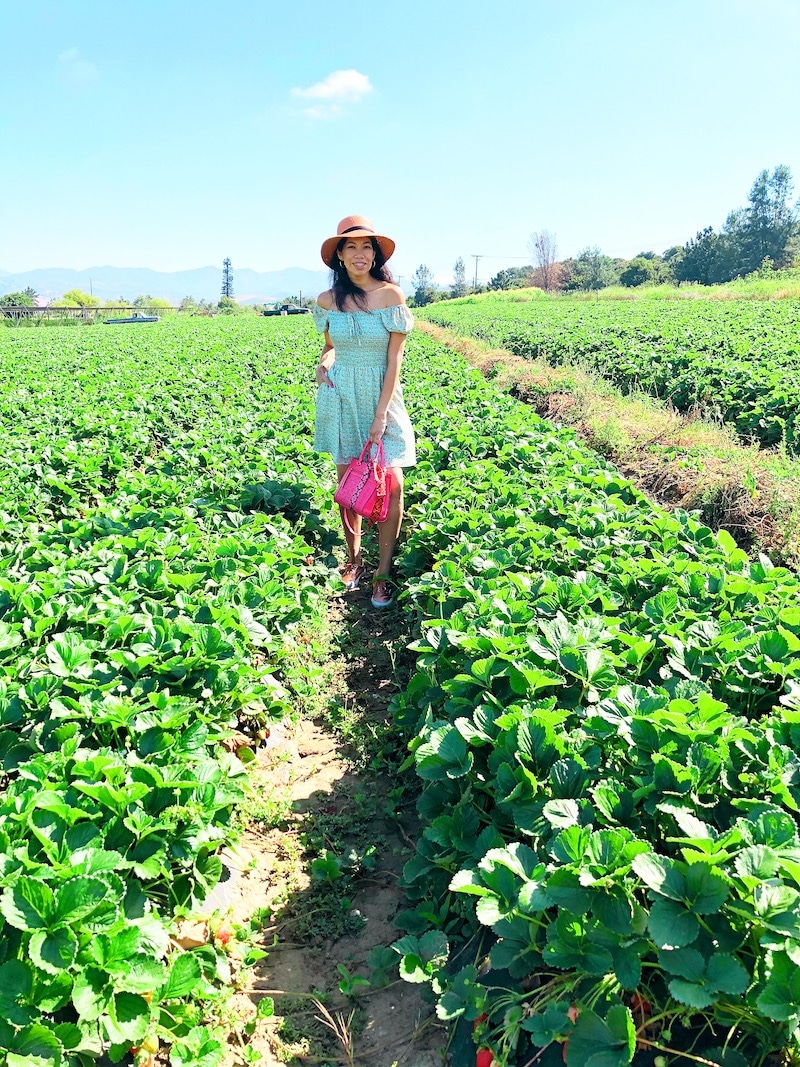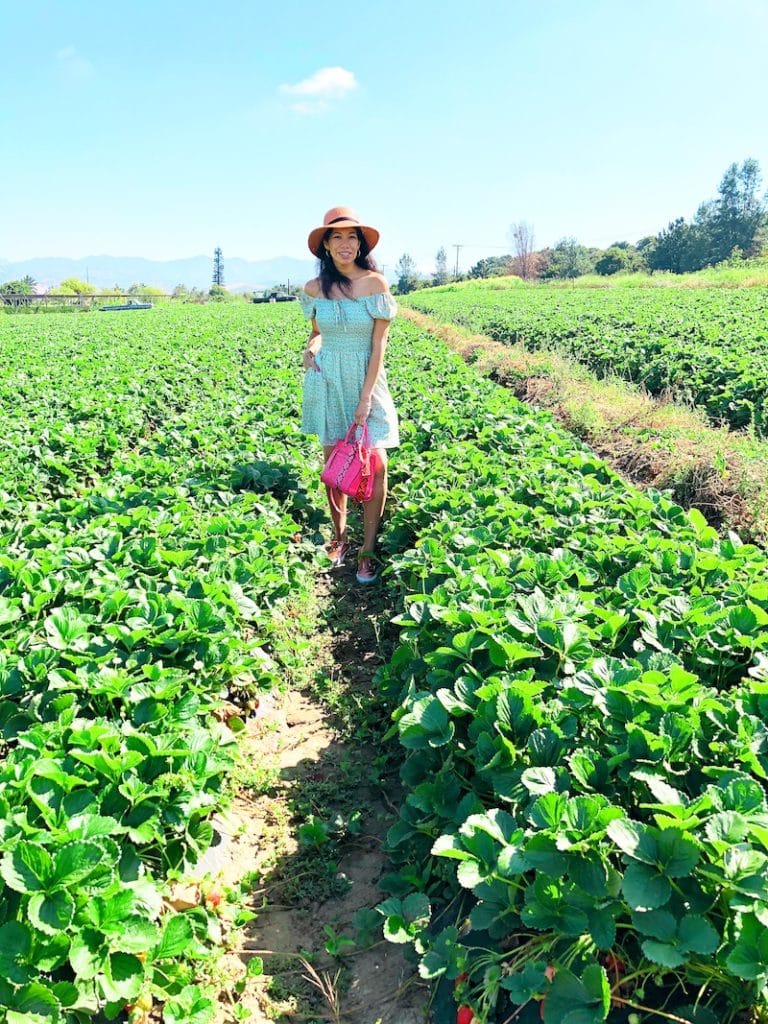 Prices
Parking is $5
Strawberries are $5/lb (updated pricing for 2021)
You will pay for both parking and the strawberries you have picked on your way out.
South Coast Farms also has a small assortment of veggies and flowers at the checkout table. Cash, Apply Pay and cards are accepted.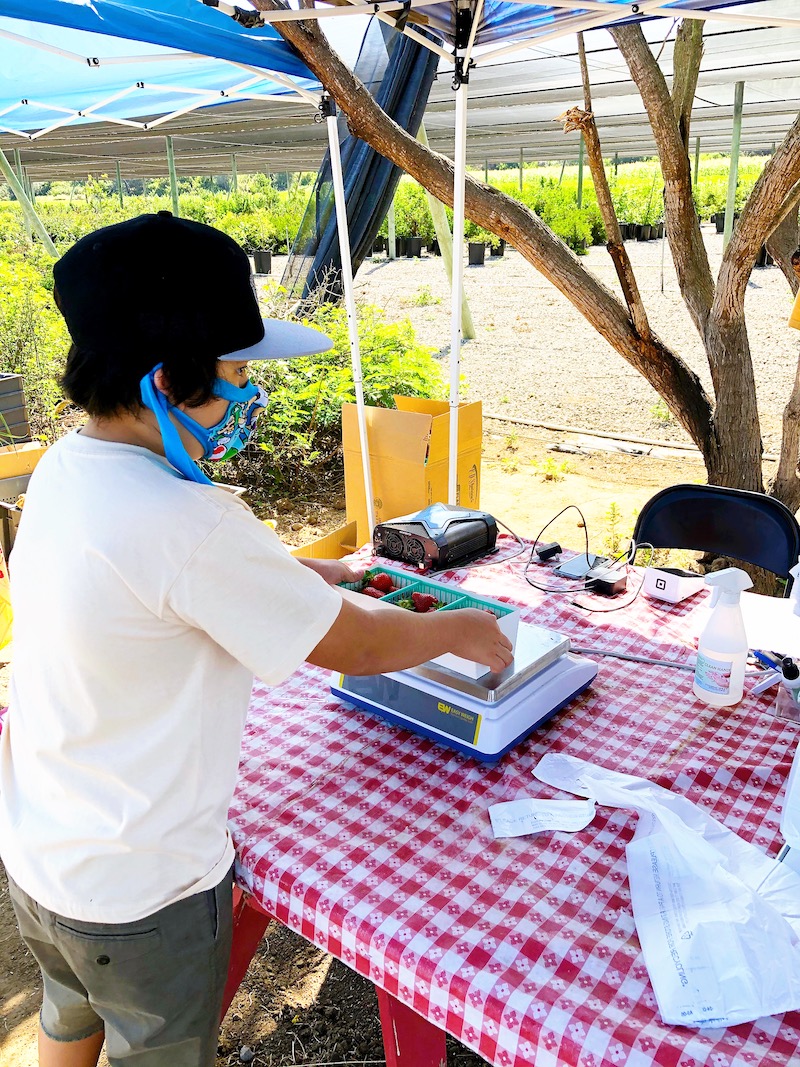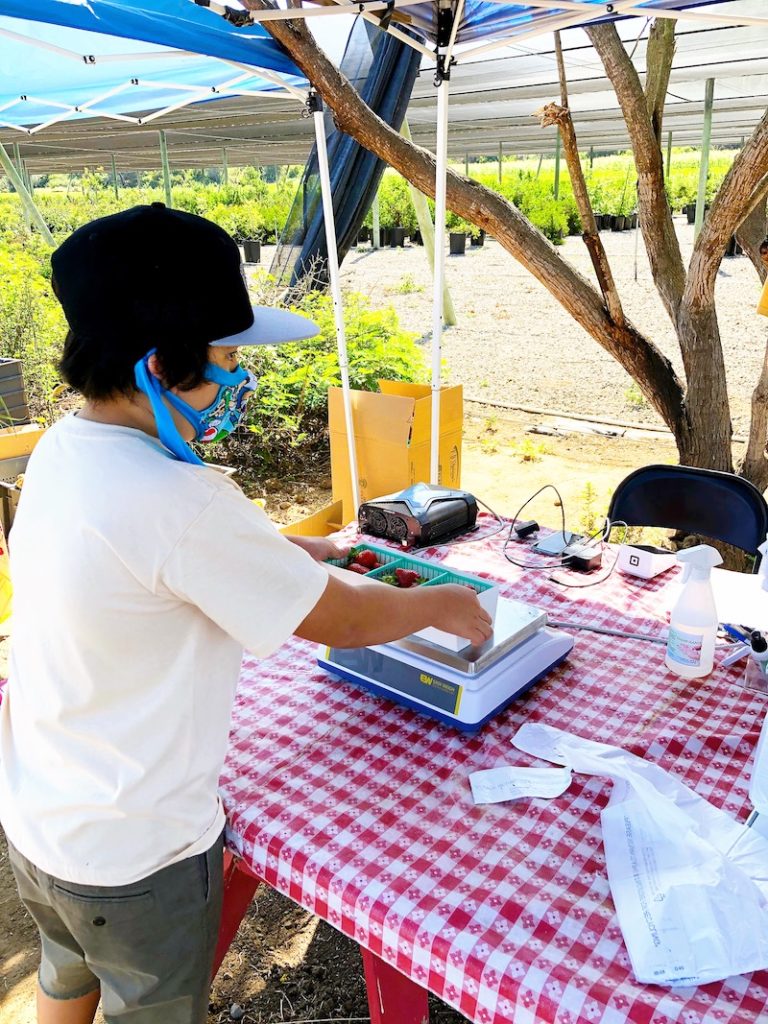 Hours
Friday-Sunday
9 a.m. – 3 p.m.
We were in and out in about an hour. It was a short trip and we did get there around 9:00 a.m. It wasn't too hot, too busy and the strawberries were ripe for the picking.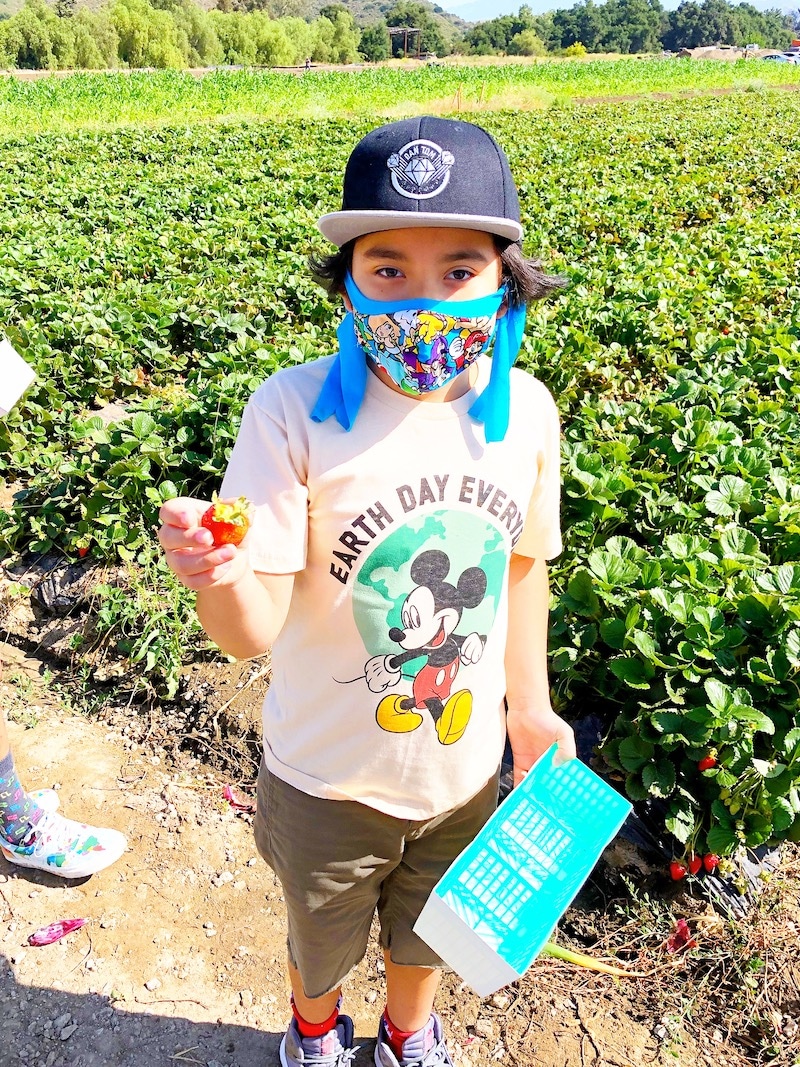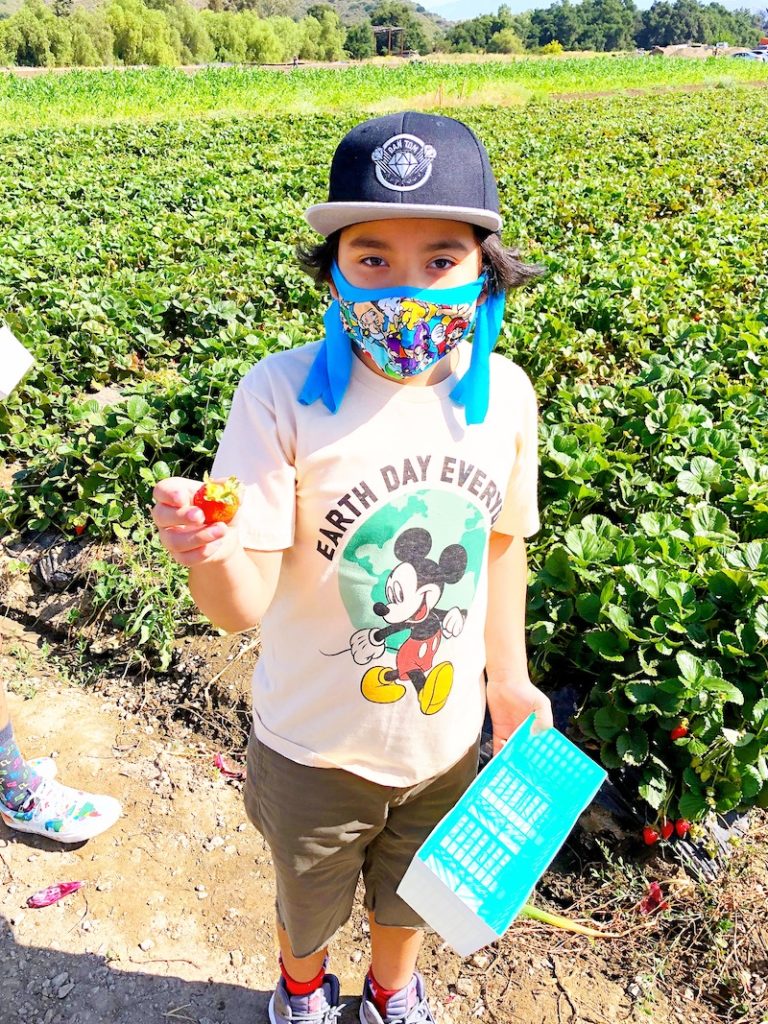 We suggest you bring along some gloves as your hands might get dirty (or at least some wipes). It looked like the fields had been watered recently, so there were some patches of mud. Wear shoes that you don't mind getting a little dirty.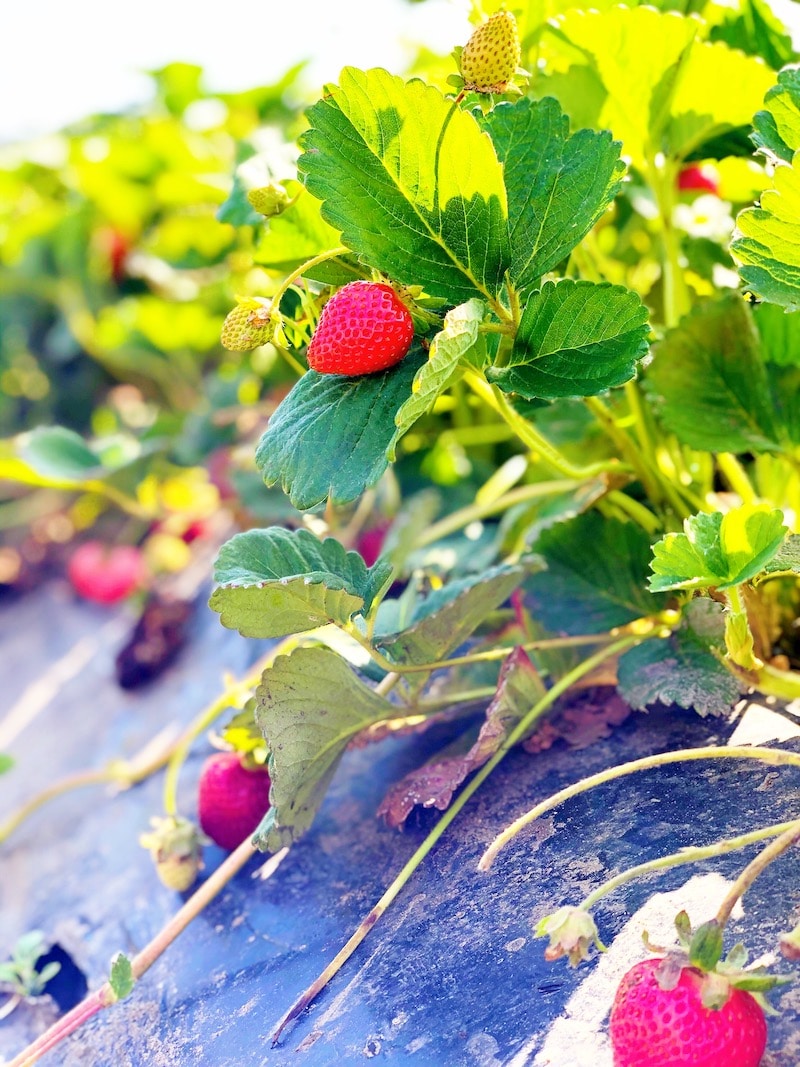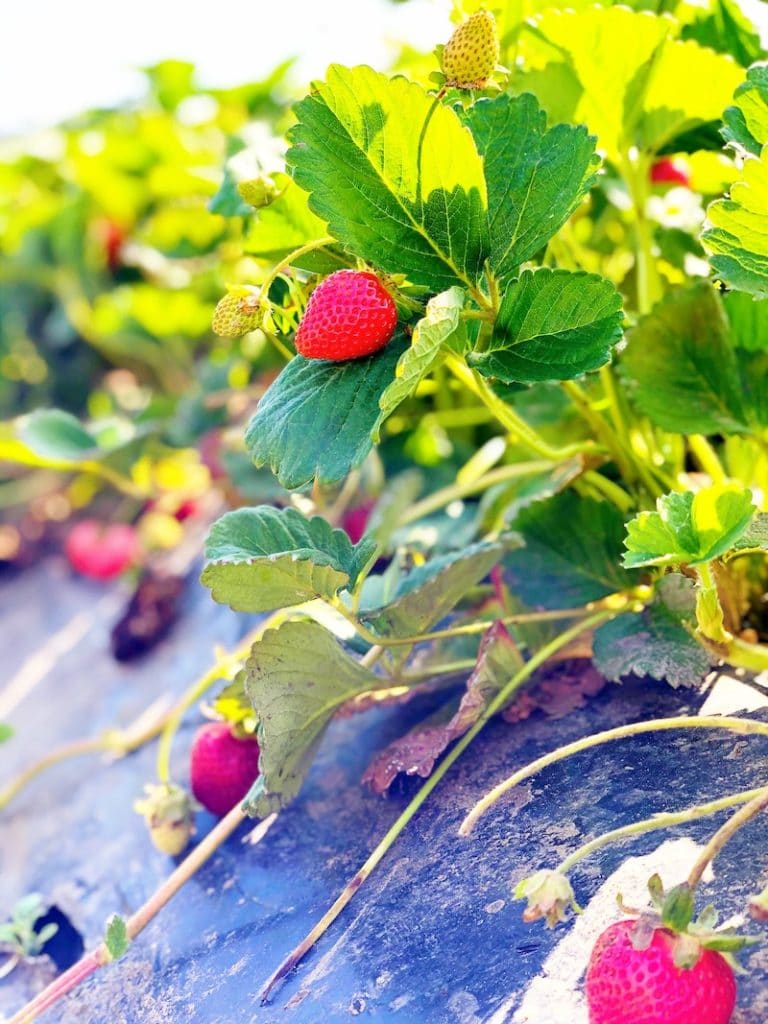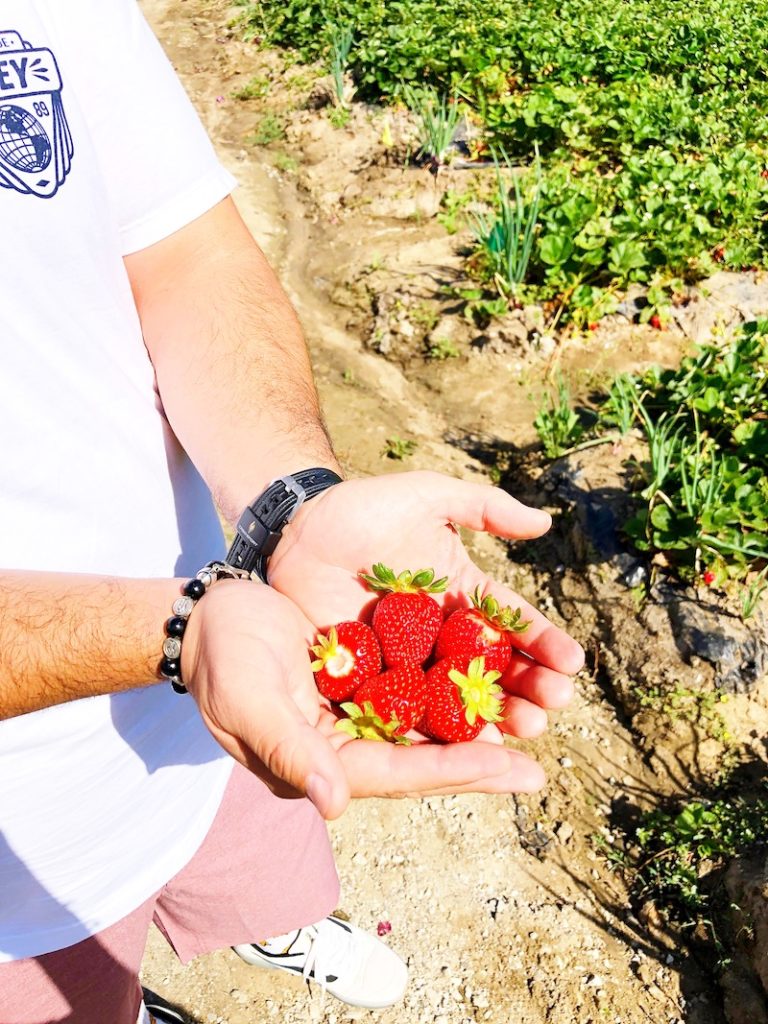 South Coast Farms is super kid-friendly. There's a porta potty near the "entrance" of the field, and enough rows of strawberries for kids to be able to pick from, without having to go straight into the fields.
It's also fun for the older kids (once they get over the "I'm too cool/old for this" attitude).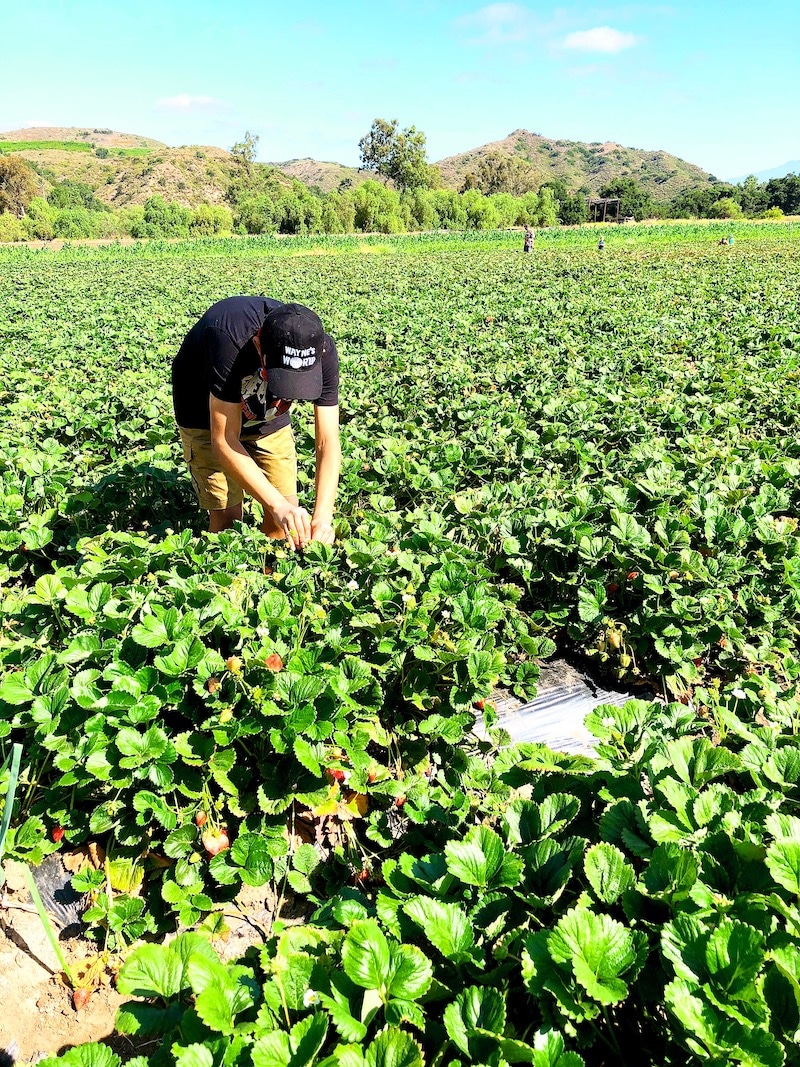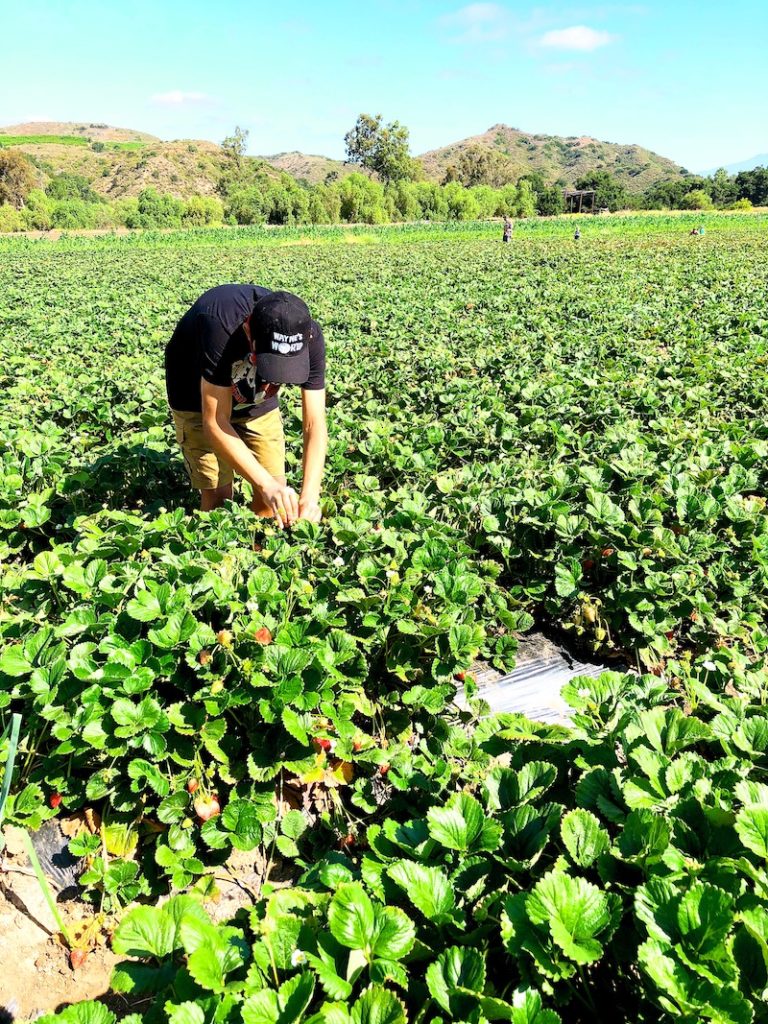 Hats are also a must, and sunscreen! Even though you probably won't be out there too much, you'll want to be as comfortable as possible.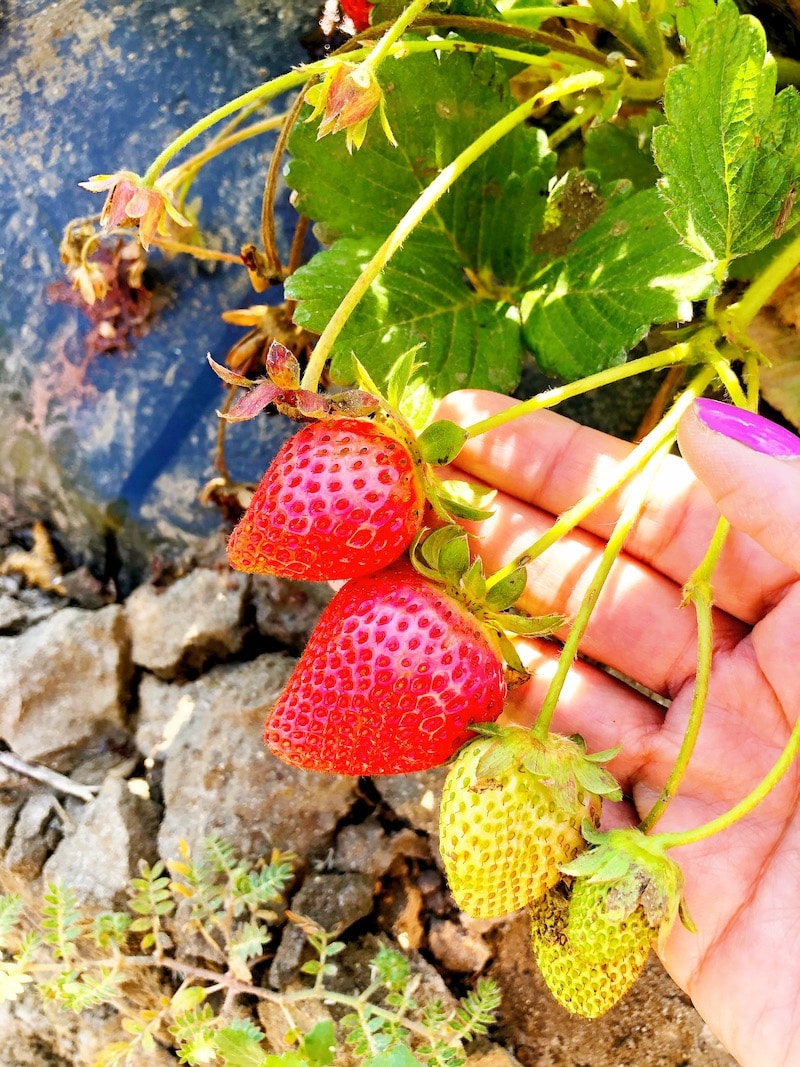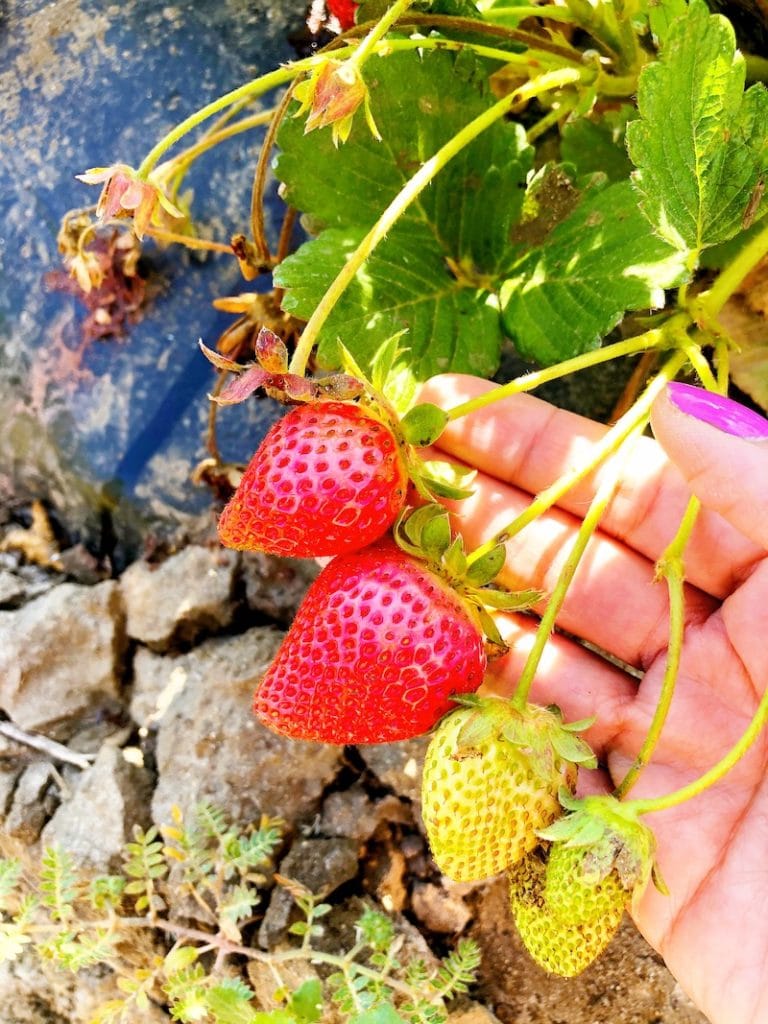 The rows of strawberries that are safe to pick from are marked with green flags, making it really easy to spot.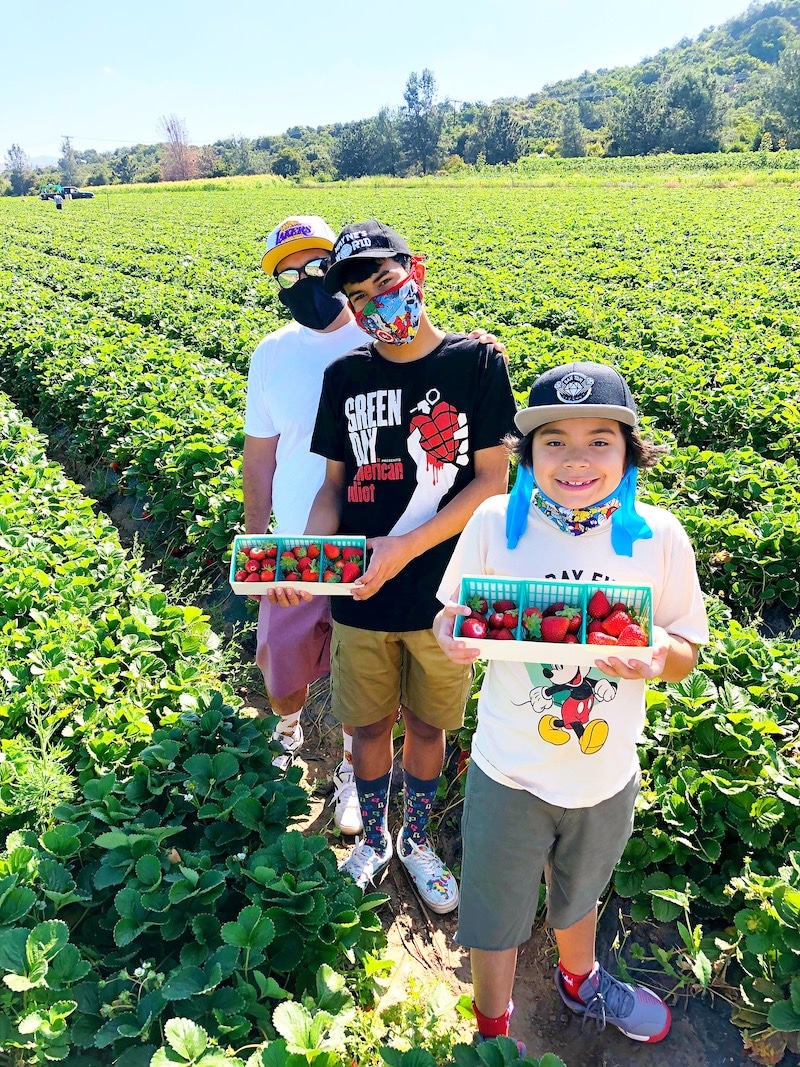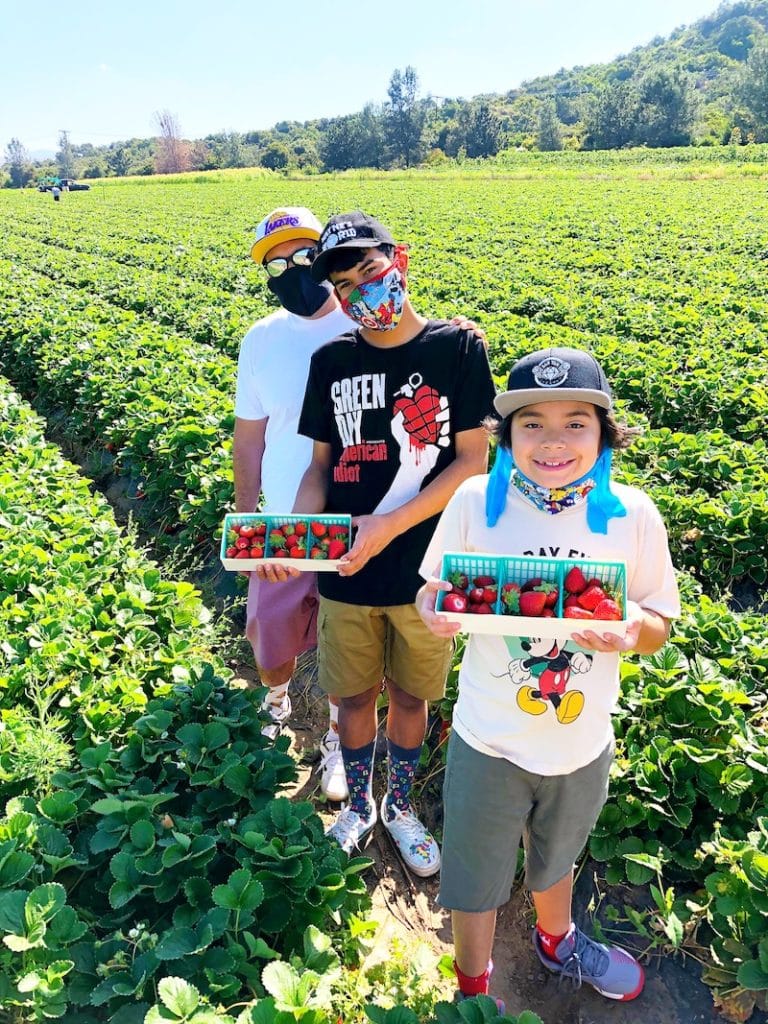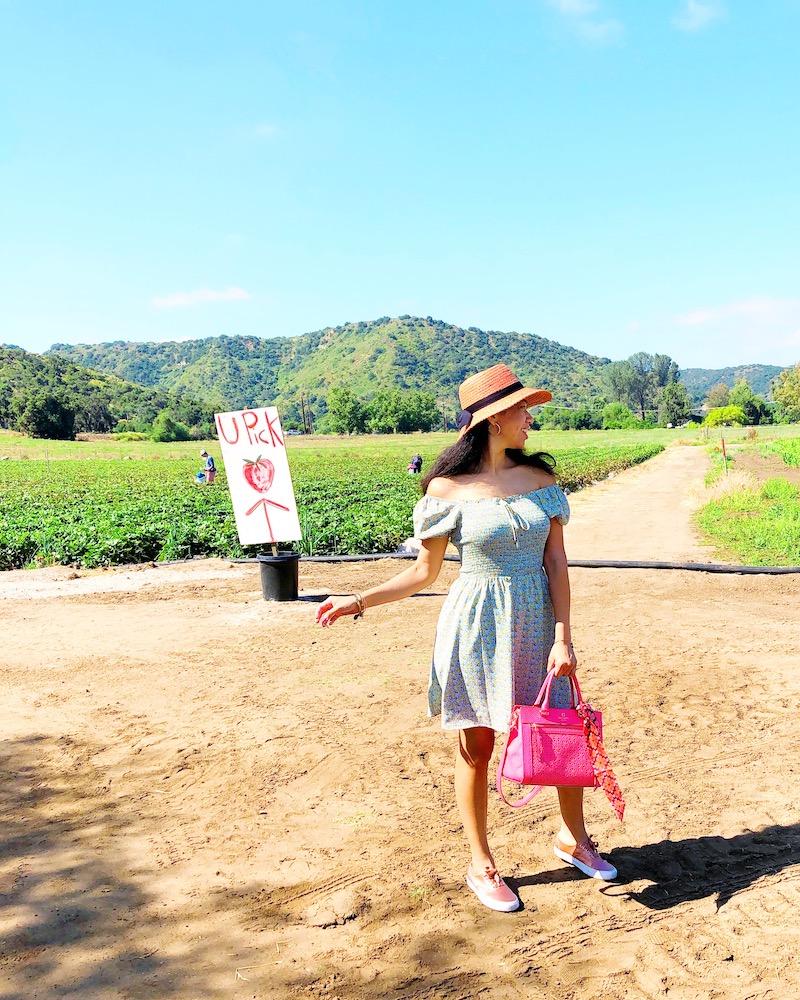 Originally published on June 13, 2020. Last Updated on April 27, 2021 by Pattie Cordova