LA Rams training camp at UCI – 10 things you need to know
Did you know that the LA Rams training camp is held at UCI every summer? This year, the camp will be held from July 29-August 10.
We attended the LA Rams training camp last year, and we loved it because it is family friendly and there is something to do for everyone.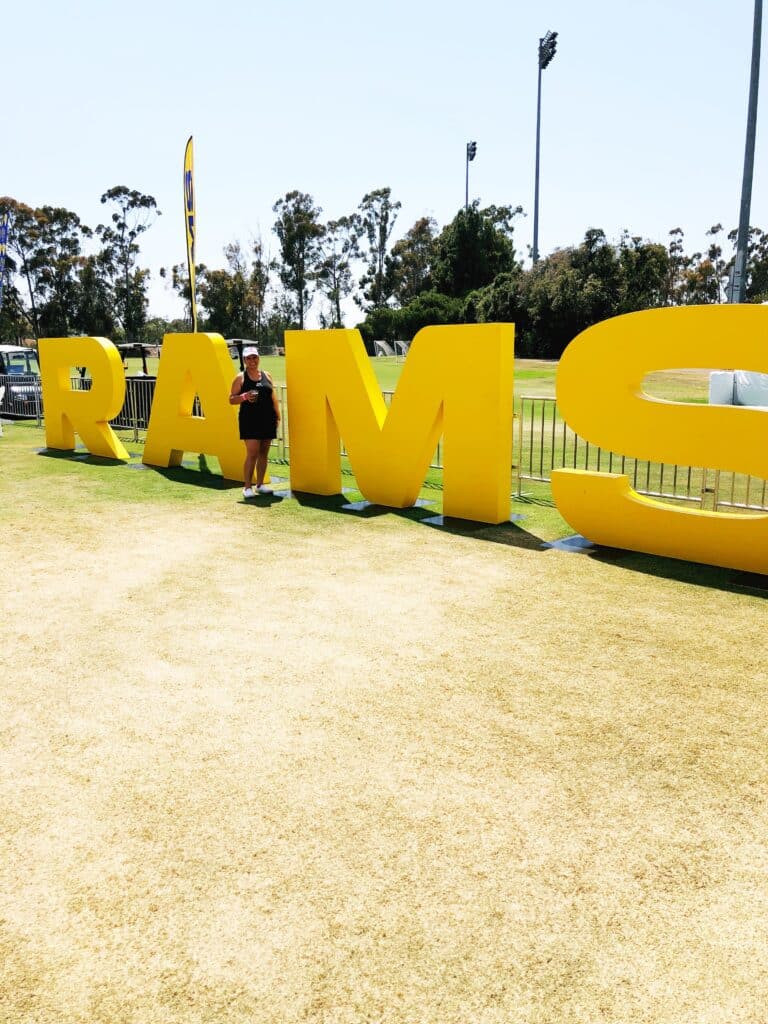 Because the Rams won the Super Bowl last season, it is going to be a very popular training camp this year so we recommend you get there when doors open at 11am or 11:30am depending on the day you go.
Per the Rams website, they recommend you arrive 45 minutes prior to opening to allow for time for parking, security and bag checks.
Family Zone and Youth Day at LA Rams training camp
There is an entire zone dedicated for the kids to play in different activities. Last year, we saw simulated football drills, target practice with a football and a small football field to play with other kids.
This year, the Rams are dedicating an entire day to the youth on Thursday, August 4. There will be a Rams Cheer Clinic in the fan activation zone and free co-ed football clinic on field after practice.
Food Trucks
There were plenty of food trucks there last year and a seating area with tables and benches to eat your food. We did notice that the tables were full when we got there so get there early to avoid long food lines and to get a seat at one of the tables. The food trucks are located next to the family zone.
Performance Stage
The performance stage will have various appearances depending on the day you attend. For example, some days a DJ will be playing and other days you will have the Rams cheerleaders or Rams legends on stage. The day we went last year there was a DJ playing and the stage is located near the entrance of the training camp.
Giveaways
Every day, the LA Rams are giving something away for fans that attend their practice.
Our favorite is the Vamos Rams Car Flag sponsored by Toyota on July 31st which happens to be Vamos Rams day. To look at all the giveaways each day, go to www.therams.com/trainingcamp
Seating
You will have to get to UC Irvine early to get seats on the bleachers, otherwise you will have to stand to view the LA Rams training camp practice. Folding and camping chairs are not allowed but there is plenty of bleacher seating for first come, first served.
Merchandise
There is plenty of LA Rams merchandise for sale at the practice. If you have a Rams season pass, you can get an extra 15% off merchandise. You can find the merchandise in the main area.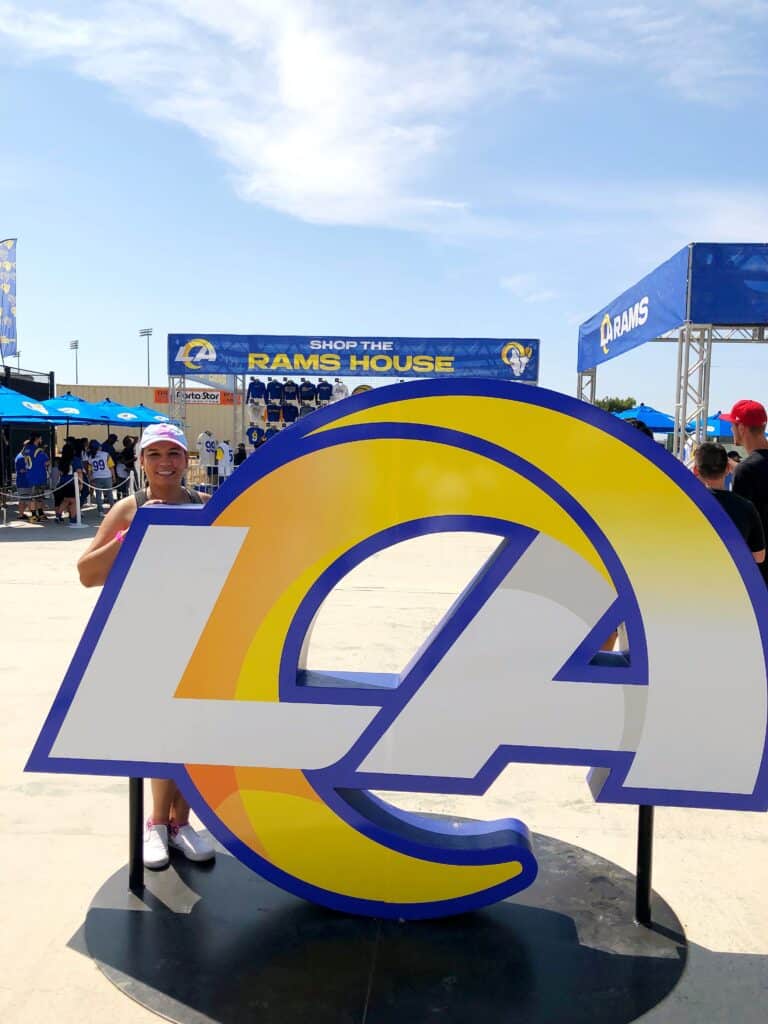 Photos and Autograph Opportunities
You will find plenty of photo opportunities with the Rams logo near the merchandise section and throughout the training camp. We had so much fun taking pictures at the various photo opps last year. Because of the popularity, you may need to wait in line for the more popular photo opps.
This year they are also going to have photo and autograph opportunities with Rams Legends and Rams Alumni on select days. Check the daily schedule on the website for the specific days.
LA Rams training camp parking
Parking can be purchased in advance or the day of the event. Cost is $15 for advanced purchase or $18 the day of the event. For disabled parking, you do not need to purchase in advance. Overnight parking and tailgating is not permitted.
Adult Beverages at LA Rams training camp
There will be a Corona Beer Garden where you can purchase Corona beer and other similar beverages. You need to be 21 and over, have a wristband, make sure you drink responsibly and only drink in the designated areas.
Items Not Permitted
You cannot bring outside food and beverages, even bottled water. You also cannot bring any pets, unless it's a service animal. You cannot bring professional cameras, tripods, drones or any other professional video or photo equipment. For a full list, check out the website.
We hope you get the opportunity to attend the FREE Rams training camp at UC Irvine and that it pumps you up to attend a Rams game at SoFi stadium. The games at SoFi are extremely fun and we highly recommend them!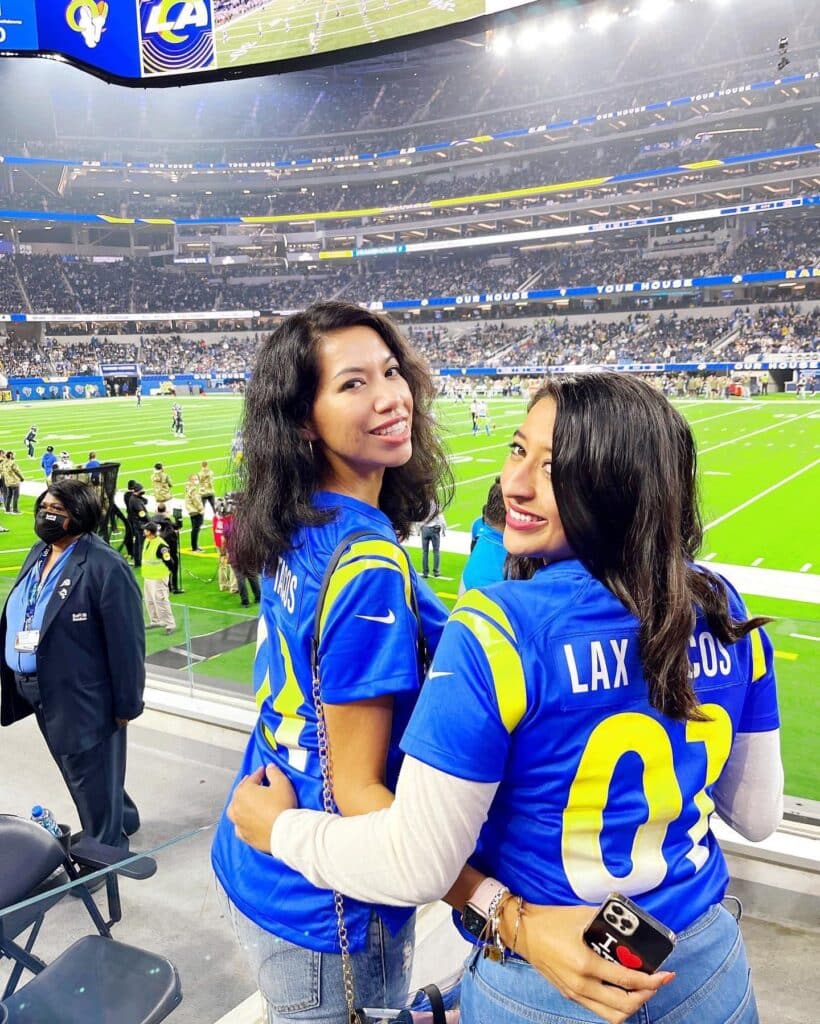 For FREE tickets to the Rams Training Camp at UCI, visit therams.com/trainingcamp
Read about our experience visiting the Chargers training camp in Costa Mesa!
Originally published on July 23, 2022. Last Updated on July 23, 2022 by Pattie Cordova