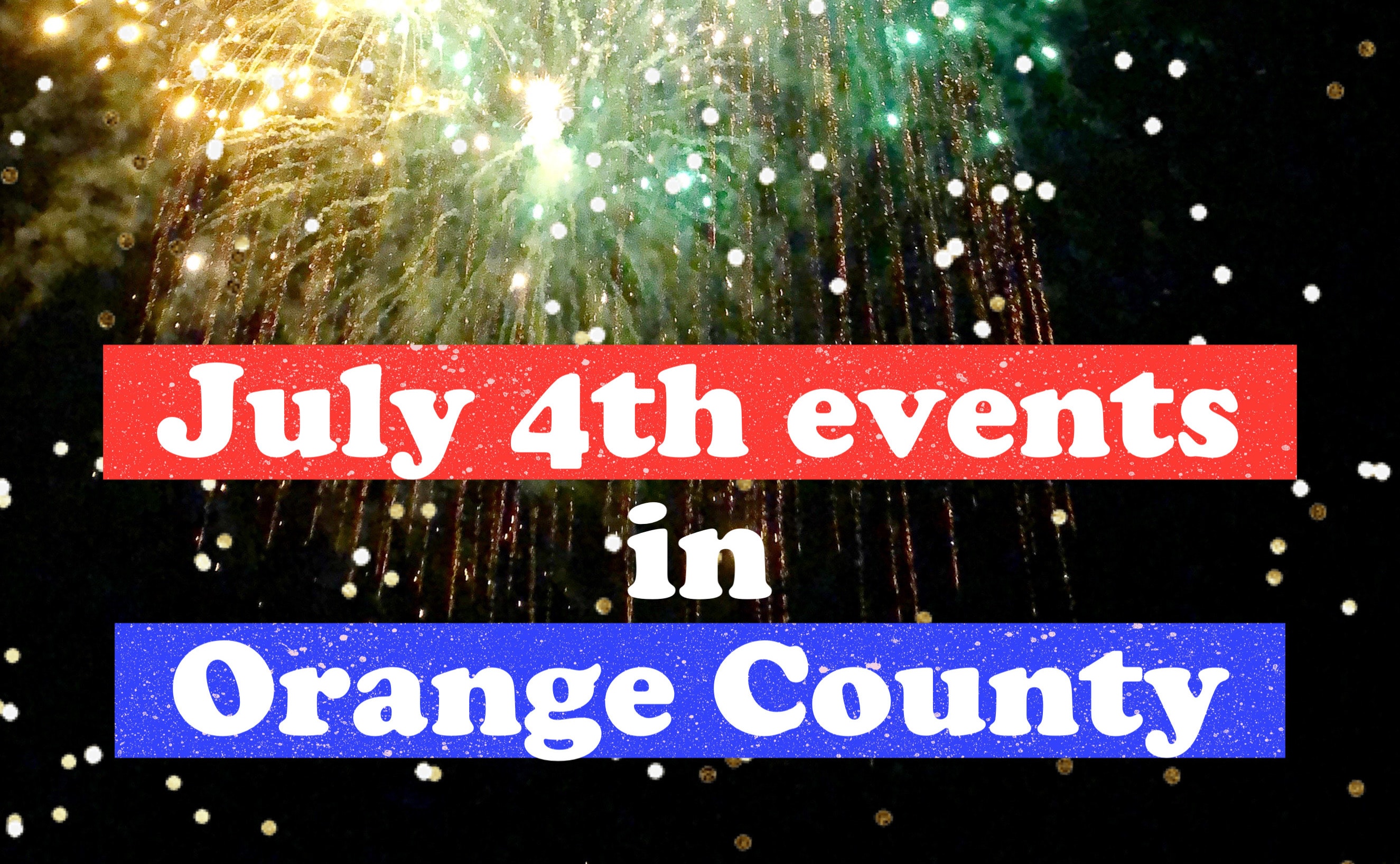 4th of July events in Orange County are back! There's tons of fun things to see, eat and do this July 4th and we're happy to be rounding up as many events as we could find for you.
This Orange County 4th of July events list is organized by city and noted where the entrance are FREE. Use it as a jumping off point to celebrate July 4th in Orange County and choose a few Fourth of July events to attend.
We put together so many July 4th events including fireworks shows, parades, and pop-ups. Scroll down and let us know in the comments which one is your favorite!
p.s. If you're looking for more fun things to do in Orange County this Summer, check out our Orange County Summer movies guide!
Did we miss one? Email ([email protected]) or message us on Facebook or on Instagram.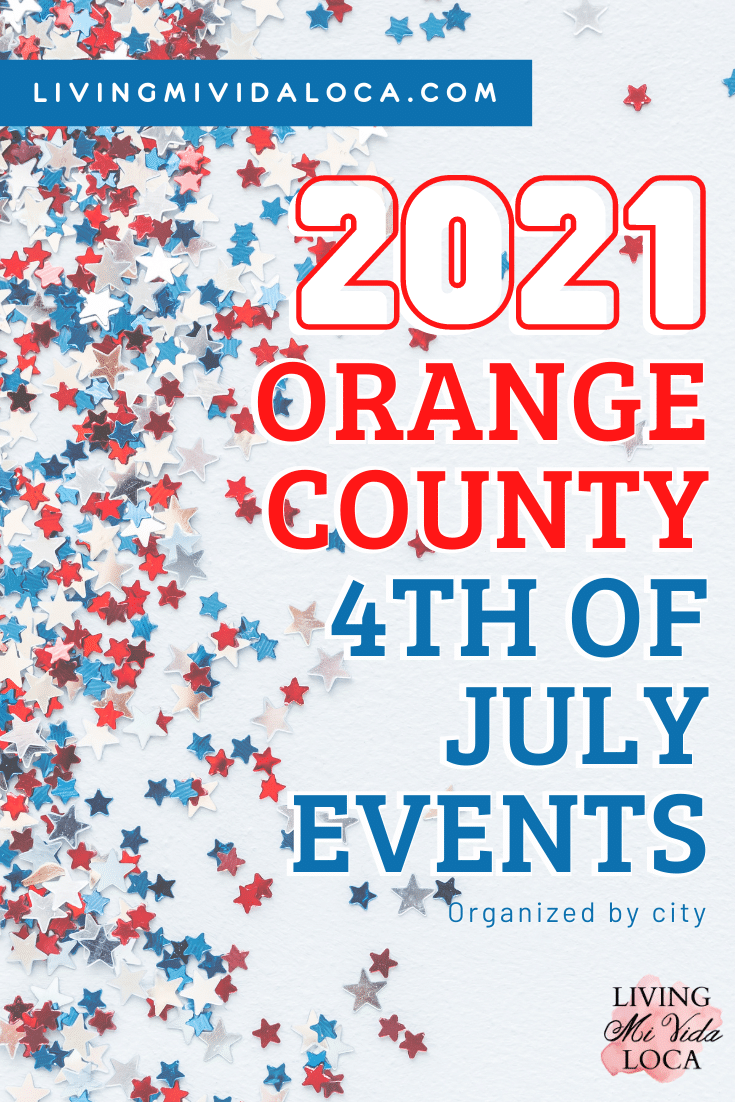 OC 4th of July fireworks, parades and events
ALISO VIEJO
4th of July parades in Aliso Viejo
FREE 4th of July Community Parade & Celebration
Aliso Viejo Ranch | July 4, 2021
9:00 am Parade | 9:30-11 am Community Celebration
Join Aliso Viejo for a morning filled with activities and entertainment for all ages, including carnival games, rock wall, giant slide, face painting, and more!

The community parade begins at 9 a.m. at Aliso Viejo Ranch and will travel down around the property and end with a free community festival. Parade participants are encouraged to dress in festive attire, decorate scooters, wagons, and strollers. All dogs must be leashed.
ANAHEIM HILLS
4th of July celebration in Anaheim Hills
FREE 4th of July Celebration | July 4, 2021
Peralta Park
7:00 am 4th of July 5k/10k race | 9:00 pm Fireworks
Anaheim Hills 4th of July Celebration returns this year. The day will kick off with a firecracker 5k/10k run and Yankee doodle dog show. The afternoon will be filled with a patriotic parade, food vendors and live entertainment. The day will wrap up with a spectacular fireworks show.
BREA
4th of July celebration in Brea
FREE 4th of July County Fair | July 3, 2021
City Hall Park
9:00 am – 3:00 pm
Come celebrate our Nation's independence at Brea's Annual Country Fair full of patriotic festivities. The fair opens at 9:00 a.m. and continues until 3:00 p.m. with live entertainment, kiddie parade, dog parade, classic car show, food, games, exhibits, and Market Place area featuring handmade gifts.

Swimming at the Plunge begins at 12 p.m. for $3.
BUENA PARK
4th of July fireworks in Buena Park
INCLUDED WITH ADMISSION TICKET July 4th Fireworks | July 3-4, 2021
Knott's Berry Farm
9:00 pm
Don't miss the lighting of the historic "K" tower followed by their dazzling Independence Day fireworks show where you can witness an exhilarating fanfare of radiant bursts and brilliant shimmers. To enjoy the firework presentation, please see the map guide for the best available viewing areas.
Knott's Berry Farm Admission or Season Pass with a reservation is required.
CYPRESS
4th of July fireworks in Cypress
FREE Salute to America | July 2, 2021
Cypress College
5:30-9:30 pm | 9:00 pm fireworks
This patriotic celebration will feature food trucks, live music from Electric Vinyl, the ultimate rock tribute group, all leading up to a spectacular fireworks display.
Festival seating – picnics, families, and lawn chairs are encouraged.
LA HABRA
4th of July fireworks and celebration in La Habra
$5 youth (3-12 years); $7 adults (13+ years) 4th of July-Red, White, & Blue
La Bonita Park | July 4, 2021
4:00-10:00 pm
The event will include the fireworks show, flyover, live music by Pop Vinyl, kid's activity booths, food vendors and general vendors. Guest seating is available on a first-come, first-served basis. Limited attendance capacity, so purchasing your wristbands pre-sale is highly recommended. Please note that no alcohol or glass containers are allowed in the park.

Wristbands on sale at the La Habra Community Center, 101 W. La Habra Blvd., Wristband prices are as follows:

Pre-sale, June 6th-30th: $3/Youth (3-12 yrs.) & $5/Adults (13+ yrs.)

July 1st-4th: $5/Youth (3-12 yrs.) & $7 Adults (13+ yrs)
LAGUNA BEACH
4th of July fireworks in Laguna Beach
FREE 4th of July Fireworks
Monument Point at Heisler Park | July 4, 2021
9:00 pm fireworks
The City fireworks show will originate from Monument Point at Heisler Park. For this reason, the Monument Point area will be closed all day on the 4th of July. Beginning at approximately 5pm, the area of Heisler Park from the Rock Bench at Myrtle Street to the Rockpile Beach stairs at Jasmine Street will be closed to the public to allow for fireworks preparation.
LAGUNA HILLS
4th of July fireworks in Laguna Hills
FREE 4th of July Fireworks
Laguna Hills Community Center | July 4, 2021
9:00 pm fireworks
Live band and food trucks starting at 6:30pm.
LAKE FOREST
4th of July celebration in Lake Forest
FREE 4th of July Day Celebration
Sports Park | July 4, 2021
6:30 pm live music | 9:00 pm fireworks
The Fourth of July Firework Show will feature a 20+ minute firework show, live performances, food vendors and other festivities. The event will begin at 6:30 pm with fireworks beginning at 9 pm. Residents are encouraged to arrive at the Sports Park at 6 pm. Overflow parking will be available at Saddleback Church.
LOS ALAMITOS
4th of July fireworks in Los Alamitos
FREE Drive-Up 4th of July Fireworks Spectacular
Los Alamitos Joint Forces Training Base | July 4, 2021
9:00 pm fireworks
The event will entail a drive-up and view format of the fireworks show that will begin approximately at 9:00 p.m. Please be patient entering the Base at either the Lexington Gate (Lexington and Katella) or Orangewood Gate (Orangewood and Los Al Blvd) as a high volume of vehicles are expected to arrive and a check-in procedure will be in place. The check-in procedure will include an I.D. check and health screenings for all individuals inside each vehicle. Reservations are required. ONLY ONE TICKET PER VEHICLE IS REQUIRED. Please enter assigned entry gate based on ticket reserved and present your ticket and valid I.D. to enter.
MISISON VIEJO
4th of July fireworks in Mission Viejo
FREE 4th of July Fireworks Spectacular
Marty Russo Youth Athletic Park | July 4, 2021
9:00 pm fireworks
Marty Russo Youth Athletic Park is closed to all spectators. The public can enjoy the Independence Day fireworks display from various locations surrounding the area – including parks and high elevations along Marguerite, Melinda, Alicia, and Olympiad. Limited parking around the park will be available for people to view the show from their vehicles, but residents are urged to find alternate locations to watch the fireworks.

The Street Faire is expected to return next year.
ORANGE
4th of July celebrations in Orange
$7 Annual 3rd of July Celebration
Grijalva Park | July 3, 2021
4:00 pm | 8:45 pm fireworks
This community event celebrating our Great Nation features music, children's activities, games, food trucks, and an authentic hometown atmosphere. When the sun sets, our grand finale begins with a patriotic performance by the Orange Community Master Chorale, and concludes with a spectacular fireworks display.
SAN CLEMENTE
4th of July fireworks in San Clemente
FREE July 4th Fireworks Display
San Clemente Municipal Pier | July 4, 2021
9:00 pm fireworks
To assist with downtown parking, the San Clemente Trolley will be in service from 10:00 a.m. to 10:00 p.m. Check for any changes to the hours of operation by visiting www.san-clemente.org/trolley.

A flyover by the Condor Squadron, consisting of four AT-6 aircraft World War II trainers will take place along the participating coastal cities from 5:55 to 6:00 p.m.
SAN JUAN CAPISTRANO
4th of July celebration in San Juan Capistrano
FREE July 4th Festivities
San Juan Capistrano Sports Park | July 2-4, 2021
July 2: 4-10pm | July 3: 12-10pm | July 4: 12-10:30pm (9pm fireworks)
Food, exhibit booths, live music, picnic games for the whole family, beer/wine and free trolley service from 11:00 am – 10:00 pm.
VIRTUAL CELEBRATIONS
4th of July parades in Aliso Viejo
FREE Annual July 4th Celebration event!
Aliso Viejo Community Association
6:00 pm to 7:30 pm
Virtual concert experience from 6:00 p.m. to 7:00 p.m. immediately followed by a virtual fireworks display starting at 7:00 p.m.!
We hope you enjoy these July 4th celebrations! Let us know if you'd like to see more of these Orange County guides in the comments below.
Thanks for reading! Follow us on Facebook, Instagram and TikTok for more fun things to do in Orange County!
More fun things to do in Orange County this Summer: