There are lots of free and discounted movie events around Orange County and LA – especially around the Summer. However, there are few that make it a "thing" like Segerstrom Center does.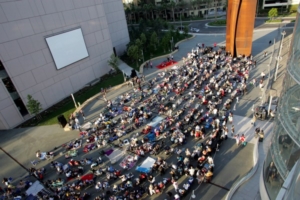 So what makes FREE movie Monday at Segerstrom Center for the Arts so cool? Well it's the fact that they make it a whole evening event that is great for couples AND families!
First, they have contests before the movie (these pre-movie activities start at approximately 7:30). Prizes such as tickets to shows, DVDs and other fun-filled items are awarded to contest winners. Then, they also have special themed-menu items (provided by Patina Catering) for each Movie Monday! This series was carefully thought out to make the most out of what would have been a boring Monday at home.
A few more details:
Films are projected on the side of Segerstrom Hall. You're encourage to bring beach chairs or other easily portable seating items. Set-up begins at 5:30 p.m., with the movie starting at dusk (approximately 8 p.m.). And if you're not up for the special themed-menu items, you can always bring your own snacks and picnic suppers. Barbecues and similar food preparation are not permitted.
You also have the option of ordering platters that serve 2 to 4 people via their special events line – (714) 556-2122 extension 4202. You'll have to do some pre-planning for this however, as you need to order by the previous Friday at 5 p.m.
 Assorted Cheeses and Charcuterie – Double Cream Brie, Chipotle Cheddar, Vella Jack, San Danielle Prosciutto, dry aged salami, grapes, olives, marinated peppers, dried fruit, crackers: $18 plus tax and service charge
 Sweets Platter – 6 assorted cookies, 4 brownies, 4 chocolate covered strawberries: $12 plus tax and service charge
 Chocolate Fondue Platter – strawberries, pineapple, brownie bites, pound cake bites, marshmallows, chocolate sauce: $15 plus tax and service charge
Movie Mondays Schedule
July 8 – The Wedding Singer
If you're ready for another great summer of Movie Mondays, say "I do!" This sweet romantic comedy stars Adam Sandler and Drew Barrymore as a seemingly perfectly matched pair, if only they weren't engaged to other people. Will they discover each other and find true love? Only with the help of a soundtrack of classic '80s tunes!
Rated PG-13, 1998, 1 hour and 35 minutes
Patina menu items available for purchase:
 Burger and cheeseburger sliders: $6 for 2 sliders
 Grilled cheese sandwiches: $4 each
 Slices of wedding cake: $3 each
July 15 – Buena Vista Social Club
Acclaimed director Wim Wenders' documentary follows American jazz guitarist Ry Cooder as he travels to Cuba to unite the legendary musicians of pre-revolutionary Havana. The result was not only a triumphant performance of extraordinary music (hailed by Rolling Stone Magazine as one of the 300 greatest albums of all time), but also helped immortalize the artists who were all but forgotten in their own country. On September 17, the Center opens its 2013 – 2014 Season with Orquestra Buena Vista Social Club in the Renée and Henry Segerstrom Concert Hall.
Rated G, 1999, 1 hour and 45 minutes
Patina menu items available for purchase:
 Chicken tacos: $6 for 3 tacos
 Cheese quesadillas: $4 each
 Churros: $3 each
July 22 – Mulan
Celebrating the 15th year of its release, Mulan is based on a Chinese legend about the only daughter of an aged warrior. To protect him and save their family's honor, our high-spirited heroine disguises herself as a man and takes her father's place in the army. With characters voiced by Eddie Murphy, Ming-Na Wen and Harvey Fierstein, and featuring songs by Broadway stars Donny Osmond and Lea Salonga, Mulan is the uplifting tale of the strength and bravery that lies in all of us.
Patina menu items available for purchase:
 Vegetable egg rolls and chicken pot stickers with soy and sweet chili dipping sauce (6 pieces): $5
 Grilled chicken bánh mi, pickled carrot, cucumber, cilantro jalapeño aioli: $4
 Hand-scooped ice cream sandwich: $3
July 29 – The Phantom of the Opera
The longest-running Broadway show in history was given a Hollywood make-over with this 2004 adaptation of Andrew Lloyd Webber's mega-musical. "The Music of the Night" will surround the Arts Plaza as we screen the winner of last year's Audience Favorite Online Poll!
Rated PG-13, 2004, 2 hours and 23 minutes
Patina menu items available for purchase:
 Croque monsieur (grilled ham and cheese sandwich): $6 each
 Grilled cheese sandwiches: $4 each
 Charcuterie and cheese plates: $6 each
 Crepe station: $4 each
August 5 – Evita
Starring Madonna, Antonio Banderas and Jonathan Pryce, this 1996 film by Alan Parker depicts the infamous real-life story of Argentina's Eva Duarte de Perón, who rose from poverty to become one of the most famous and powerful women in history. Movie Mondays audiences will have a chance to experience the classic Tim Rice musical in 2D before the new live production opens the Center's Broadway Series in December.
Rated PG, 1996, 2 hours and 15 minutes
Patina menu items available for purchase:
 Beef and vegetable skewers with chimichurri: $6 for 2 skewers
 Tres leches parfait: $3 each
Originally published on July 5, 2013. Last Updated on May 13, 2019 by Pattie Cordova