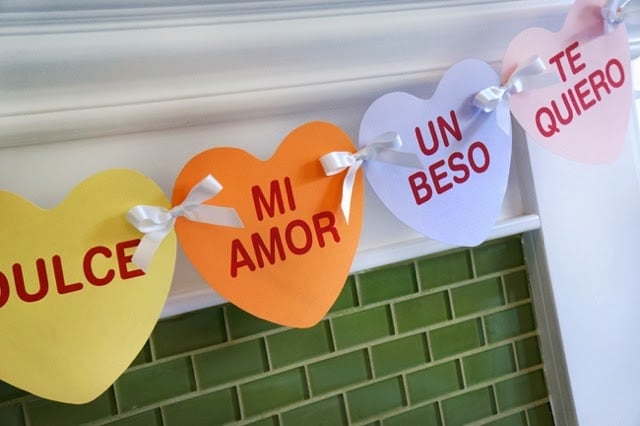 Holidays
Free DIY Valentine's Day Banner in Spanish
This year, my friend Jill created an easy DIY valentine's day banner printabler using conversation hearts as her inspiration, then turned around and created one for me to share with you – but in Spanish! She knows that it's important for me to have my kids grow up bilingual.
This banner is the best way to say Happy Valentine's Day in Spanish: ¡Feliz Diá de San Valentín!
This easy DIY printable Spanish Valentines Banner is a great way to decorate for the upcoming holiday: el Diá de San Valentín, or El Diá del Amor y la Amistad as it is also commonly known. With common sayings like, "Hola," "Abrazos," and "Un Beso," the Valentine Banner easily fits into your current Valentine's Day decor.
To achieve the look, simply print out your free Valentine's Day printable banner onto pastel colored cardstock, similar to the colors in conversation hearts. Feel free to play with the colors too – maybe neon? This printable is very frugal because it doesn't waste a lot of ink. Only the words in red print out, as well as a black outline to help you cut in the shape of a conversation heart. So really, you could make more than just one.
How to make a DIY Spanish Valentine's Day Banner
Material Needed
• 7 pages of colored cardstock (we used pink, white, mint green, yellow, orange and lavender)
• white satin ribbon
• free printable Valentine's Day banner PDF
• circle hand puncher
• scissors
Directions
• Print out conversation heart messages onto colored card stock.
• Cut out the hearts
• Punch a hole on each side of the heart where you will run your string through. if you wish to hang them differently, punch your holes accordingly.
• Use ribbon to tie the hearts together. Tie a piece of longer ribbon to each side of the banner so that you can hang it up.
Tips
Use it year after year, and laminate to make it last even longer!
Adding a simple touch like the bows really brings the look to its full "Valentine's Day" potential. Can't wait to see yours!
Click here to print the DIY Spanish Valentine Banner
Originally published on January 19, 2014. Last Updated on February 25, 2022 by Pattie Cordova