Our bartender at the Cabo San Lucas all inclusive resort, Royal Solaris Los Cabos, shares his favorite easy mojito recipe and shows us how to make a mojito that is preferred in this Cabo San Lucas resort.
They sell over 300 mojitos in this one bar every single day! They also make different variations by switching out the type of fruit used. This is a traditional mojito recipe using limes and lime juice.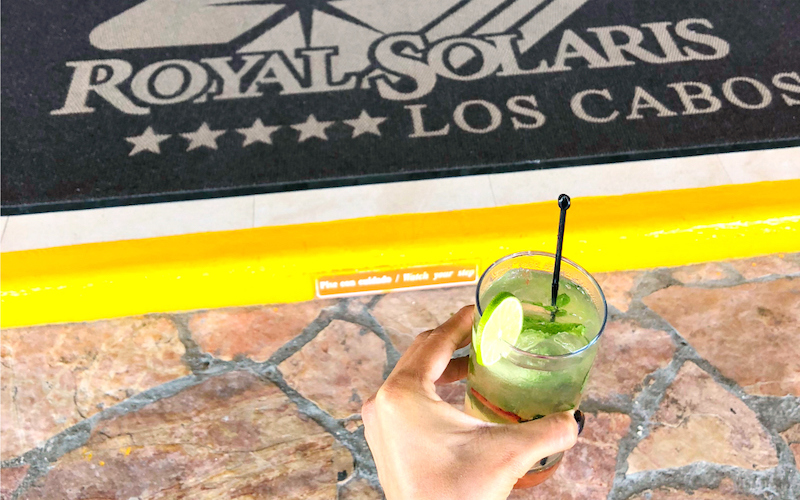 Mojito Recipe
Ingredients
1 tbsp Mint
2 lime slices
Simple syrup
Ice
Bacardi
Splash of lime juice
Soda Water
2 drops of Angostura bitters
Directions
Muddle mint and lime
Add simple syrup and ice
Top with a splash of lemon juice, Bacardi, soda water and Angostura bitters
This easy mojito recipe also goes good with this vintage lemon fluff salad and Mexican flan.
About Royal Solaris Los Cabos
Royal Solaris is an all inclusive magnificent oceanfront resort in Los Cabos with a Mexican hacienda style and beautiful gardens, pools and 390 rooms, strategically designed horseshoe to provide easy and quick access to all areas and hotel services. It's great for all inclusive travel in Los Cabos.
Royal Solaris Los Cabos is a family-friendly resort that is budget-friendly as well, offering great dining options perfect for multi-generational trips. They have thought of everything, including how to get the best photos during your stay. A free 20-minute photo session is available during your stay (you just need to book two days in advance). Afterwards, your beautiful images will be available for purchase—either digital or print.
There are so many reasons why Royal Solaris Los Cabos needs to be on your short list when choosing your next Los Cabos location. Also, don't forget to look under the "things to do" tab on Travelocity.com and book activities to do in Los Cabos at better rates than on-site or at the resort. I found the "Snorkel and Sea Adventure" to be a ton of fun and great for families of all ages. This three-hour long excursion includes a tour in the Sea of Cortez with a view of Lovers Beach and the Arches. You'll have the option of stand-up paddle boarding, sea-scooter snorkeling, and kayaking during your adventure.
Originally published on January 10, 2019. Last Updated on June 4, 2023 by Pattie Cordova