Please tell me that you're as excited about Disney's Cinderella coming out on Blu-ray as I am. I absolutely adore this movie and this princess. The copy that I have is the "Diamond Edition" that was released seven years ago. Unfortunately, it was before Blu-ray players, so we don't have the Blu-ray/DVD combo pack with bonus content. This Tuesday, however, I will have it in my possession, because much like we ran out to Walmart to purchase The Avengers, we'll be doing the same thing for Cinderella.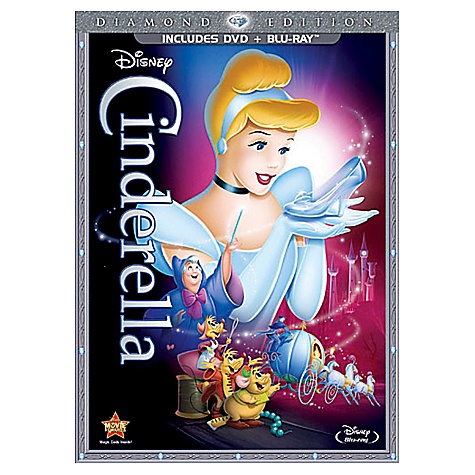 Remember I was telling you about exclusive items that certain stores have when a movie is released? Well Walmart will have exclusive items for the Cinderella release and they include an exclusive Blu-ray/DVD gift set, 2 disc music and Tangled Ever After DVD box set, fashion doll set including Prince, Cinderella and horse and an ornament. So if you're headed out to buy it on Tuesday too, consider purchasing it from Walmart so you can get access to exclusive products that your kids will love.
It seems like shopping with apps is becoming a trend and I happen to really like shopping this way too. It involves the kids in the shopping process and it almost becomes like a scavenger hunt when the app asks you to scan certain images to reveal something special on the device screen.
Last week, we walked into Walmart with the objective of getting products, costumes, food and other goodies for our upcoming Cinderella Movie Tea Party that my nieces will be hosting for six of their friends.
Before leaving the house, I downloaded the new Royal Ball Augmented Reality 2.0 App. I played around with it for a little bit because I wanted to see how it worked. Plus, it was like playing dress-up with a doll – but without having to pick up all the tiny clothes afterwards. You too can download the app for FREE from the iTunes App Store or Google Play.
A few special tasks that you can do with this app is create a Disney princess outfit with accessories, decorate a carriage, and even attend a royal ball in your new carriage! You can then use the app inside a Walmart and unlock more games and content by scanning select Disney/Cinderella products (you'll see a special sticker on the material that has a notice about the app).
So I picked up my nieces and then drove to Walmart to pick up some necessities for the party. We were headed towards the party supplies when they spotted toys (of course!). There was this huge display of toys in the back of the aisle and they spent about a half hour just looking at all the Cinderelly-themed toys they had available. I was right there with them and I have to say, by far my favorite toy was the carriage vanity set. It's pretty big, and super cute and girlie.
Thankfully, the party supplies were located just across the aisle from the toys so we headed over there and checked out the big assortment of party supplies they had in stock.
We purchased quite a bit of products from this section for our tea party. The mini-centerpieces are going to look lovely on our table. We also purchased branded plates, cups and napkins along with some generic princess-type party favors. This allowed us to get more using our allotted budget.
And because Walmart is having a Retailtainment Event this coming Saturday, we headed over to the costume section so the girls could get special Cinderella costumes and accessories. They had two different types of costumes, one under $10 and the other under $17. We purchased one of each plus a few accessories including the tiara and shoes.
So we had our party supplies and our costumes done, but what about food? Well we headed over to their huge grocery section to figure that out. We have an idea of doing a tea party for 8 little girls so we wanted dainty foods (and popcorn for the movie). We walked around the section for a bit and finally decided on these cute raspberry cookies, individually-sized popcorn bags, Cinderella-themed fruit snacks and a few other goodies. We're going to bake white vanilla cupcakes, frost them with white frosting and then top them off with blue sprinkles. They're going to look way cute! On the menu is also tiny little tea sandwiches and they'll be sipping some fancy sparkling cider in their Cinderella-themed cups. It's going to be a very cute and fancy Cinderella tea party.
Unfortunately, we were only able to use the app for a little bit inside the store because the scannable images were not available yet. What we did, however, is create different outfits on the app and then we tried to recreate the outfit with the products available at Walmart. That was pretty fun. Kind of like recreating a $500 outfit on a $100 budget. I look forward to really being able to use all the aspects of the app when I return on Tuesday to purchase the movie.
And please take a second and check out my Google+ #DisneyPrincessWMT album because I took a lot more pictures of Cinderella goodies (and a few other things).
[disclaim]I am a member of the Collective Bias™ Social Fabric® Community. This shop has been compensated as part of a social shopper insights study for Collective Bias™ and Disney Consumer Products, Inc. #CBias #SocialFabric. All thoughts, opinions and photos remain my own.[/disclaim]
Originally published on October 1, 2012. Last Updated on January 2, 2019 by Pattie Cordova