We had the opportunity to see the world premier of World of Color – Celebrate! at Disney California Adventure. I really wish I had chosen a better spot though because Neil Patrick Harris was there to kick off the show. We still caught the fantastic show and the mesmerizing special effects. Read on for fun facts on this new show and make sure to catch it at Disney California Adventure beginning May 22, 2015.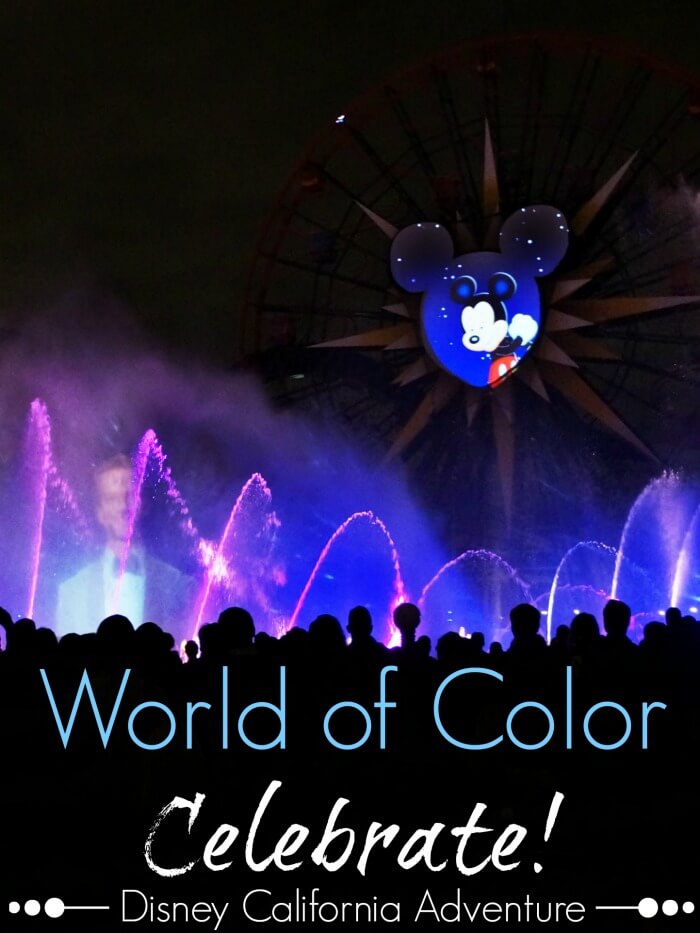 "World of Color – Celebrate!"
To commemorate the 60th Anniversary of the Disneyland Resort, an all-new, special edition of "World of Color" illuminates the night in a glittering, contemporary celebration of the colorful world of Walt Disney, whose pioneering vision brought to life Disneyland, Mickey Mouse and a treasury of films and characters. Featuring Tony and Emmy Award-winning Neil Patrick Harris and the one-and-only Mickey Mouse as our hosts, the nighttime lagoon spectacular takes audiences on a sensational journey through the unparalleled imagination of Walt Disney to see how his extraordinary dreams came true.
A Wonderland of Color, Music and Animation
"World of Color – Celebrate!" unfolds in five sequences:
Opening: The "World of Color" overture and the magic of Tinker Bell's pixie dust introduce our hosts, Neil Patrick Harris and Mickey Mouse.
It Was All Started By A Mouse: From black-and-white cartoons to Technicolor stardom, "World of Color – Celebrate!" honors Mickey Mouse.
The Golden Age of Animation: A dazzling exploration of Disney animated features stirs hearts with a kaleidoscope of happy memories.
The Dream of Disneyland: A celebration of Disneyland, the "Happiest Place on Earth," from Walt's opening day dedication to creating smiles around the world.
Finale – Infinity & Beyond – A Celebration for Years to Come: The inspiring finale expresses the wish that everyone stay "Forever Young" and hold on to their dreams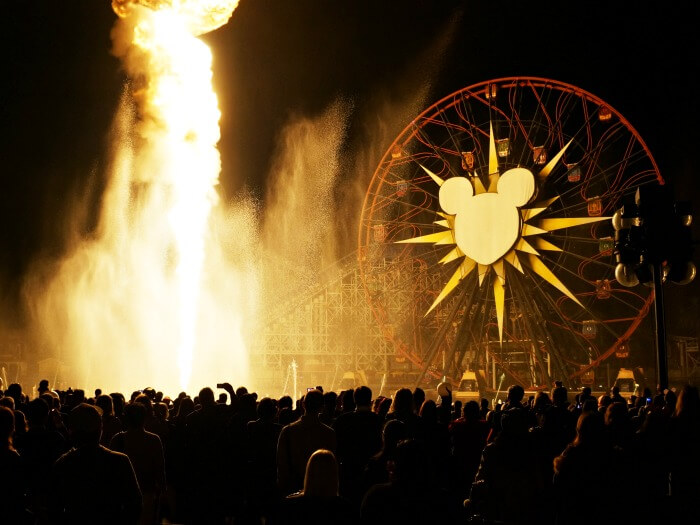 Musical Fun Facts
Academy-award nominated film composer John Debney composed the score for "World of Color – Celebrate!" Debney's film scores include "The Princess Diaries," "The Emperor's New Groove," "Hocus Pocus" and Disney's upcoming live-action feature, "The Jungle Book." His father, Louis Debney, served as a producer for Disney film and television productions such as "Zorro" and "The Mickey Mouse Club."
The lush score, which interweaves a variety of themes and tunes into a single piece of music, was recorded by an orchestra in London, England, at famed Abbey Road Studios.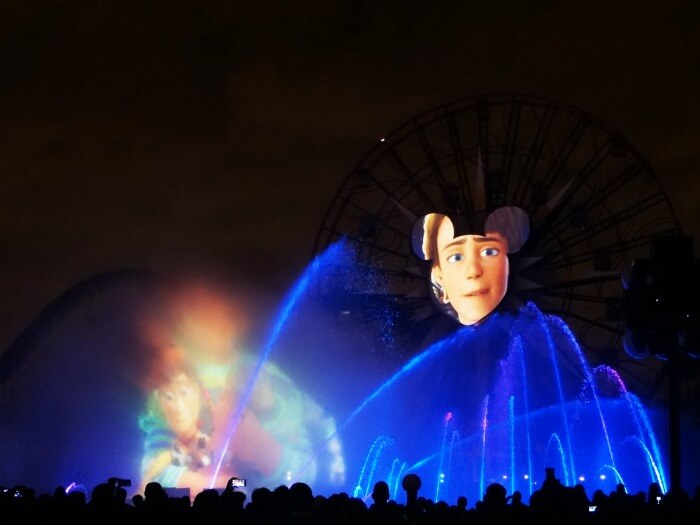 Theatrical Technology
More than five minutes of new animation was created by Walt Disney Feature Animation to allow Mickey Mouse to step into the imaginative new journey of "World of Color – Celebrate!" Pixar animators also created new animated footage, allowing Mater to kick up his wheels with the baby tractors.
The show's theatrical technology features a 380-foot wide water screen used for digital projection. The water screen takes on live characteristics, changing shapes, creating special effects, and interacting with a variety of other media in the show: color, fire, lasers and fog.
There are more than 30 million pixels in the "World of Color – Celebrate!" screen. A high definition television image uses 2 million pixels.
The creative development for "World of Color – Celebrate!" took more than 18 months, followed by three months of programming.
The show's flexibility has made it possible to add and subtract special sequences since its 2010 debut: a July 4 Independence Day pre-show, a New Year's Eve pre-show, and scenes focusing on "TRON: LEGACY," "Pirates of the Caribbean: On Stranger Tides" and "Brave."
World of Color – Celebrate!
Source: DisneylandNews.com

[disclaim]This is not a sponsored post. I was invited to join the Diamond Celebration festivities as a member of the press. All thoughts and ideas remain my own. [/disclaim]

Originally published on May 21, 2015. Last Updated on January 2, 2019 by Pattie Cordova