Travel
Where to celebrate Mardi Gras in Southern California
This month we're sharing where to celebrate Mardi Gras in Southern California!!! Some of these places are completely kid-friendly and others you may want to bring your best friend instead. It's an ever-growing list and we'd love to have your suggestions too – drop them in the comments below or on our Facebook page.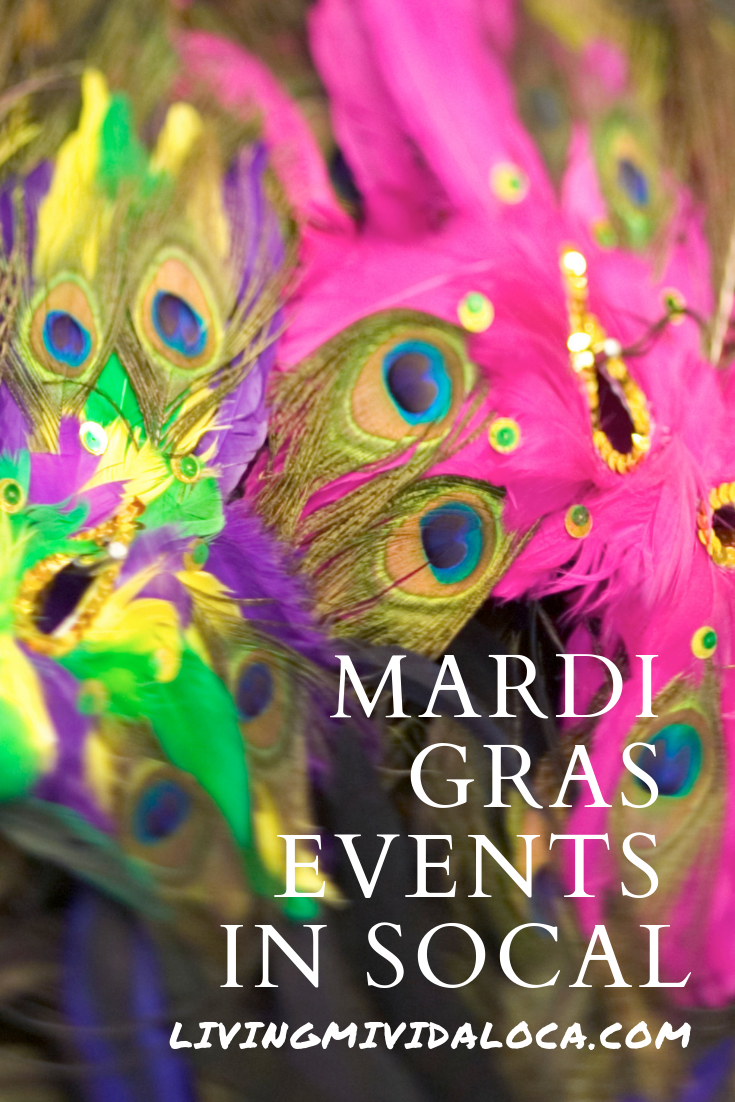 Mardi Gras, or Fat Tuesday, is a celebration most celebrated by Catholics. Those who celebrate Christmas as Jesus' birth will start preparing for the next big religious event – the crucifixion of Jesus that falls on Easter Sunday. This is a very special time for Catholics because Lent Season commences and it lasts 40 days. Lent starts on Ash Wednesday and ends on Easter Sunday.
The time of Lent is usually a time of fasting for many and it is common among Latinos to give up eating meat during this time. Because Lent is considered a pretty serious time to prepare for the crucifixion of Christ, there is a day right before Lent where people party their butts off as a way to get it all out of their system before they start the period of Lent. This day is usually referred to as "Fat Tuesday" or Mardi Gras, or even Carnaval (which is a whole week of partying that ends on Fat Tuesday). This year, Mardi Gras falls on Tuesday, March 5th.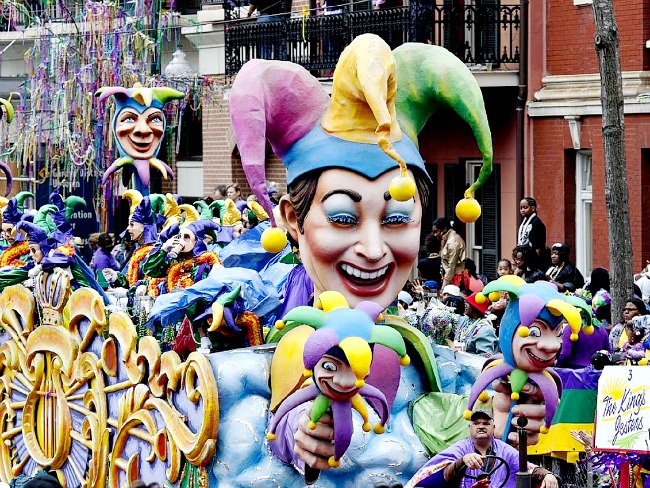 I have never been to New Orleans or Brazil to celebrate this popular holiday. However, this year you can have Mardi Gras come to you at any of these events:
Mardi Gras in Southern California
Ralph Brennan's Jazz Kitchen at Downtown Disney
1590 South Disneyland Drive
Anaheim, CA 92802
(714) 776-5200
www.rbjazzkitchen.com/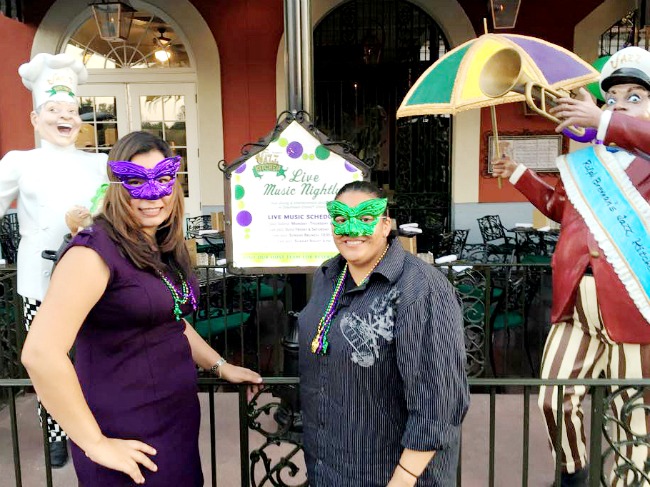 I went to this location to celebrate Mardi Gras because they had a special menu that day and they also had live jazz music. My friend and I sat at the bar with our masks on and beads around our neck. Bar seating was open and to sit at a table they recommended that you make reservations ahead of time. We sat at the bar which was very close to the live jazz music. Live music is available nightly at this establishment and will be available on Mardi Gras as well. Some of the food featured was creole jambalaya, mini king's cake for dessert and an alcoholic drink named the Hurricane.The Hurricane drink is from New Orleans and is made with rum, fruit juice and syrup or grenadine. King's cake is a bread that is also native to New Orleans and it is usually stuffed with a small plastic baby. Whoever cuts the slice with the baby in it gets to host the next party.
Ralph Brennan's Jazz Kitchen is a lot of fun and family friendly as well. In 2015, the restaurant was handing out beads to the children. If you are looking for a place that specializes in New Orleans' cuisine then you can expect to try out some delicious food. The Mardi Gras party usually lasts all day, but expect it to get busier in the evening hours.
2019 Update:
We will have live music on both floors from 6:00pm-10:00pm, specialty menu items, drink specials, mini King Cakes for dessert, and we will be crowning our Jazz Kitchen King & Queen!

Don't forget to wear your Mardi Gras best—our costume contest will be on our main stage at 7:30PM.

---

Pretend City Children's Museum
29 Hubble
Irvine, CA 92618
www.pretendcity.org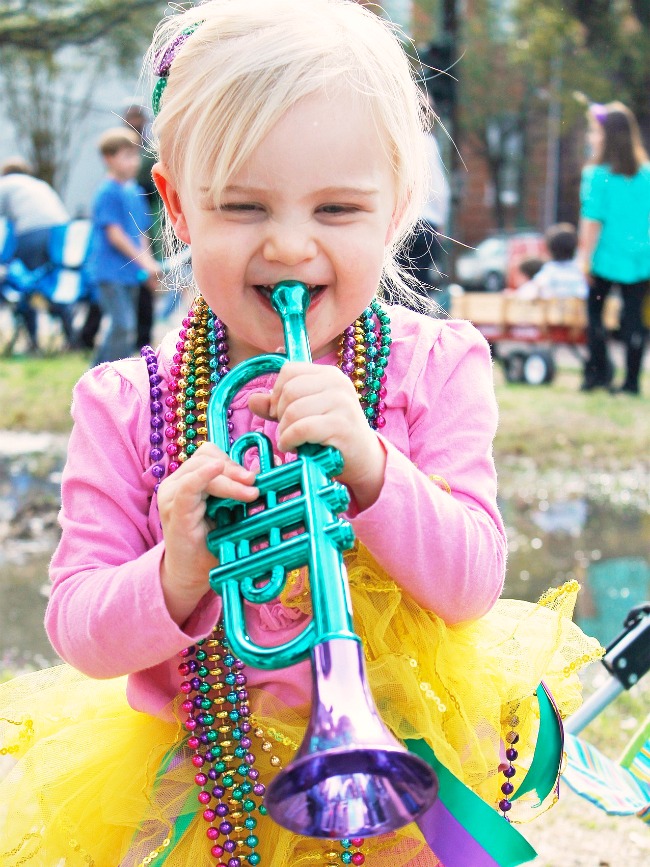 2019 Update
In the United States, many cities celebrate the day with a Mardi Gras parade. The largest celebration takes place in New Orleans, Louisiana. People dress up in bright and crazy looking costumes. The parades have all sorts of colorful floats and marching bands. This year, Pretend City is hosting our very own Mardi Gras Celebration. "Laissez les bons temps rouler!" is French for "Let the good times roll!" It's one of the most popular sayings during Mardi Gras. Join us at Pretend City and let the good times roll in our own Mardi Gras just for kids. Sing, dance, and bake your way through the museum and end the day with a festive parade down our city streets.
---
Bourbon Street at Downtown Fullerton
110 E. Commonwealth
Fullerton, CA 92832
(714) 626-0050
www.bourbonstreetfullerton.com
2019 Update
Get your beads and Celebrate Fat Tuesday at Bourbon Street! Doors open at 4pm. 🎉 Dixie Jazz from The DixieDelics playing 6:30-8:30 DJ Barbosa from 8:30 until close!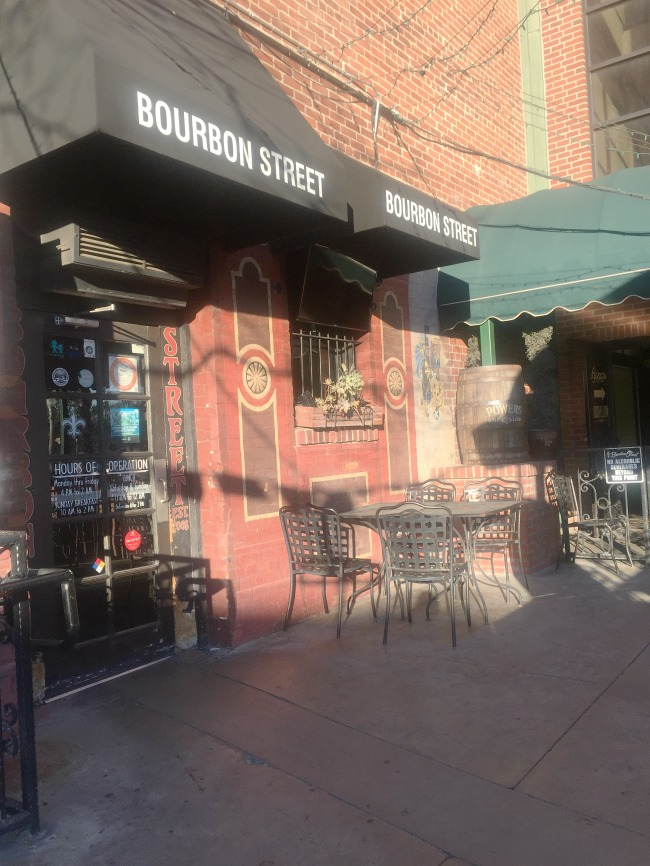 ---
Carnaval Festivities in Ensenada
Ensenada, Baja California, Mexico
Downtown Ensenada (Calle Ruiz, Bulevar Costero, Playa Hermosa)
I know this celebration is a bit far from Southern California but I guarantee it will be worth it! I attended this event many years ago when I was in my mid-20's with a best friend of mine and her family. I know many people in SoCal who travel to Ensenada as a quick getaway and I can't imagine a better time to go than during "Carnaval." You can expect to see parades, coronations, music, dancing and vintage cars. This is a weeklong celebration that ends on Fat Tuesday. When I went, I stayed at a family's condo, but there are plenty of hotels you can stay at close to downtown. They sell out fast so the sooner you book them, the better. When I went, we were able to see the parades that take place during the day and in the evening they had stages set up with music and the people danced on the closed streets. All the local bars were open as well such as the world famous Papas & Beer and they offer great drink specials. When we went to Papas & Beer, a bartender was walking around giving tequila shots to the crowd. They were complimentary and intended to get the people in a party mode. Don't worry though, if you plan on going with children, there is plenty to do that is kid friendly. I would advise that you go during the day and stay away at night because it can get rowdy in the streets.
After we had lunch at one of the local restaurants, we encountered a grupo which is a band of 3-4 men who play mariachi type music to you in the street for tips. We danced in the streets and sang along with the grupo while we recommended songs for them to play for us. It was so much fun and unforgettable. I guarantee that you will love it. I plan on going again in the future because I loved it so much.
---
Fat Tuesday at Whittier Elks Lodge
Whittier Elks Lodge #1258
13620 Whittier Blvd
Whittier, California 90605
Facebook event page
Time: 5:30pm
They will be serving seafood gumbo, creole chicken and have a salad bar.
---
Annual Long Beach Mardi Gras Parade & Festival
Shoreline Village Drive
Long Beach, CA 90802
(562) 435-2668
Facebook event page
Date: March 9, 2019
The annual LONG BEACH MARDI GRAS at Shoreline Village and Rainbow Harbor returns on Saturday, March 9, 2019!
As one of the largest annual FREE community events in Long Beach California, #MardiGrasLB invites you to join thousands of cheering revelers as Shoreline Village hosts an afternoon of live music, bead throws, a parade, novelty acts and more. Join folks of all ages in dressing up, dancing, and making merry.
The highlight of our annual family-friendly celebration is our Long Beach Mardi Gras PARADE!! All are welcome and participation is FREE!!
This event will benefit the Long Beach Boy Scouts They will have a booth selling beads, hats and masks (in limited supply) 100% of the proceeds will go back to the Long Beach Boy Scouts. Please visit their booth near the grandstands and support the Long Beach Boy Scouts and their Centennial year!
---
Mardi Gras At Farmers Market
The Original Farmers Market
6333 W. 3rd St.
Los Angeles, CA 90036
(323) 933-9211
www.farmersmarketla.com
L.A.'s favorite Mardi Gras celebration returns for its 30th year straight!
Join them for down-home fun, March 2-3, and Fat Tuesday, March 5 for the finest New Orleans and Zydeco music, strolling parade bands, activities for kids, bead-throwing, and much more!
---
San Diego Fat Tuesday Masquerade
Gaslamp Mardi Gras
835 5th Ave, San Diego, California 92101
Facebook event page
Visit San Diego to celebrate Fat Tuesday at the 2019 Gaslamp Mardi Gras: Fri. Sat. Fat Tuesday, March 1, 2 & 5! The 3-Day festivities are presented by the San Diego Tourism Authority, the historic Gaslamp Quarter, and the most notable nightclubs, live music venues, restaurants and bars along the famous Fifth Avenue!
This annual event offers:
A visitor friendly and inexpensive way to experience the award winning nightlife and dining the Gaslamp Quarter is famous for
FREE entries to 20+ Restaurants, Bars & Clubs (all within walking distance)
Keepsake Mardi Gras Passport
A map with pre-planned/suggested routes (self-guided) with meet-up points
8+ Hosted Welcome Shots (bartenders' choice) at 8 select venues
New Orleans inspired menu
Exclusive Opening Party at American Junkie San Diego!
Finale Party at Bassmnt (Fri) | OMNIA San Diego (Sat) | Sevilla Nightclub of San Diego + Tin Roof San Diego (Fat Tuesday)!
Live entertainment, live music, DJ, dancing, face painting and more
Extended Happy Hour on food & drinks at select venues
Play & Stay hotel deals
$3 off parking at Ace Parking (707 Broadway) with free overnight option
---
Mardi Gras at Santa Anita Park
Santa Anita Park
285 W Huntington Dr, Arcadia, CA 91007
https://www.santaanita.com
It might not be the French Quarter, but The Great Race Place is THE place to get a good old-fashioned Mardi Gras celebration outside of Louisiana. Join the festivities with live music and grub on authentic Cajun eats during an exciting day of Thoroughbred racing.
This event is rain or shine!
Get $10 off by joining SA's Text Loyalty program. Text beads to 48421 to receive your promo code for $10 off! (Text message rates apply. Opt out anytime.)
Your $33 Mardi Gras Package includes:
Cajun Meal (your choice from menu below)
One (1) Craft Beer (12oz)
$5 Betting Voucher
Club House Admission
Racing Program
Tip Sheet
Trackside Seating
Note: Must be 21 and over to purchase this package. Live music from Cajun band.
RAGIN' CAJUN MENU!
Half Po' Boy and a Side*
Cochon de Lait Po-Boy (Pulled Pork): Signature Louisiana seasoned slow cooked pork po-boy dressed with a sweet and spicy slaw & creolealase a creole mustard and mayo dressing OR Debris Po-Boy (Pot Roast): Juicy pot roast style beef po-boy traditionally dressed with lettuce, tomatoes, mayo and mustard
with a choice of…
Bayou Bisque: Chicken and sausage corn bisque
Gumbolaya: Gumbo over jambalaya
Vegan Option: Cajun Roasted Sweet Potatoes: Cajun Roasted Sweet Potatoes served over white rice finished with a sweet pepper slaw.
---
Gaslamp Mardi Gras Beads, Bites & Booze Tour, San Diego
Gaslamp Quarter (4th Avenue to 6th Avenue, Broadway to Harbor Dr., downtown San Diego)
San Diego, CA
www.sdmardigras.com
Celebrate in 2019 with the Gaslamp Mardi Gras Big Easy Bites & Booze Tour Saturday, March 2nd!! We will be serving up New Orleans inspired bites and Carnival inspired cocktails throughout the Gaslamp Quarter with BEADS at every stop! After the libations, stop by our Carnival after party as we team up with Brazilian Productions to bring you an epic night of music, dancing, and entertainment! For tickets to the Gaslamp Mardi Gras Beads, Bites & Booze Tour click here – tickets are just $25 in advance and $30 on the day of!