I am partnering with Step2 kitchen for the following review. I received a product in exchange for my review and honest opinion. No other compensation was provided.
Pretend play is huge in our home right now. However, it can get a bit tricky with a six year old and a three year old because they're on different sides of the spectrum. That's why we were happy to partner with Step2 on their recently released Mixin' Up Magic Kitchen.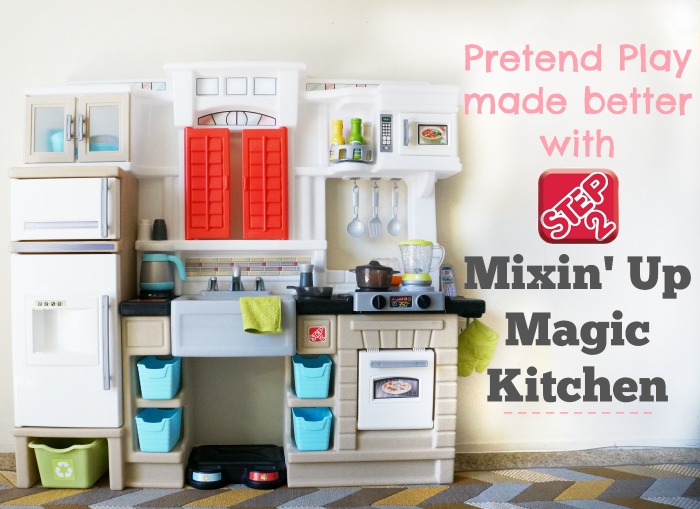 With a 6 year old and a 3 year old in the home, sometimes it's a bit tough to find a toy that fits both their needs (and their heights)! My 6 year old is tall, but he still wants to have fun with pretend furniture and toys. My three year old is in the middle of growing to love pretend play, so it's important that they toys be interactive and sort-of realistic. That's why the Mixin' Up Magic Kitchen is so perfect for both of them.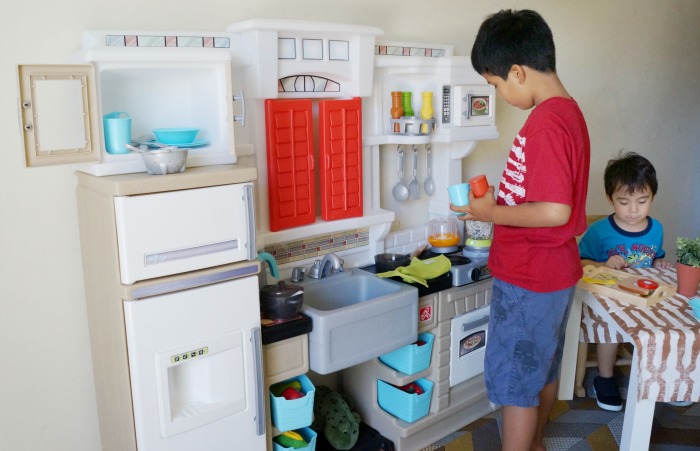 The Mixin' Up Magic Kitchen is 48 inches tall. So still a good height for my six year old, and just perfect for the younger one. Both boys love switching off between being chef and being a customer. They practice order-taking skills, and giving food orders as well (this will translate well into real life when we go out to restaurants). They put together their own "recipes" and see the cooking process through thanks to the bubbling water sounds, the blender sounds and the pretend microwave and food.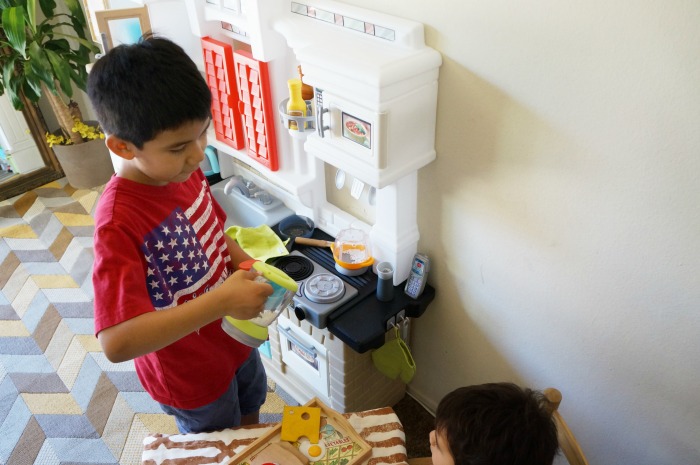 The 42-piece accessory set that it comes with makes it so that parents don't have to purchase any more dishes, utensils or cups. The real washcloth and oven mitt are perfect for kids and the blue buckets hold food that parents may already own. I also liked the recycling bin because it is so important for kids to learn how to recycle.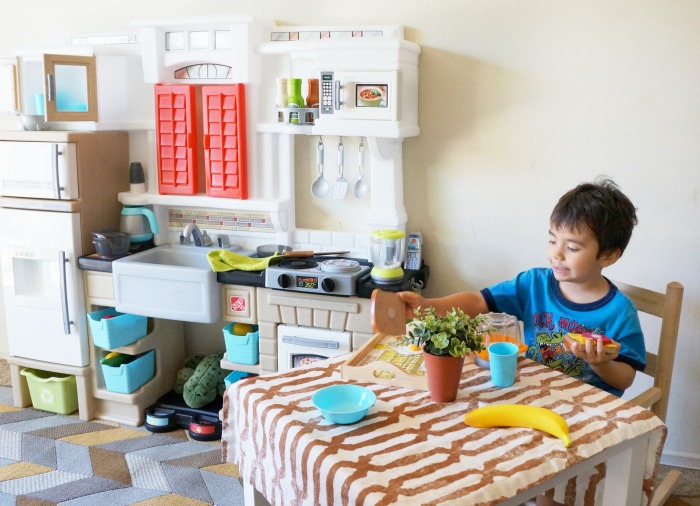 And although we don't own a dog (or a pretend dog for that matter), I liked how it had a pretend bowl for a pet because it made it more realistic. We use a frog in place of a dog, and the kids like it just fine.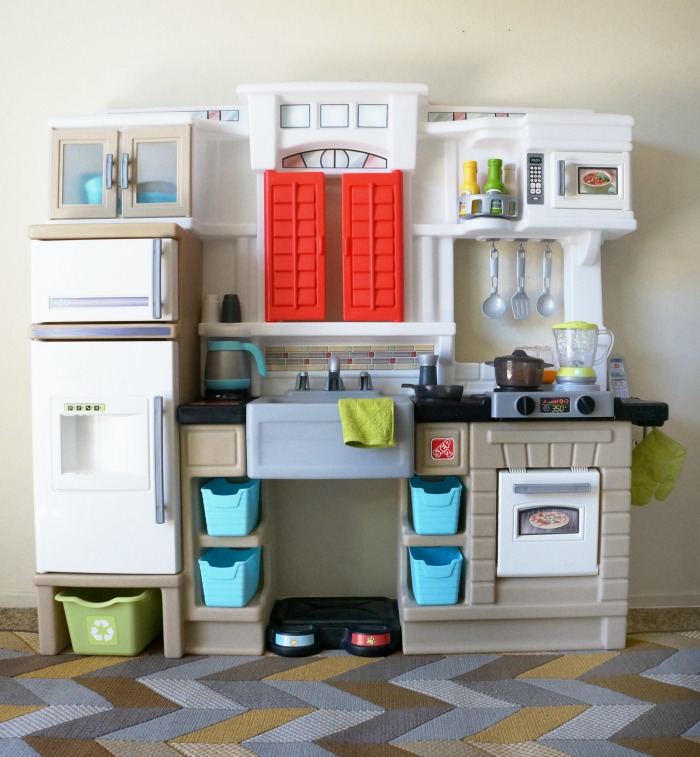 All the large compartments in the kitchen also helps to teach the kids to put things back where they belong. And of course, it's a great idea to tell the kids to take off the blenders, pots, etc. from the "stovetop" as the batteries will wear out quickly if one does not pay attention.
The Mixin' Up Magic Kitchen also features working shutters so if you have the space, you can really create a whole restaurant scene. The magical stove top burner features lights and sounds and the kitchen also includes two magical appliances – a popcorn popper and a blender. The magic of this kitchen is activated with magnets, and once the kids discover that, it's a whole new experience for them too.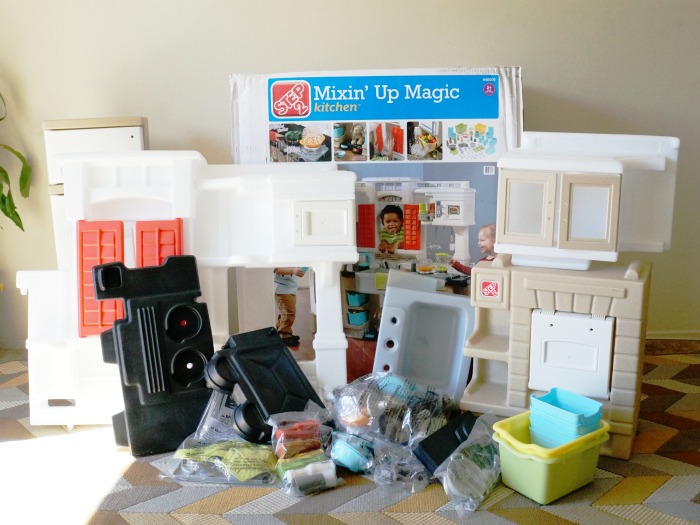 As a mom, it was my job to put it together. And let me tell you, nothing is worse than having two kids jumping around anxiously as they wait for their toy to be put together. Thankfully, it was very easy to do so. I did it myself within an hour.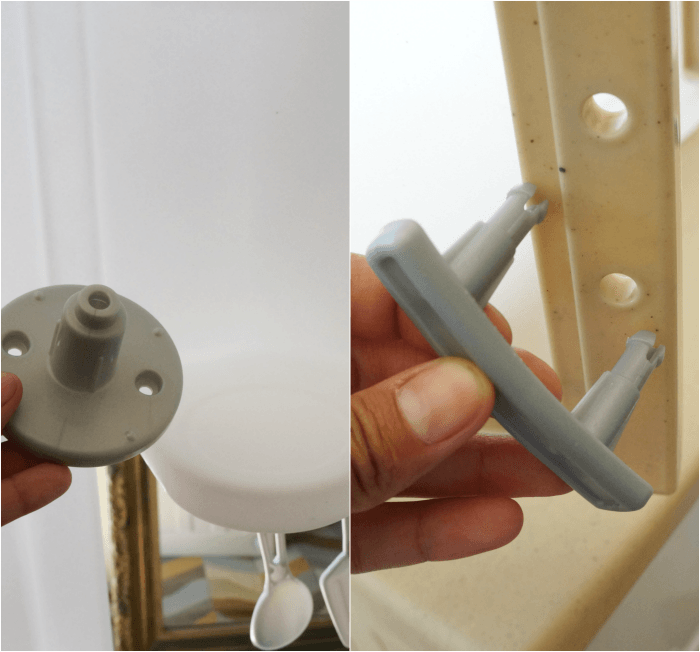 The knobs just snap in – and they stay in! They are strong enough to sustain every day use.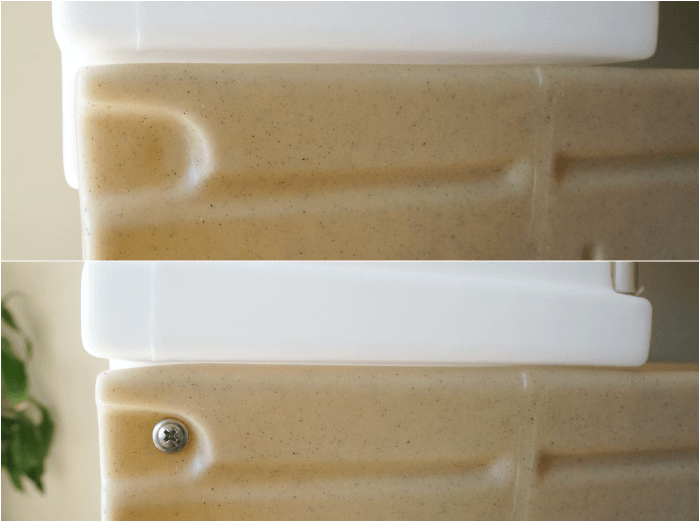 There are no pre-drilled holes, but even then, you don't need a drill to put it together. A simple screwdriver and some mom muscle and you're ready to go. Look for slight indentations on where a hole should be and you'll be just fine.
The instructions are very detailed and the product is not heavy. Even when put together, it is very easy to move around. And although it is tall and wide, it is also narrow so it doesn't take up much space. I definitely recommend the Step2 Mixin' Up Magic Kitchen for kids, preferably 7 and under, for pretend play and letting imaginations run wild. I look forward to having the kitchen around for years to come.
>>> Buy this Step2 magic kitchen on Amazon.
Favorite features on the Step2 Mixin' Up Magic Kitchen
and because sometimes words and pictures are not enough, we're sharing a video we put together going through the different Mixin' Up Magic Kitchen features.
Originally published on October 22, 2014. Last Updated on May 21, 2019 by Pattie Cordova