The holidays are in full swing, and I think this year, it's best I illustrate to the hubster exactly what I want. I combed through the Don Roberto Jewelers holiday catalog and choose five pieces that I would love to have wrapped under the tree for me. I went the extra step of making sure they were within our price range, and that the pieces would be timeless. So, if you and I have similar taste, just save the image below and send it your hubster, boyfriend, lover, etcetera – or just leave the list laying around your home where he might casually come upon it. *wink, wink*
Of course, it doesn't help if we save money in the process, so we've partnered with Don Roberto Jewelers to offer a 25% off your first purchase online! You can find the discount code below. We are SO thoughtful!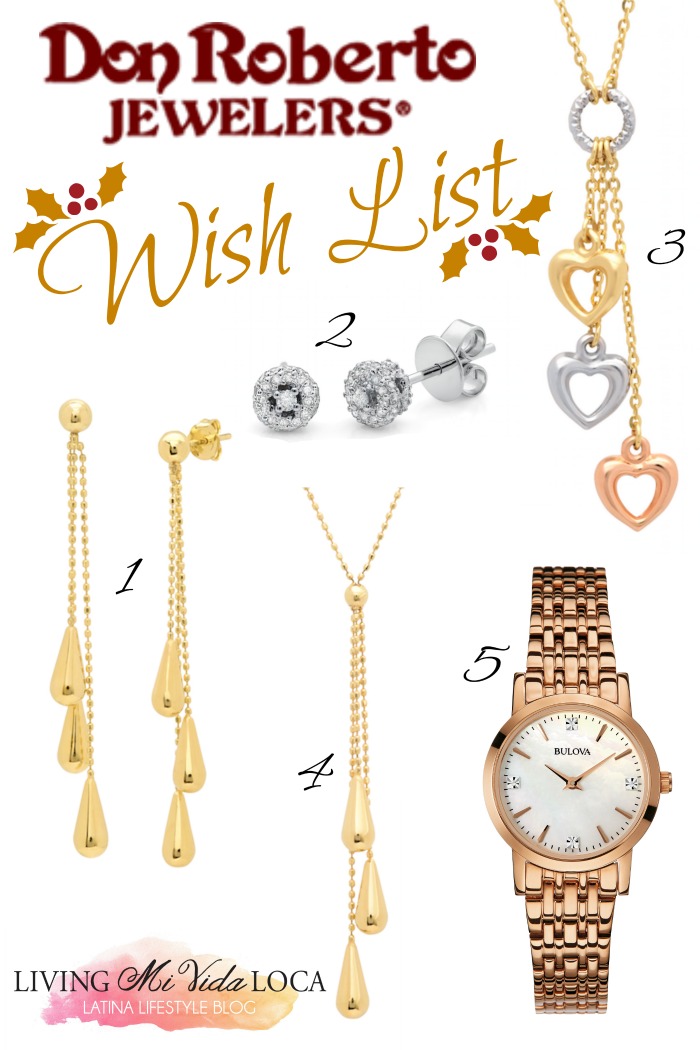 1. 14K Gold Drop Necklace ($299) // 2. 1/4 Ctw. Diamond Studs ($599.99)
3. 14K Tri-Color Heart Necklace ($399.99)
4. 14K Gold Drop Earrings ($349.99) // 5. Bulova Rose Gold ($299)
Discount Code
Use discount code BP25FP on http://www.donrobertojewelers.com/ and receive 25% off your first purchase online. Discount only valid online and must be entered at checkout.
[disclaim]The opinions in this article are my own. I do not work for, or with, any brand mentioned in this article, nor do I have any official relationship with them. I have a relationship with GigaSavvy, for whom I create original editorial content.[/disclaim]
Originally published on November 28, 2014. Last Updated on August 9, 2017 by Pattie Cordova