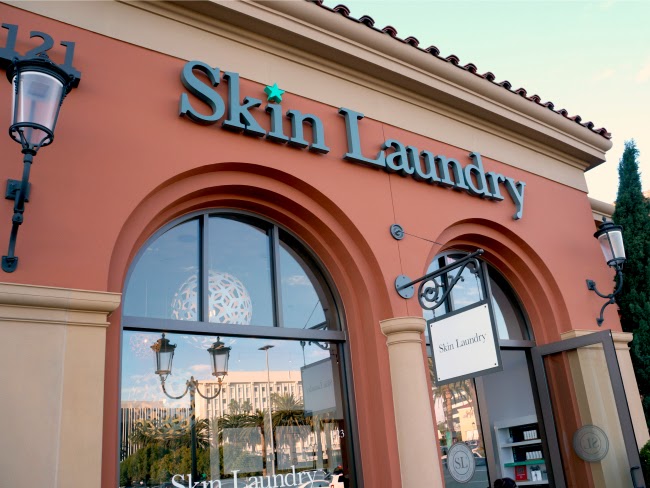 Did you know that you can also simplifying your monthly facial? I just came across my new favorite facial – one where I get in and out in 20 minutes or less. The new laser procedure is offered by Skin Laundry facials and it's an affordable procedure that gives me visible results with zero downtime. I was in and out, fully moisturized and shining like a diamond. I'm so hooked.
I reach for the moon when it comes to facials. Some months I'll get really lucky and stick to my monthly facial/massage day, but other months, I'm lucky to have enough time to put on a facial mask at home. Taking advantage of Skin Laundry's complimentary first time facial, I went in a little hesitant and with a whole lot of skepticism.
Skin Laundry facial
The facial is a two-step procedure. It begins with a Q-switch YAG laser. Lai says this vaporizes bacteria and dirt, deep-cleans pores and is especially good for treating acne. It might feel painless or like little pin pricks. Then gel is applied to your face and you receive an intense pulsed light treatment that feels warm as it moves over your skin. It's said to boost collagen and treat hyper pigmentation.
I saw visible results after just one treatment. In fact, just after I had the facial I already felt great! I totally felt the tingling, some minor, minor redness and the weird thing about the whole thing was the smell. I could smell all the makeup that was being disintegrated with the laser. Months and months of makeup was literally melted off of my face. It was almost like getting a reboot. I should note, if you're going to give it a try, it is recommended that you do not wear makeup for at least 24 hours afterwards. Also – ditch the sun. In general, you should try to shield your gorgeous sun from your face, but even more so after you've had this kind of facial. You'll get dark spots.
A day after, I am still in love with my Skin Laundry facial. It was super quick and I could totally sneak one in while the kid is at school. Plus, if I buy the packages offered at Skin Laundry I'll also save a few bucks.
While at Skin Laundry, I also picked up a few after-care products. In fact, I picked up the whole line! The Skin Laundry line is made in California and offers a cleanser, toner, moisturizer with SPF 35 and then another moisturizer for night time. I'm in love with the line, and I can definitely see myself purchasing it even without the facial.
Learn more about Skin Laundry at http://www.skinlaundry.com/. They currently have locations in Southern California and Scottsdale, Arizona.
This is not a sponsored post. I received a complimentary facial and skin care products to facilitate this post. All thoughts and ideas remain my own.
Originally published on January 27, 2015. Last Updated on May 23, 2019 by Pattie Cordova