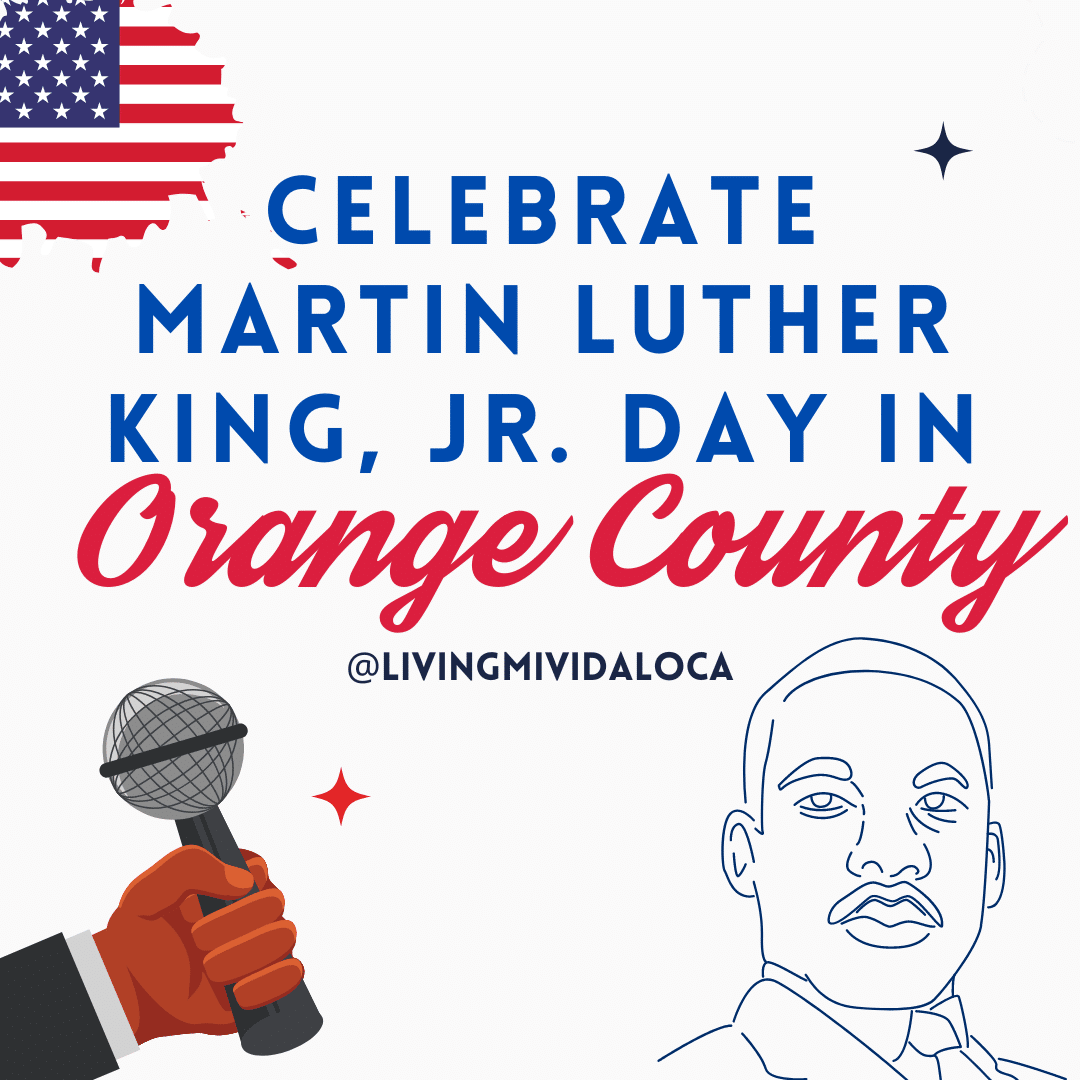 On Martin Luther King, Jr. Day, there are plenty of ways to celebrate and take part in local volunteering opportunities around the Orange County area.
You and your kids can join a peaceful march to honor Dr. King's legacy, or attend a local event featuring live music and speakers. There are also a number of volunteer opportunities in the area that you can get involved in, such as helping out at a local food bank, tutoring students, or working with a nonprofit organization. Check out this list of good deeds you can do as well!
Thank you for taking the time to celebrate such an important day!
How to Celebrate MLK Day in Orange County
Participate in a local volunteer event in honor of Dr. King.
Hold a neighborhood meet-up or potluck in celebration of MLK Day.
Attend a special MLK Day event or lecture at a local library, school or university.
Listen to a special MLK Day episode of your favorite podcast.
Hold a discussion group in your home or local community center to discuss Dr. King's legacy.
Create a special MLK Day meal in your home and invite friends and family to join.
Watch a movie about Dr. King's life and discuss it in your home or local community center
Events in Irvine
MARTIN LUTHER KING, JR. DAY | Pretend City
January 16, 2023 | 10:00AM-12:30PM
Morning Session Only! Story Time 11am.
We'll be honoring Dr. Martin Luther King, Jr's legacy by reading the book The Story of Martin Luther King, Jr. followed by self-portrait making activity. Children will create their very own self-portraits.
Music & Movement (Parade): This Little Light of Mine. This song became an anthem during the Civil Rights Movement
Events in Santa Ana
Orange County MLK Prayer Breakfast | 1010 W 17th St
January 16, 2023 | 8:00AM-9:30AM
This Prayer Breakfast is a time for community leaders of faith, civic, and business backgrounds to honor and learn from the work of MLK. Cost: $16
Martin Luther King Day Celebration | 1530 W. 17th St
January 16, 2023 | Starts at 11:00AM
This celebration takes place at Santa Ana College, at the Phillips Auditorium.
Outside of Orange County
ABC Hopes MLK DAY Fill the Pantry & Community Resource Fair | 1831 Commerce St #103, Corona
January 15, 2023 | 1:00PM-4:00PM
ABC Hopes commits to Combating Hunger through Inclusive Volunteering for MLK Day 2023As a recipient of The Arc 2023 MLK Day of Service Grant, ABC Hopes is partnering with NCL Corona and AngelHart Network to provide food to those in need on MLK Day and throughout year. Come join us in this day of community!
Martin Luther King, Jr. Parade and Celebration | 1950 Lemon Ave, Long Beach
January 14, 2022 | Starts at 10:00AM
The City of Long Beach is pleased to announce the return of the Martin Luther King, Jr. Parade and Celebration set to take place Saturday, Jan. 14, 2023, in Central Long Beach. The event will return for its 35th year after a two-year hiatus due to the pandemic. Community members are encouraged to attend the event to honor and celebrate the life and values of Dr. Martin Luther King, Jr. The 2023 festivities will begin with the parade kickoff at 10 a.m. at the intersection of Martin Luther King, Jr. Avenue and Anaheim Street, followed by the park celebration from noon to 5 p.m. at Martin Luther King Jr. Park (1950 Lemon Ave.). The park celebration will include a main stage with performances, a health and wellness area, a youth area, food and merchandise vendors, and information booths.
MLK Day of Service | Los Angeles Memorial Coliseum
January 16, 2023 | 12:00PM-3:30PM
Food festival and nonprofit fair. Keynote Speaker. Hands-on volunteer activities.
King Day 2023 | California African American Museum
January 16, 2023 | 10:00AM-5:00PM
Come together to honor Martin Luther King Jr. and celebrate the return of CAAM's in-person King Day festivities! This year's theme is "MLK: A Legacy of Service" and the program includes a performance by the Inner City Youth Orchestra of Los Angeles, the King Study Group, family activities, crafts, food trucks, and more!
Originally published on January 8, 2023. Last Updated on January 13, 2023 by Belinda Espinoza Simon