Your Best Self
Recreate Katy Perry's 2015 GRAMMYs beauty look with COVERGIRL
Katy Perry looked amazing last night at the 2015 GRAMMYs. She stayed true to her COVERGIRL persona and looked fierce, unique and one-of-a-kind with budget-friendly makeup look created by Jake Bailey. The best part is that this look is completely achievable, and we have a step-by-step on how to do it.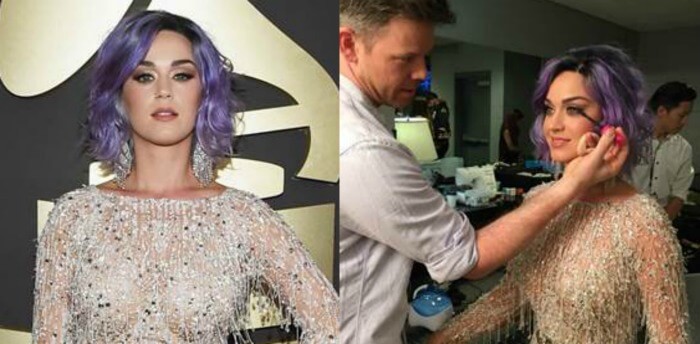 Katy Perry at the 2015 GRAMMYs
by Jake Bailey
Katy and I decided on a dewy rose/nude palette for tonight's look. This is what I call a "balanced" look…all key features are in play. Eyes, cheeks, and lips so one does not outdo the other. Often makeup looks are "all about the lips" or "all about the eyes" with the other features playing a supporting role. This is an ensemble cast of colors.
I matched Katy's skin to COVERGIRL Stay Fabulous Outlast 3-in-1 Foundation in Natural Beige and buffed a small amount evenly all over her face and neck using a flat tipped kabuki style foundation brush. I then lengthened and arched her brows using COVERGIRL Pow-Der Brow + Liner in Medium Brown.
I began the eye look with COVERGIRL Eye Shadow Quads in Blooming Blushes. I began with the darkest shade blending it into the crease and outer corners of her eyes to elongate and add depth. I then used the second darkest shade along the middle of her lids, the third shade on the inner lid and the lightest shade as a highlighter concentrated on the innermost corners of the eye and to highlight the brow bone creating a multidimensional eye in soft complimentary colors. I then created her signature "cat eye" using COVERGIRL Bombshell Intensity Liner. I finished the eyes with two coats on the top and bottom with COVERGIRL Full Lash Bloom by LashBlast Mascara.
Having finished the eye I touched up the skin a bit and dusted her lightly with COVERGIRL Clean Powder to set. I then took the paler shades from the COVERGIRL Clean Glow Blush compact and swirled it onto the apples of her cheeks for a warm glow. I then took the darkest shade and blended it into the hollows of her cheeks to accentuate her bone structure.
I finished the look by coating her lips with a warm nude lipstick called Sultry Sienna from the COVERGIRL Colorlicious Lipstick collective and topping it with just a touch of COVERGIRL Colorlicious Lip Gloss in Melted Toffee for shine.
Originally published on February 9, 2015. Last Updated on July 30, 2017 by Pattie Cordova