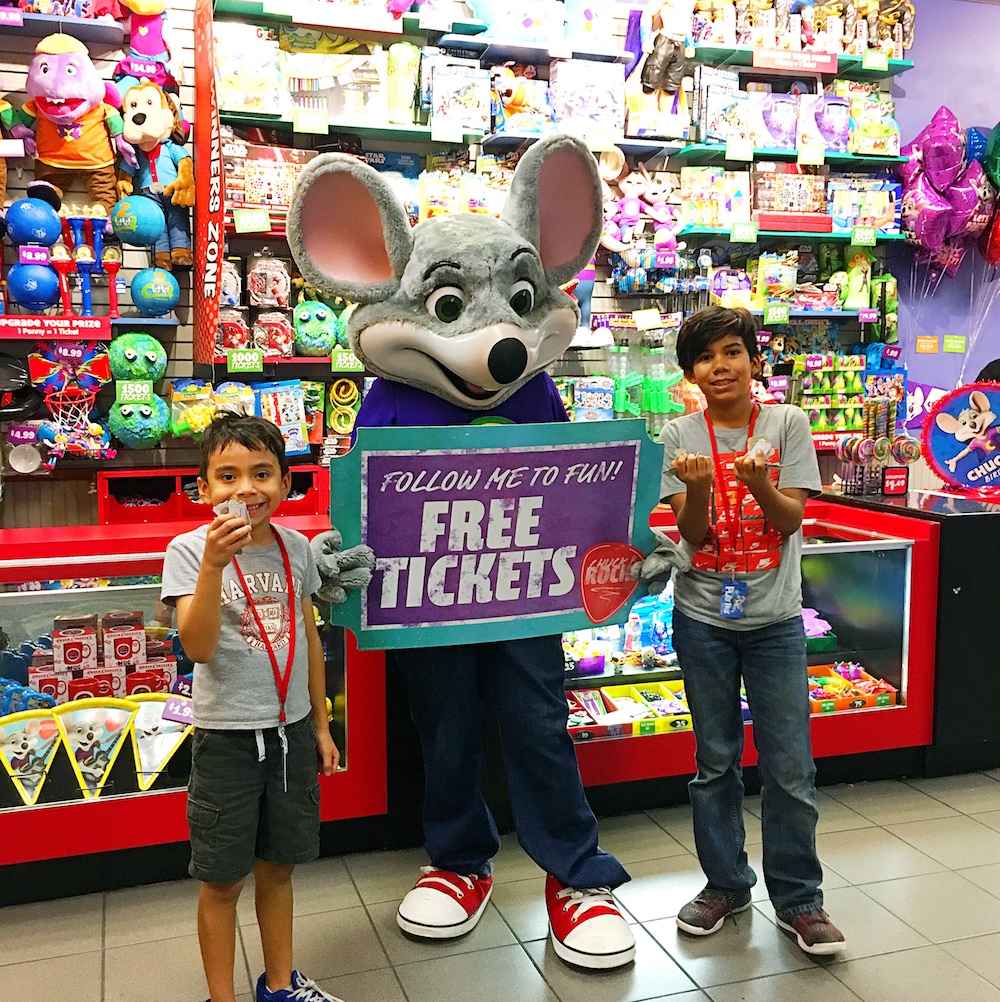 This is a sponsored conversation written by me on behalf of Chuck E. Cheese's. The opinions and text are all mine.
I always have the best experiences at Chuck E. Cheese's (and this was even before they started serving wine). We've even hosted our share amount of birthday parties at Chuck E. Cheese's. Each time, was as good as the the one before and I want EVERYONE to have the same experience so I put together this easy list of 5 hacks for a weekday visit to Chuck E. Cheese's.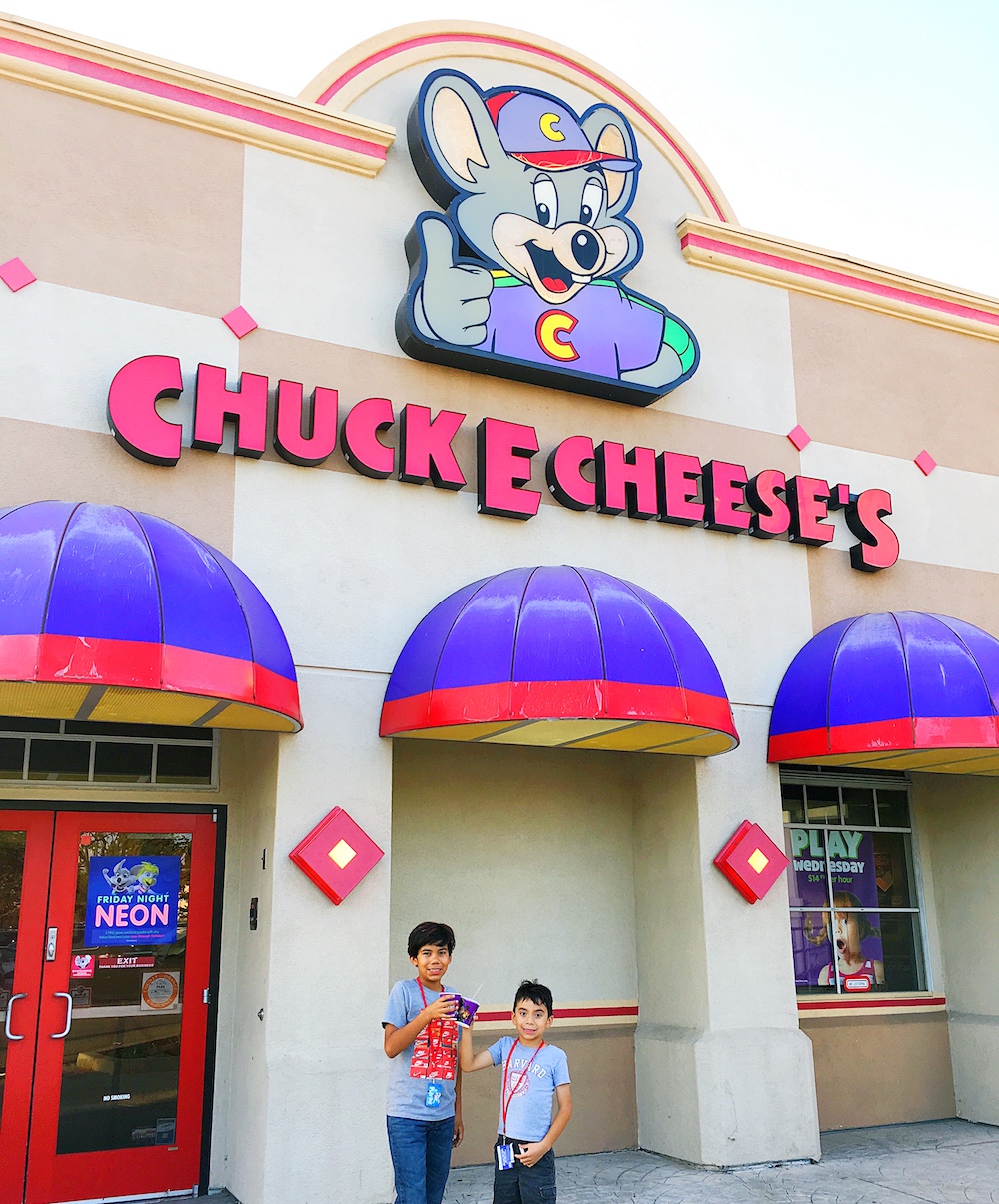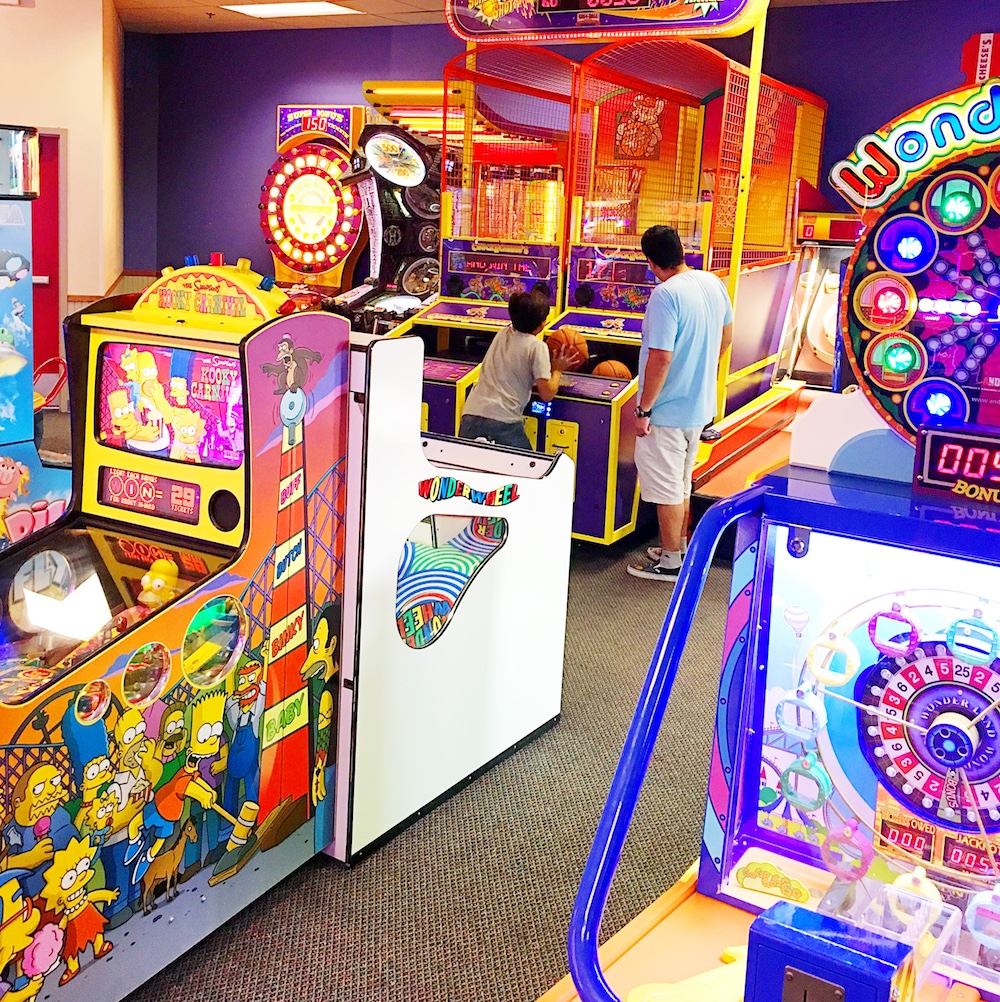 5 hacks for a weekday visit to Chuck E. Cheese's
So we'll get one quick hack that you're already doing if you're going to Chuck E. Cheese's on a weekday – visit Chuck E. Cheese's on a weekday!!! Yes, just a simple change of days makes all the difference. You'll find that the amount of people visiting this super kid-friendly place is almost empty if you visit Monday through early Friday evening. So now that you started your perfect Chuck E. Cheese's visit, let's go on…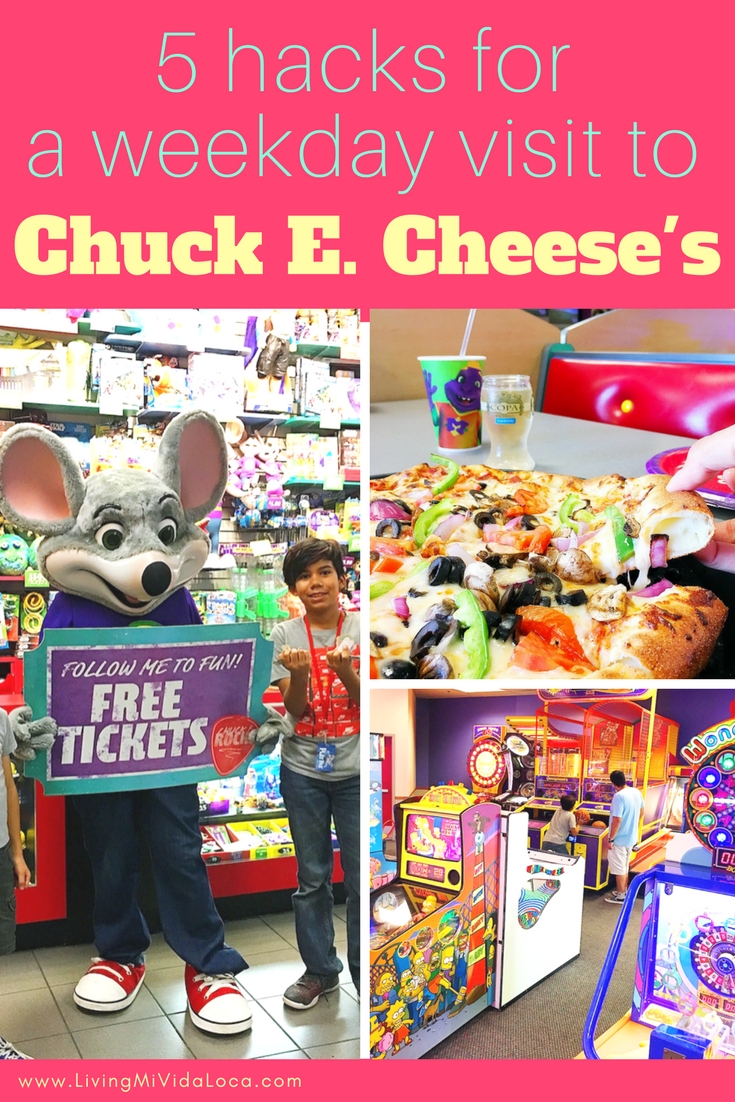 Choosing the best weekday to visit Chuck E. Cheese's
Well first of all, visit between 4 p.m. and 7 p.m. In my experience, it seems to be the least busiest time at Chuck E. Cheese's. From there, choose which day will give you the most time and enjoyment for your family. The themed days will help with that. As of the writing of this article, these are the Chuck E. Cheese's weekday deals:
Monday – Thursday – One Large 1-Topping Pizza, 4 Soft Drinks, Two 20-Minute Play Passes or 45 Tokens for $31.99. ($32.99 for select Metro areas and $33.99 for Canada). You will receive a free Giant Warm Cookie or a Cinnamon Dessert Pizza if you purchase a pizza and it does not arrive within 20 minutes.
Monday – Friday – Families can enjoy their favorite handmade pizzas, fresh salads and delicious cinnamon dessert pizza at the All-You-Can-Eat Buffet, available Monday through Friday from 11 a.m. – 2p.m. at participating locations.
Tuesdays – Two for Tuesdays: Two Large 1-Topping Pizzas for $22 every Tuesday! ($25 for select Metro areas and $30 for Canada). Prices and participation may vary.
Friday – Guests will receive 2 free packs of glow necklaces with any Value Deal purchase during Friday Night Neon. Valid during September and Octoberfrom 6pm to closing on Fridays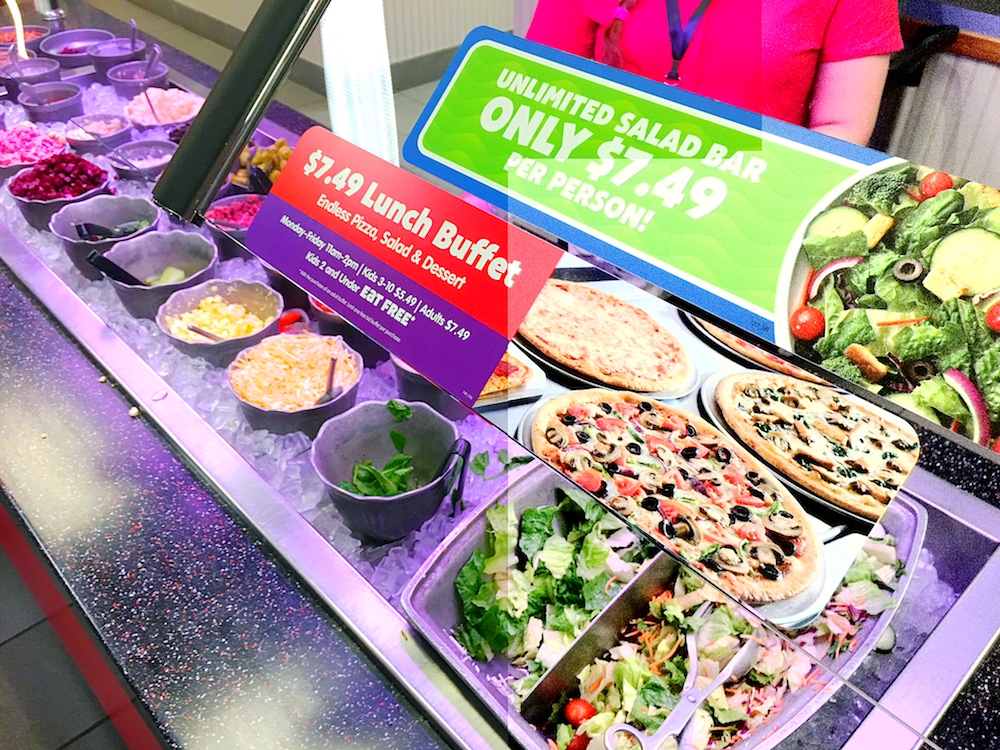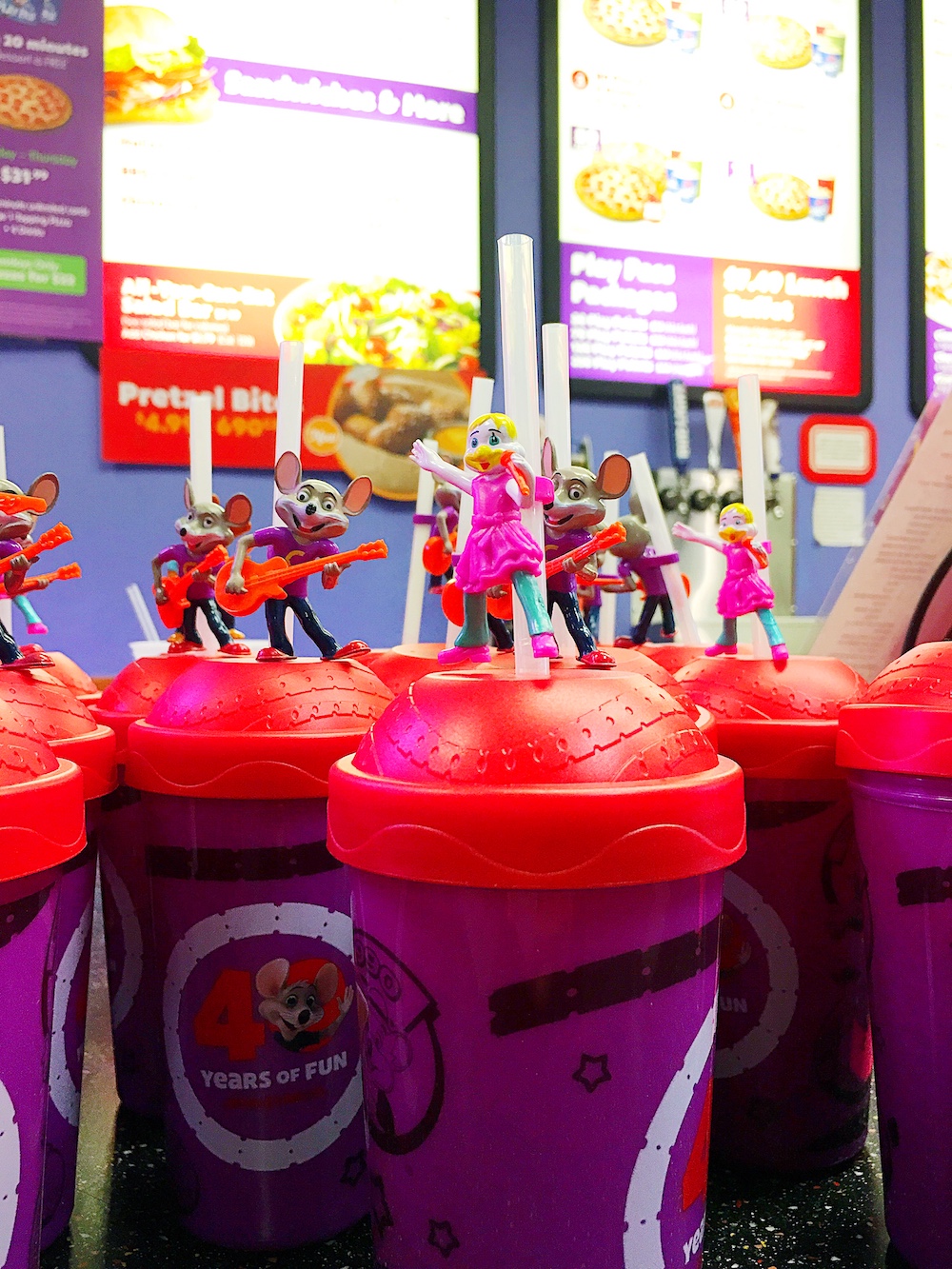 Bring your Chuck E. Cheese's Coupons and Rewards
Visit ChuckECheese.com for calendars, awards and rewards that will gift your child tokens and tickets, depending on their accomplishments. It's also fun to see how the children work every day towards achieving a visit to Chuck E. Cheese's using the calendars.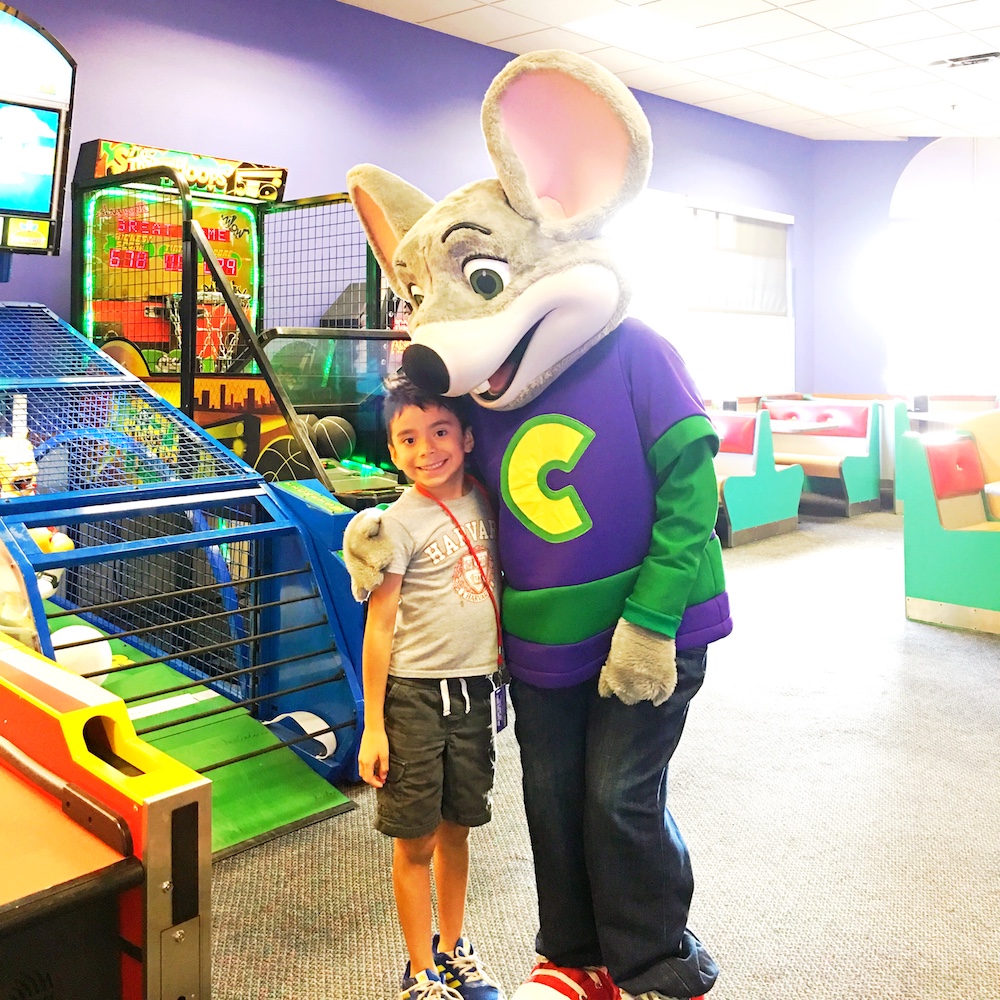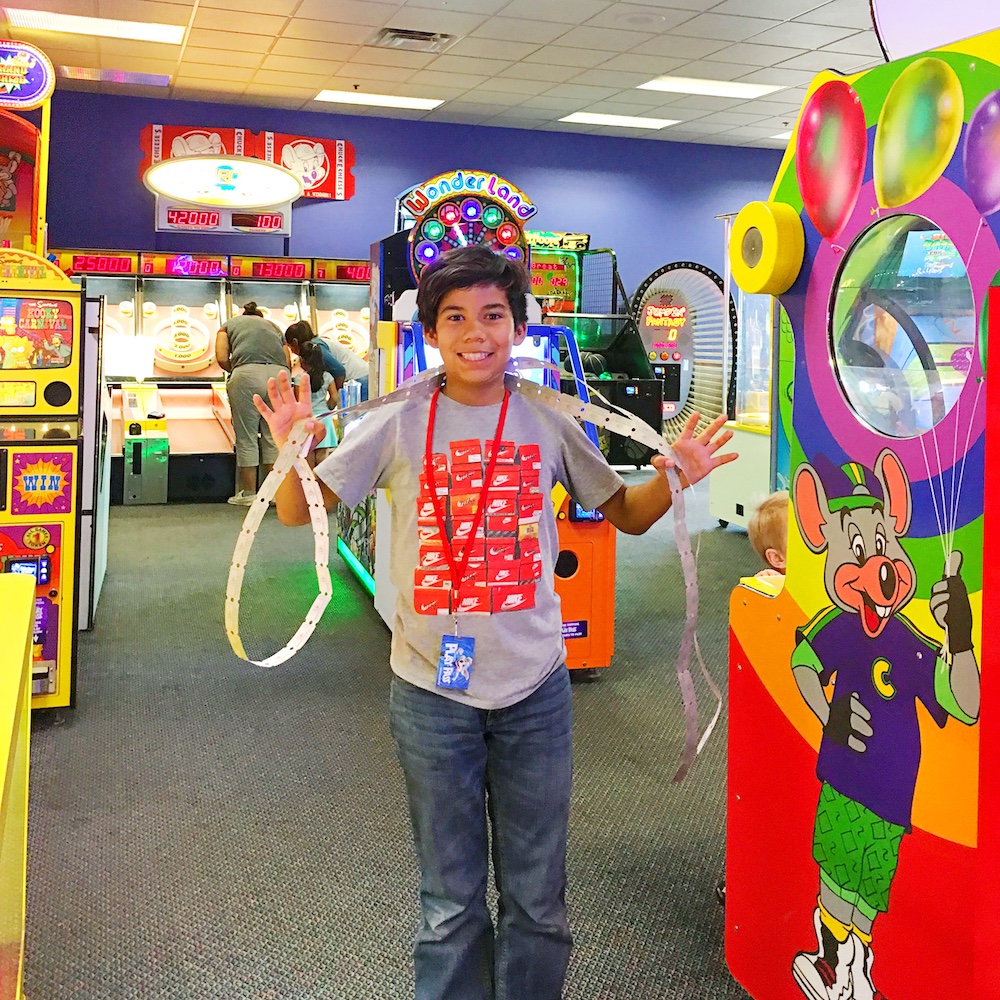 Monthly deals
Chuck E. Cheese's also gives their guests a chance to receive 50 FREE tickets during Chucktober (October 1st through the 31st)! No purchase necessary. 50 tickets are awarded per child wearing a costume. Children can also print and do the weekly activity sheet for 5 FREE points to celebrate Chucktober.
RELATED POST: What you need to know before planning a Chuck E .Cheese party
Coupons
Coupons are available on the Chuck E. Cheese's website. One thing to note – each coupon can be used for up to four times in the same transaction!!! This saves you tons of money, especially with a large group.
Have dinner at Chuck E. Cheese's
Some parents take their chiclets to Chuck E. Cheese's to play… I take mine to play AND eat. Chuck E. Cheese's revamped their menu a few years ago and now they added even more new items and parent-friendly menu items, including gluten-free and thin & crispy pizza crust. They've also added delicious specialty pizza flavors including fan favorite Cali alfredo (includes spinach, creamy alfredo sauce, sausage, mushrooms and chicken), BBQ chicken (includes BBQ sauce, chicken, red onions and green peppers), Veggie (MY favorite) and classic pepperoni.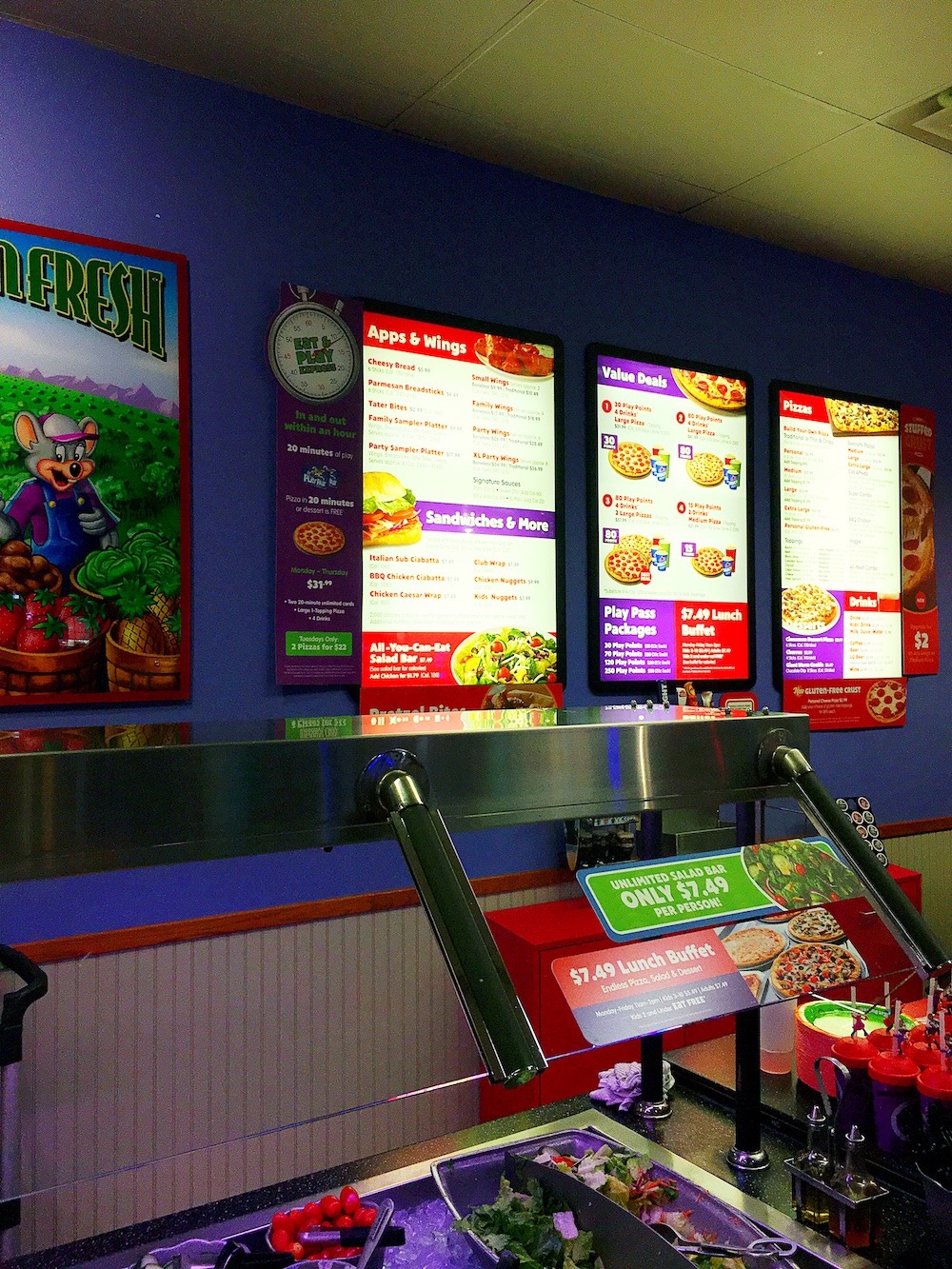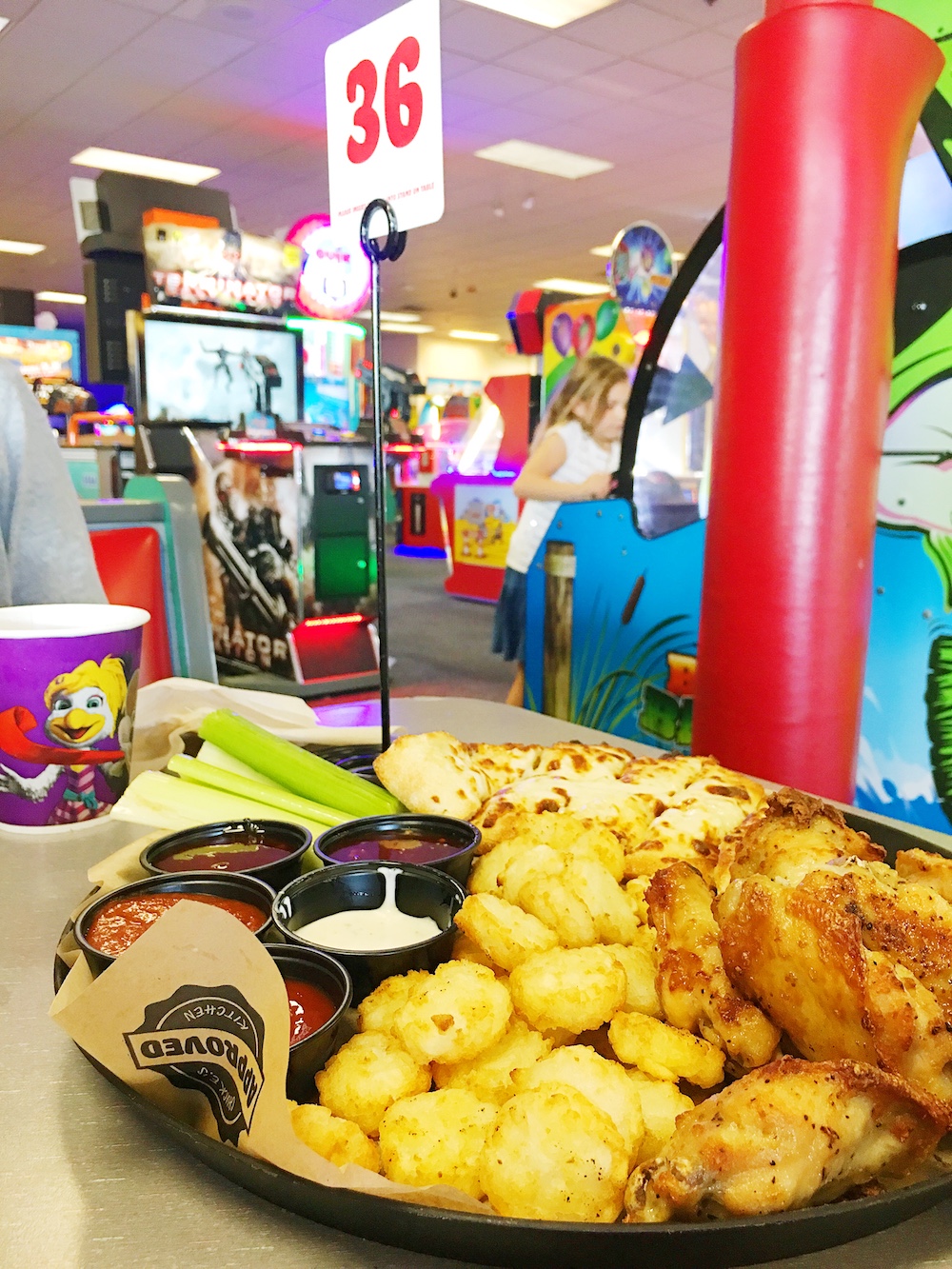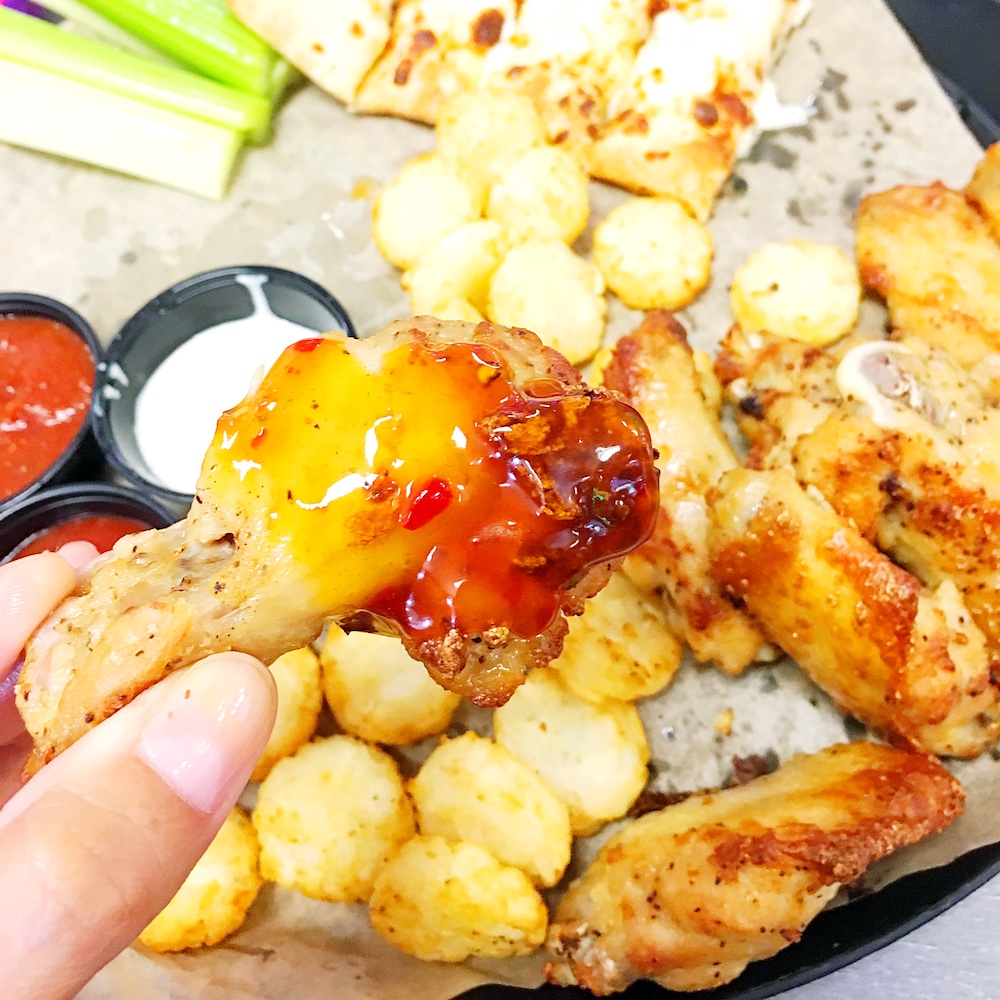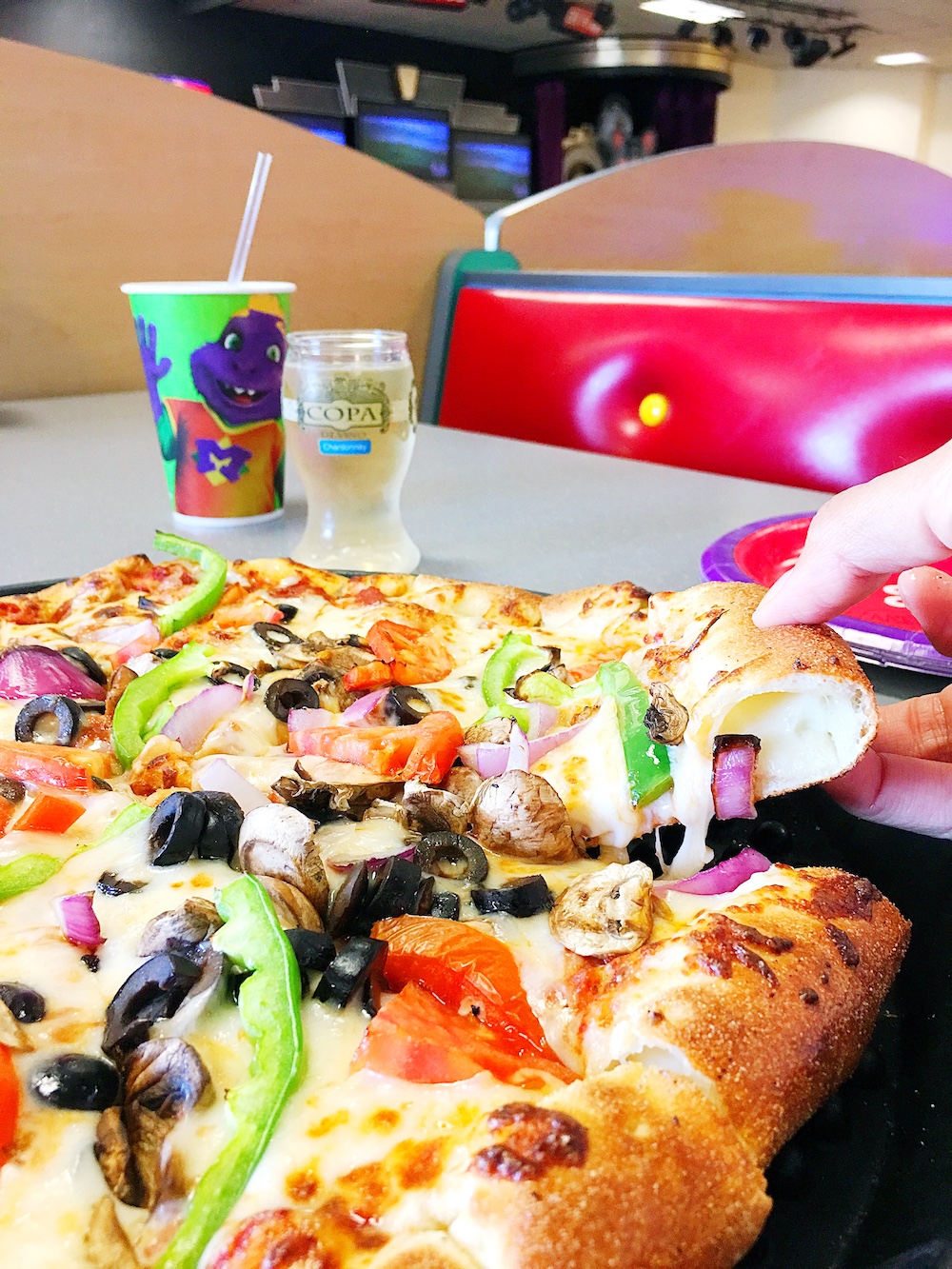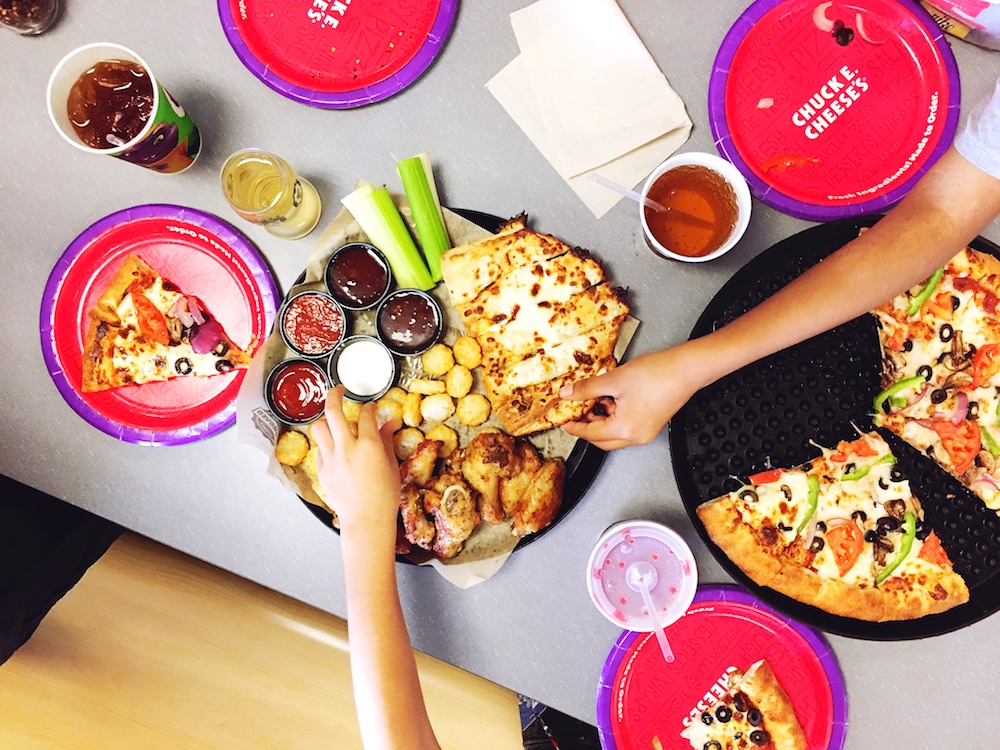 And did I mention that they offer stuffed crust pizza now too?!! In addition to pizza, Chuck E. Cheese's also offers other food items such as traditional and boneless wings, wraps, cheesy bread, pretzel bites and an endless salad bar and more. After your meal, splurge on one of their new dessert offerings include cinnamon dessert pizza, churros and a giant warm, chocolate chip cookie. Visit Chuck E. Cheese's now through December 31, 2017 for a returning fan favorite – the Mac Cheesy Pizza – featuring creamy cheese sauce and elbow macaroni—all smothered in melted, bubbly Colby and mozzarella cheese.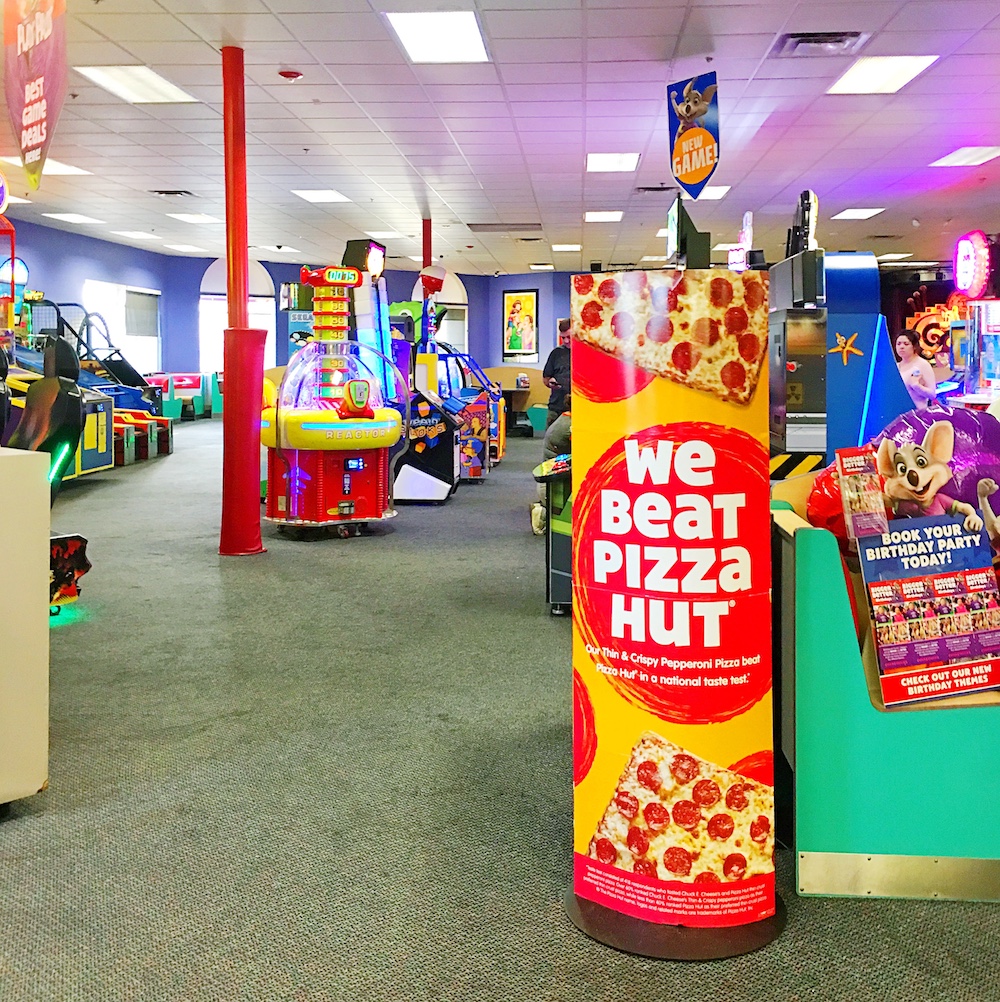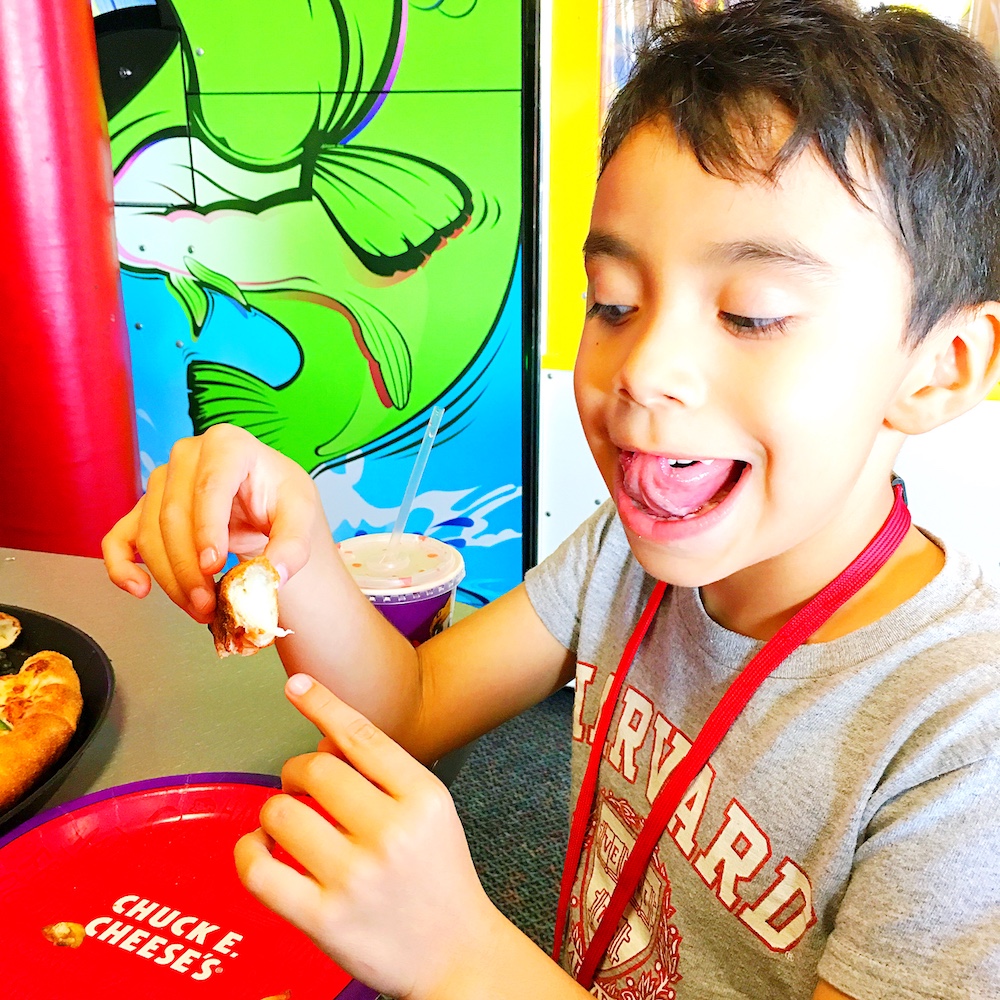 And if you haven't tried their pizza in a while – you NEED to do so on your next visit. Why? Because Chuck E. Cheese's beat Pizza Hut in a nationwide blind taste test… AGAIN!!! It's seriously super delicious.
Date night at Chuck E. Cheese's? Yes, it can be done.
You know how sometimes you want to go out with your guy/girl… but just can't because you can't find a baby-sitter or it's just too much work? Well, let me tell you that you can do a date night at Chuck E. Cheese's, and bring the kids along too! Chuck E. Cheese's has some very adult menu items like beer and wine (at great prices too!) and they offer coffee too!!! Plus, you can hook on to their free WiFi and hang out and watch a show or something while the chiclets go crazy on the arcade games. Take a walk around the floor and have some friendly competitions at skee-ball, or partner up on Fruit Ninja. I didn't think I'd ever see myself doing date nights with the Hubster at Chuck E. Cheese's – but let me tell you, it can be done.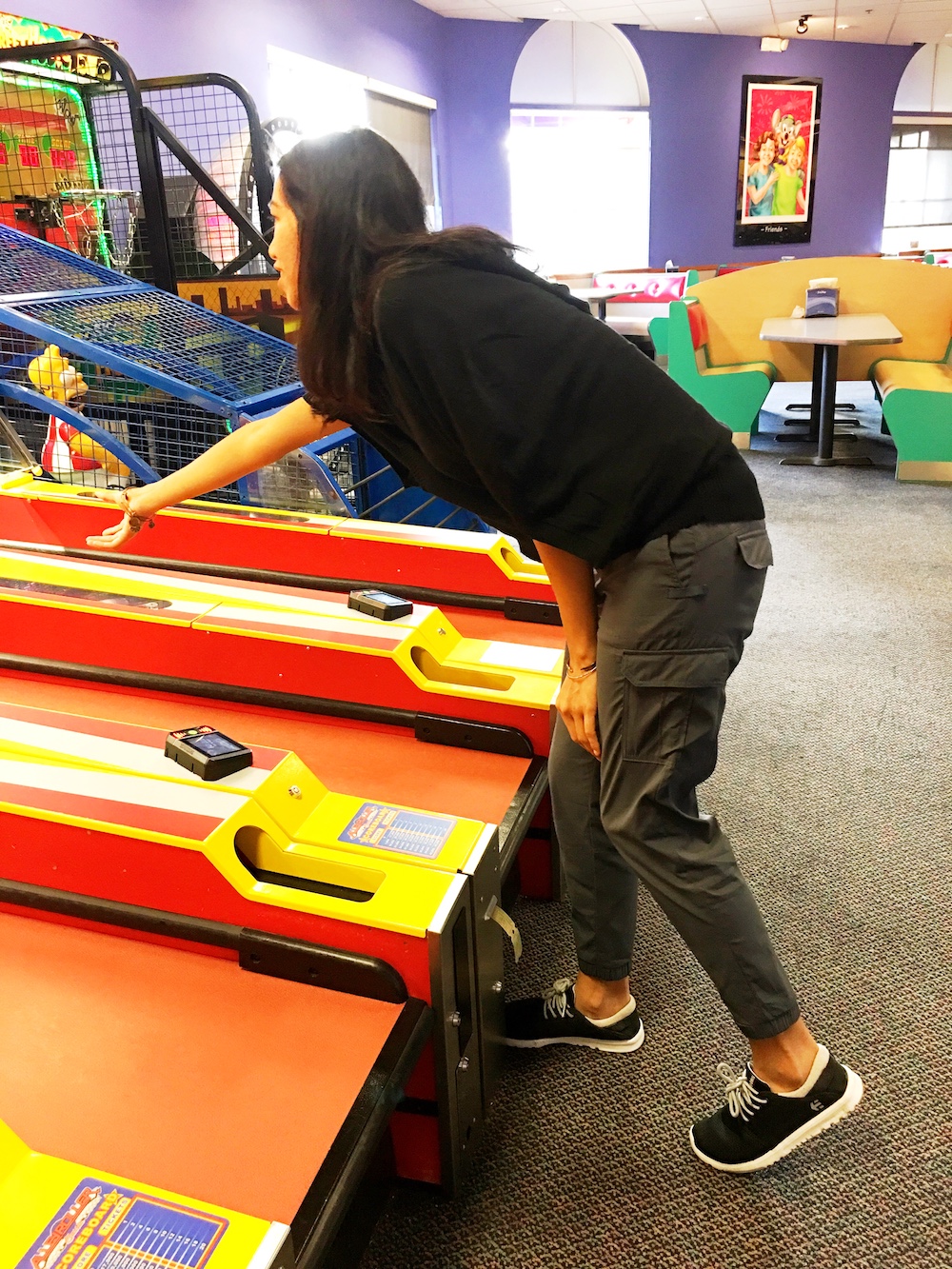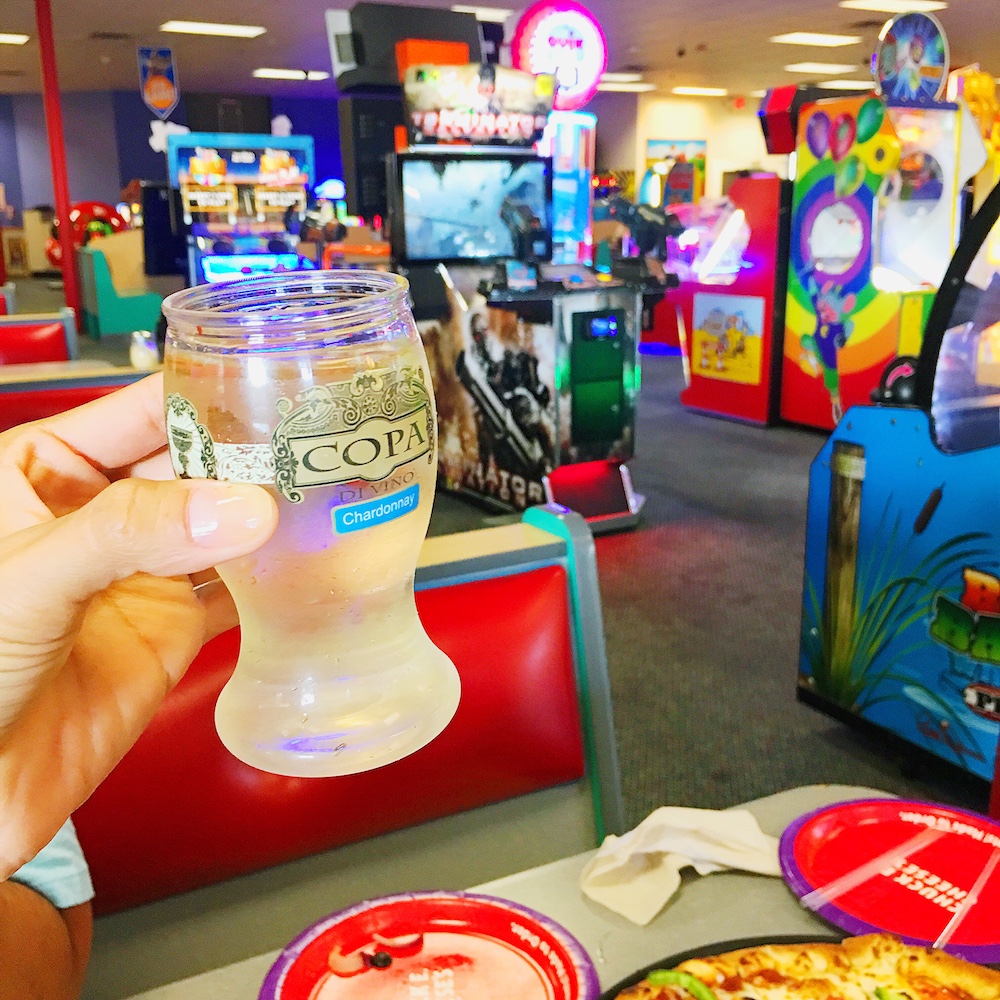 Be prepared.
Bring along a few items to make your visit a breeze. This is what I bring along:
Lanyard or wristband for the Play Pass. This way, the chiclets won't have to carry them around in their pockets and potentially lose them. Also, a Sharpie to write their names on their cards.
Small bag or drawstring backpack for their tickets. You can purchase a bag at Chuck E. Cheese's, but bring your own to save money.
Dress comfortably, and if you really want something specific to focus, it's long shirts. You'll feel a lot more comfortable than if you're constantly having to pull down your shirt.
Use the sanitizing stations liberally, or bring along your own sanitizer. It'll make you feel so much better if they're constantly cleaning their hands.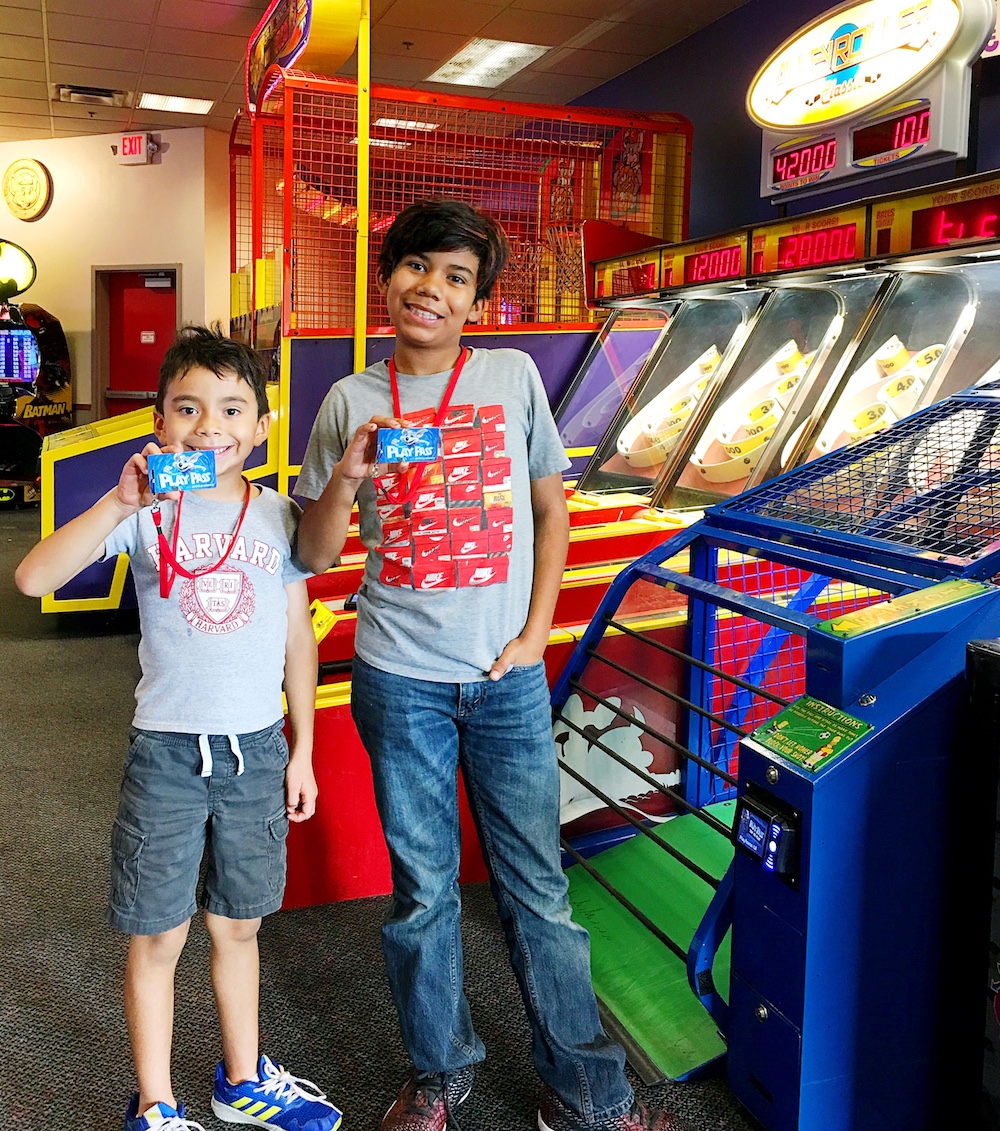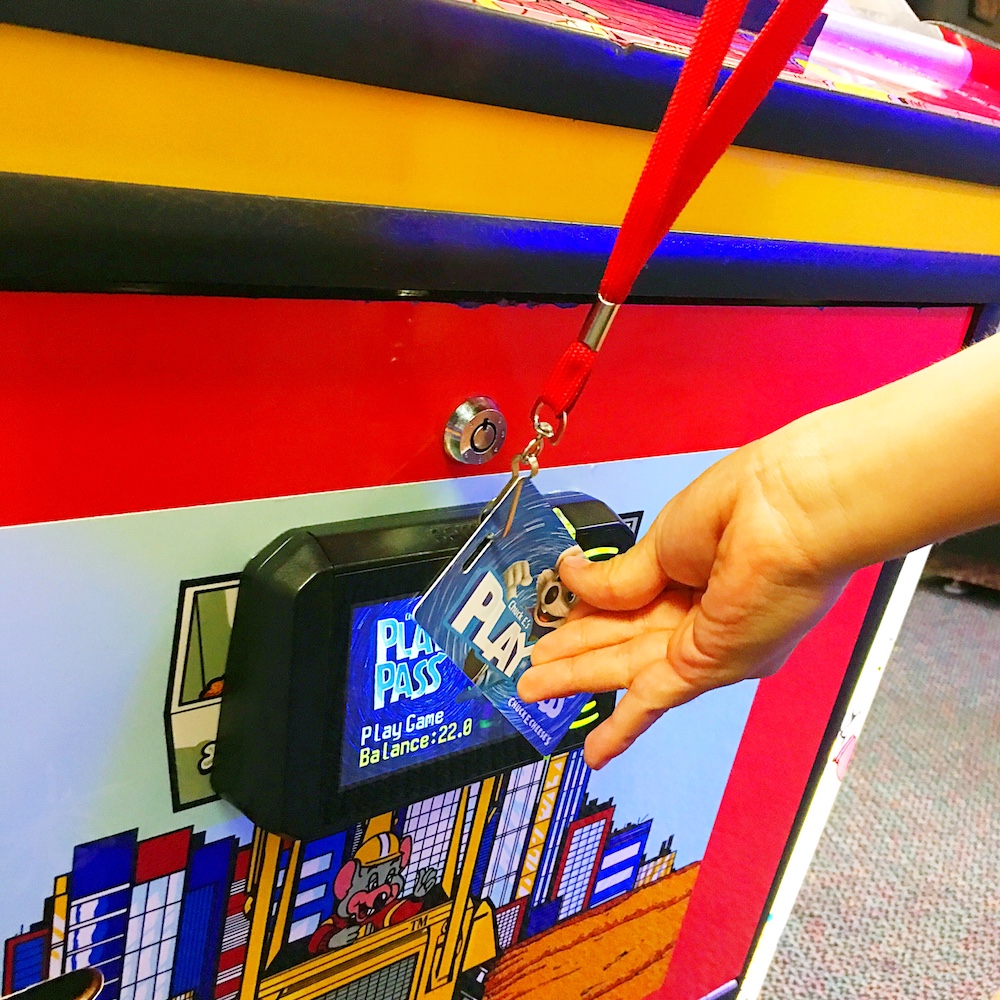 And there you have it – 5 hacks that will make your weekday visit to Chuck E. Cheese's a breeze and stress-free.
Stay updated on what's going on at Chuck E. Cheese's and their rotating deals by visiting their website and social channels.
Do you have any helpful tips that will help make a trip to Chuck E. Cheese's better? Please leave a comment and share!
Originally published on October 2, 2017. Last Updated on September 11, 2018 by Pattie Cordova