Holidays
Enter the #MyHouseIsMyStadium sweepstakes!
I didn't grow up watching soccer, but once I got married to the hubster I realized that my suegra was a huge soccer fan. So now, even though I really don't get the rules and all, I watch it. I love the camaraderie amongst fans, and amongst strangers, and I love being able to celebrate with a fiesta every time there's a soccer game on. I've even sponsored my nephew's fútbol team so he and his friends can grow up playing the game. On the weekends, I try my best to catch his games too. It's a ton of fun to get into the game, especially when I can see their love for it.
So with the soccer games in full effect, there are so many promotions out there that I've been telling my suegra and nephew about – including the Orgullosa contest. It's the one where fans can win a TV, XBOX1, sound system and lots of P&G products! I've entered, and you can too – the contest ends July 15, 2014.
To enter the #MyHouseIsMyStadium sweepstakes, just hop on the Orgullosa Facebook page and follow the prompts. And if you win one of the prize packs – I would love to hear about it! It would be amazing if you won. ¡Buena suerte!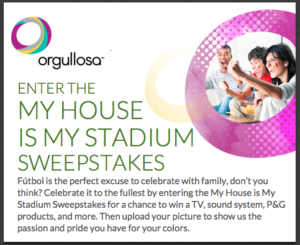 This is not a sponsored post. I received product to facilitate this post. All thoughts and ideas remain my own. 
Originally published on July 8, 2014. Last Updated on September 14, 2014 by Pattie Cordova