The much anticipated LEGO Batman 3: Beyond Gotham hits stores across the United States on Tuesday, November 11, 2014. In LEGO Batman 3: Beyond Gotham, the Caped Crusader joins forces with the super heroes of the DC Comics universe and blasts off to outer space to stop the evil Brainiac from destroying Earth. Using the power of the Lantern Rings, Brainiac shrinks worlds to add to his twisted collection of miniature cities from across the universe. Now the greatest super heroes and the most cunning villains must unite and journey to different Lantern Worlds to collect the Lantern Rings and stop Brainiac before it's too late.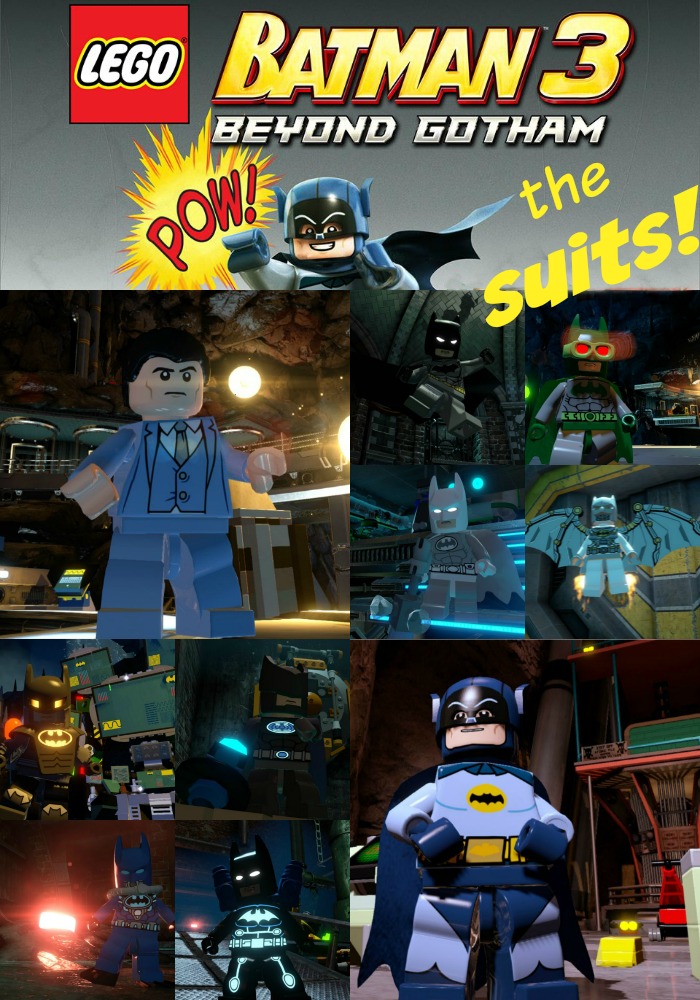 The kids have been asking for this game since I first told them about it back in July. It's going to be a super hot game, just in time for the holidays too. I think my favorite part of the game will be seeing LEGO Batman in his different suits – especially his throwback 1966 Batman suit!
Get a closer look at 10 of the bat suits that will LEGO Batman will change in to throughout the game!
Bat Suit
This ultimate super hero ensemble features a weighted cape and a cowl outfitted with night-vision technology and communications arrays. The utility belt also contains an arsenal of crime-fighting gear, including various types of offensive Batarangs.
Bruce Wayne
Keeping your super hero identity a mystery requires the need for the perfect alias (and alternate wardrobe). Bruce Wayne is just the man for the job.
Sonar Suit
The sonic pulse emitted through Batman's sonar suit ensures nothing will get in his way of saving the galaxy!
Space Suit
Batman's space suit is equipped with a jet pack for nimble space flight and hard-to-reach areas. Nothing's out of reach when the Dark Knight dons this guise!
Electricity Suit
With immunity to electricity, this suit gives Batman the ultimate defense. Need a charge? Simply take it to the closest electric current and give your crime fighting a jolt!
Scuba Suit
A scuba suit in space? Batman always comes prepared. Equipped with built in swimming and diving capabilities, this suit is the perfect companion when things start getting a little wet!
Sensor Suit
Complete with stealth mode and X-ray vision, Batman's sensor suit will show you the way when the path is unclear!
Arctic Suit
Those pesky villains are sure to stop, or should we say freeze, when Batman dons his arctic suit with Freeze Gun accessory.
Power Suit
Giving Batman the power of super strength and explosive rockets, this armor allows our Caped Crusader to take care of anything that gets in his way.
'66 Batman Suit
Celebrating Batman's 75th anniversary wouldn't be complete without 1966 Batman. Voiced by the legendary Adam West, LEGO Batman 3: Beyond Gotham gives players a blast from the past with the game's 60s mode.
Additional game features
For the first time ever, battle with Batman and his allies in outer space and the various Lantern worlds including Zamaron and Odym.
Play and unlock more than 150 characters with amazing powers and abilities, including members of the Justice League, and BIG LEGO Figures such as Cyborg, Solomon Grundy and more.
Surprising disguises, Brainiac's mind control ability, and the power of the Lantern rings bring a whole new twist to characters you thought you knew.
Access Batman's training modules on the Bat Computer and take part in various challenges including battle arenas, races and detective mazes.
Visit the Hall of Justice, the Batcave, and the Justice League Watchtower to access shops, trophy rooms, and the hero and vehicle customizers.
Visit LEGO.com for more information on LEGO Batman 3: Beyond Gotham.
Originally published on November 10, 2014. Last Updated on August 9, 2017 by Pattie Cordova