Family
The Modern Latin Family
[disclaim]This is a compensated campaign in collaboration with Johnson & Johnson and Latina Bloggers Connect.[/disclaim]
In today's world being a "Familia de Hoy" (Modern Family) is to be a united loving family that cherishes and respects our abuelitos, or elders. Nowadays it is necessary to keep our culture and moral values growing strong with our children. A familia that teaches their young, the values of love, kindness, and humility create better adults for the future. Living in America, it is difficult to maintain one's culture and family values. As a parent, it is our responsibility to teach our children those values and the importance of unity in a family, in order to prevent our children losing them as they grow up.

The modern woman isn't the working woman anymore. Recently, I've noticed the increase of women leaving the workforce to be stay-at-home mothers. In my opinion, that is the best gift a mother and wife can give to her family. Being a homemaker is not just simply staying home; the homemaker is the foundation of her family's home. She provides strength and support to her husband and children. There's a Spanish saying that goes, "If you want a home, seek it in a woman." Today's family man is not just simply being the provider; he is a father, friend, and son. Even though he works all week and gets home tired, his spare time is dedicated to his wife and children. This in turn shows his children the importance of being a provider and a family man. His children will grow up with the image of a loving and caring father that gives them time no matter how his day has gone.
If one is fortunate to have parents still living, it is wonderful to teach our children the importance of respecting and loving our elders. Taking the kids to visit the abuelitos every weekend is a wonderful way of showing them the importance of family unity. It teaches them that it is important to always love, respect, and take care of our elders regardless of the circumstances. Having family reunions every weekend, loving, understanding, and supporting one another also creates a strong family bond.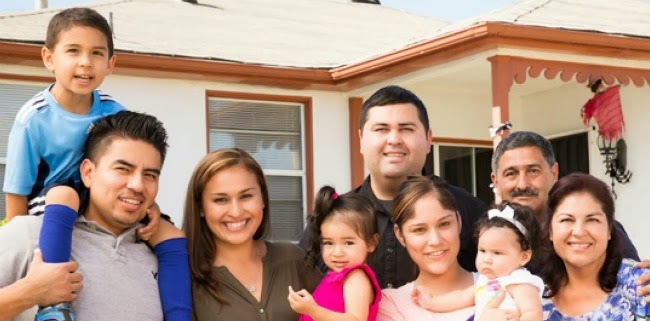 So when we find a family that holds those values of love, kindness, and family unity; they need to be praised and congratulated for their efforts. That family deserves to serve as a role model to all of us because it's great to see a united and loving family.
Johnson & Johnson and Univision recently launched a campaign to find an authentic, modern and active family to become "La Familia de Hoy." Let's support in choosing one of three families to be chosen as Johnson & Johnson's 2014 spokesfamily by voting for one of the families on Univision's website. Who will you vote for?
[SPANISH VERSION]
"Familia de Hoy"
Ahora en día La Familia de Hoy para mi es una familia unida y que honran a los abuelitos. En hoy día es necesario mantener nuestra cultura y valores morales vivas. Una familia que les enseña valores de amor y caridad a sus hijos, crea unos hijos responsables y respetuosos. Un día esos niños se convertirán en adultos responsables de la sociedad. Viviendo en América es difícil mantener los valores familiares y cultura de uno. Uno como padre, es responsable de seguir enseñando esos valores a nuestros hijos y la importancia de una familia unida para que no se pierdan esos valores.

En hoy día, se está viendo un aumento de mujeres que están dejando de trabajar para regresar a casa. En mi opinión es el mejor regalo que una madre y esposa le puede dar a su familia. Una ama de casa no es simplemente una ama de casa, ella es la fundación de su hogar. Ella es el apoyo y fortaleza de su esposo e hijos. Como el dicho, "Si familia quieres ser, por parte de la mujer."
También es importante el papel del hombre de hoy. El hombre de hoy no solo es el proveedor para su familia, él es un padre, amigo a su esposa, e hijo. Aunque el hombre trabaje toda la semana y este cansado, en su tiempo libre se los dedica a sus hijos y esposa, ese es ser un hombre de hoy. Así los hijos crecen con ese valor de unión familiar y con la imagen que un padre aunque este cansado siempre les brinda su amor y tiempo a ellos.
También si uno es afortunado de tener sus padres, es lindo que uno les demuestre a los hijos como honran a sus abuelitos. Visitar a los abuelitos cada fin de semana fortalece la unión familiar y el valor de cuidar a nuestros viejos.
Teniendo reuniones familiares cada fin de semana y dándose amor, comprensión, y apoyo uno hacia el otro fomenta un vínculo familiar fuerte.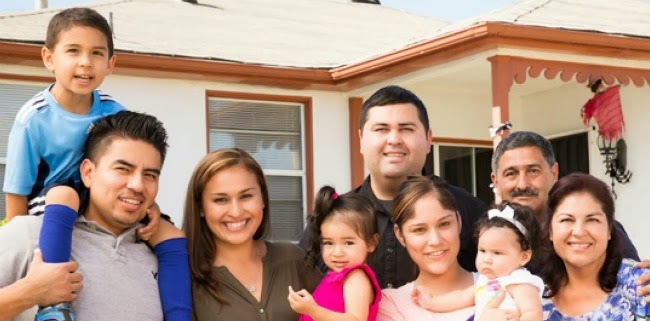 Cuando se encuentra una familia que tiene esos valores que une a la familia y honran a sus padres es magnífico. Esa familia sirve como un ejemplo para todos los demás. Esa familia demuestra que bonito tener un hogar unido y lleno de amor. Debemos destacar las familias que demuestran la importancia de la familia unida.
Johnson & Johnson y Univisión han lanzado una campaña para encontrar una familia autentica, moderna, y activa para ser "La Familia de Hoy". Ay que apoyar en votar en escoger unas de las tres familias para que sean elegidos como la "La Familia de Hoy". Vayan a Univision.com y elige a tu familia favorita. Quien es tu familia favorita?

This is a compensated campaign in collaboration with Johnson & Johnson and Latina Bloggers Connect.