[disclaim]Guest post by Justine Burgess[/disclaim]
It's here! It's here! Summer is here! Ok, it might not be June yet, but it's close enough. Memorial Day weekend kicks off the season of roadtrips and air travel, and with that in mind, we have some packing tips for you to help keep your adventures in the budget.
Most airlines charge for any checked bags, and some for carry-ons. Overweight and multiple bag fees can eat up a healthy portion of your travel budget, and while I agree that you can never have enough shoes, you don't need to bring them all on your trip. Careful packing will eliminate issues that end up costing you cash. Here are some of our favorite hints for packing that suitcase and getting out of town (on the road or in the air), while conserving your hard-earned money.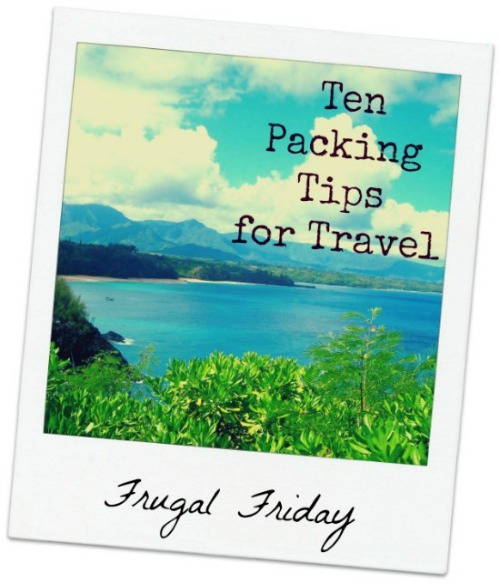 Lay out the clothes you want to take a couple of days before. Then, go through and figure out what you'll ACTUALLY wear, and put the rest back. Do this a few times before you finalize. Certain pieces get a lot more wear than others.
Make sure everything coordinates with other pieces! That Pucci blouse you love is gorgeous, but if you pack it with no outfit in mind, it's wasting space and weight. Don't pack something on the off chance you *might* need it.
Wear mostly neutrals- and dark colors work best. Neutrals almost always work together, and dark colors will be less likely to show dirt, extending the wearability. Bring a few brights for pop.
Roll your clothes instead of folding! Folding wrinkles and creases them. They also take up less space when rolled. I even roll them, put them in ziplock bags, and then crush the air out to further maximize space.
Bring basic cosmetics only- little all-in-one travel kits work great. Don't overload on ten eyeshadows and lipsticks. Stick with a clean look that works for you and vamp it up with eyeliner. My travel kit contains one lipstick, one gloss, a liner/brow stick, mascara, mineral concealer, and rose brown shadow that doubles as blush.
Put all your cosmetics and toiletries in plastic zipper bags! In fact, double bag them. If they burst due to depressurized cargo holds or clumsy bellhops (or when you, like me, drop your bag in the middle of the Arizona desert out of the back of an SUV and your foundation bottle breaks), your clothing will at least be safe.
Go light on accessories. They weigh a ton! Bring one or two great ones that will work with all your outfits.
If you're a woman and you're flying, and you just can't leave home without certain things- bring a really big purse. Most airlines still allow "personal items" for free. My mother managed to pack 4 pairs of heels, 2 other purses, jeans, makeup, and a book into one large hobo bag – her "personal item"- on two different airlines. Score! (Side note- she also wore 2 pairs of pants, 3 shirts, two jackets, and two belts- she was warm, but at least she had her outfits!).
Don't bring more than three pairs of shoes if you can avoid it. Tennies, sandals, and heels will keep you ready for most adventures. It's torture leaving behind those studded booties, I know. Although, you could use my moms little trick.
If you can, commit to just a carry-on (and your "personal item", of course!). It will save you a lot of money, and likely a lot of headaches. You can always roll a small duffle into your carry-on in case you bring home more than you left with, and check one bag when returning. I managed to traipse around Singapore, Malaysia, Hong Kong, and Japan for a month with only half my carry-on filled, and came home with loads of remembrance items. It can be done.
Best idea? Take half of what you originally set out. On a roadtrip, you have more leeway, but still go light. You have to put it all back in the car- repeatedly. Make sure you still have weight wiggle room in your bag if flying. You know you'll buy stuff, and trust me, it's more expensive to ship the twelve pounds of lotion, knick knacks, and shells home than it would have been to pack lightly.