Family
The one thing you should do for your child this week
In true transparency, I will not talk about a product that I don't already use, have used or want to use. Sometimes, these products are more serious in nature, like the ScholarShare College Savings Plan.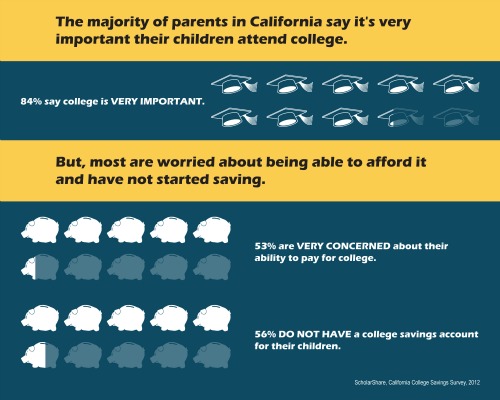 As a mami, there are things that I found myself taking extra-serious once the idea of kids entered the picture. My number one thing that I very clearly expect from my kids is getting a higher education – beyond high school. As the first college graduate in my family (I'm talking first EVER), I battled ideas and stereotypes that my kids, thankfully, won't have to.
Few of you know that I married right out of high school. My dad, once he found out that I was going to college after high school, asked, "Why?" I had to explain to my dad that just because I was married didn't mean that I would stop going to school. And even though I don't hold a full-time job right now, my college education has come in handy.
However, even if I went and got married right after high school, I won't support my kids doing the same thing. Number one reason? It was really, really hard getting through college. Not because of the school work, but because I had to pay my entire college tuition out of pocket. As it turns out, being married didn't allow me to garner any financial aid (besides financial aid disguised as loans). I knew that I wasn't going to get any loans and my parents never set aside money for me to go to college so I ended up working full-time, from 8 a.m. to 5 p.m., and then going to college full-time afterwards. So while other kids would hang out at the local college hangout, I was heading to work because I had to pay for the entire tuition without any government or parental support.
I'm happy to say that I made it through college in four years. I took a full coursework every semester, and even did some summer school as well. I saved money my first two years by going to community college. I saved even more money by buying used school books. In the end, going to college full-time while working a full-time job made me even prouder of my accomplishment, but even so, I do not want my kids to have to go through it. This is why the second the hubster and I found out that I was pregnant, we made an appointment with our financial advisor to set up a college savings plan.
Both of our kids have 529 plans (aka college savings plans). We set them up through our financial advisor because before last week, I thought that was the only way that they could be set up. What am I doing this week after learning about ScholarShare College Savings Plan? Transferring the kids' 529 plans to ScholarShare College Savings Plan to increase the amount of money that we have going into their account. You see, ScholarShare doesn't charge the extra fees that other 529 plans charge and so more of the money that is put into the kid's accounts every month will go into their savings account, instead of the company managing the account.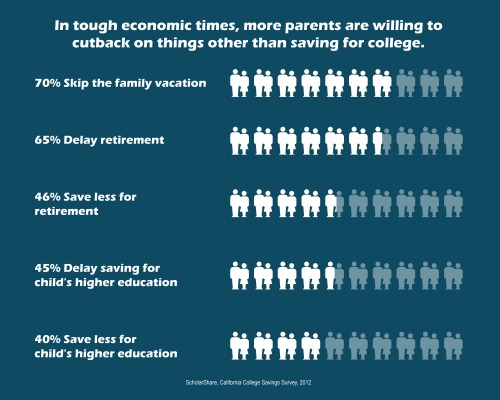 I had the opportunity to have dinner with the folks from ScholarShare last week and learned a bit more about their new features. I'll give you a quick rundown:
The new ScholarShare plan significantly reduces fees, expands the investment lineup, and offers online and mobile tools to make California's 529 plan more accessible and easier to manage.
The minimum initial contribution to open an account is now only $25, down from $50 a year ago.
Under the revamped plan, fees will be reduced by approximately 30 percent, making ScholarShare one of the lowest cost 529 plans in the country.
The annual asset based management fees now range from 0.18 percent to 0.62 percent, vs. 0.25 percent to 1.06 percent with old plan.
4 additional investment portfolios (15 to 19), giving account holders more options, depending on their savings goals and risk tolerance.
You can also compare different college saving choices to make the wisest selections for you and your beneficiary.
The ScholarShare website will feature informational tools to help California families better prepare a college savings plan to meet their specific needs, including a new Risk Tolerance Questionnaire.
For the on-the-go customer, ScholarShare launched a series of mobile-friendly services, including a mobile site with full account management capabilities and a mobile app called College Savings Planner, that allows customers to keep track of their college savings goals and plan to help meet them.
Setting up a 529 plan is super easy with ScholarShare. You can do it online via their website, ScholarShare.com, or you can send in a form. All you need is $25 to start and then you can choose to have money automatically transferred to the plan every month.
If you're thinking of having a kid, already have one (or more), or even if all you have are nieces and nephews at this time, I highly recommend that you set up a 529 plan for them. Anyone can open up a college savings account. It's one of those things that you'll never regret doing.
Find out more about ScholarShare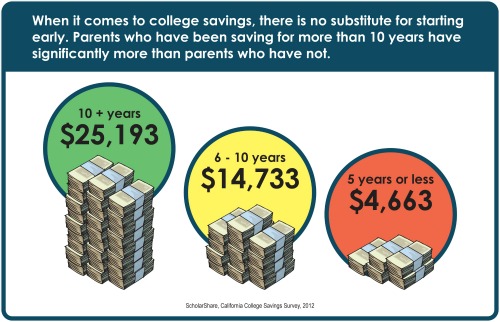 [disclaim]This is a sponsored post from One2One Network and Scholarshare. All opinions stated are my own.[/disclaim]