[disclaim]Contributing post by Justine Burgess[/disclaim]
Have a budding scientist or marine biologist, or just know someone that loves sharks and marine life? We have a fantastic book they'll be thrilled to have, filled with loads of information and super-cool facts about the oceans most-feared and misunderstood creatures – Sharkopedia!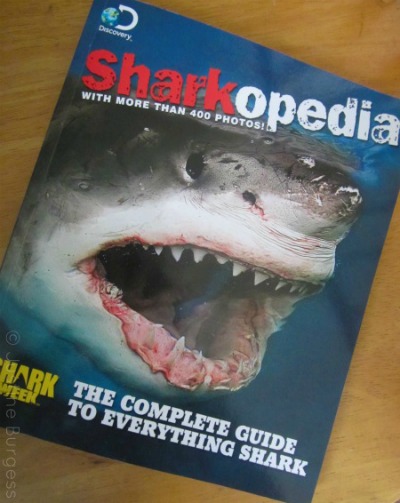 When I was a kid, the movie "Jaws" had a lot of people worried about heading to the beach, and the only mental image most people had of sharks was a gaping mouth full of teeth surprising swimmers from below. For years after the movie, I looked for fins rising above the surf at the California beaches I frequented. The new book Sharkopedia: The Complete Guide to Everything Shark mostly dispels this archaic imagery and gives an excellent overview of different types of sharks, just in time for the Discovery Channels "Shark Week" (it begins Sunday August 4th on the Discovery Channel).
Recommended for ages 8 and up, but really suitable for all ages, this 192-page large paperback book is a fantastic resource for anyone, kid or adult, that has ever wanted to learn more about sharks. It covers shark anatomy and senses, habitats, species, feeding patterns, behavior, life cycle, and much, much more. Over 400 gorgeous full-color photos help to illustrate the contents. This book contains details on almost 500 species of shark, giving a glimpse into the undersea life of some of the oceans largest predators, eradicating some myths and containing numerous little-known facts about sharks that will help people to understand them more readily. It even has a section on extinct species, the evolution of sharks, and fossil remains.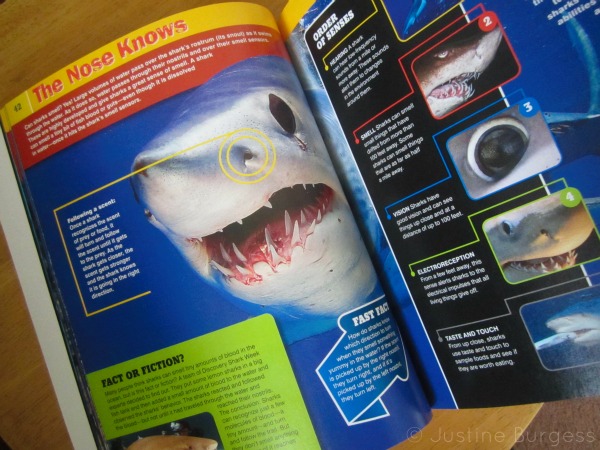 Commentary and personal stories from Marine Biologist Andy Dehart (he has over 20 years experience working with sharks and other aquatic life, and is a "Shark Week" expert) are interspersed through the pages. It answers questions that a lot of people might have, like "Do sharks sleep?" and "Which shark can live over 200 years?". Stories of human encounters with sharks and shark-attack survivor stories are also discussed. Attacks don't happen often, statistically speaking, but for me it was good to know that over 80 percent of people bitten by sharks live to tell the tale.
Sharkopedia has enough information to keep even the youngest reader interested for hours, as evidenced by my husband and 5-year-old son reading sections before bedtime the other night. Two hours later, they were still reading, too fascinated to put it down. And no, it didn't lead to any bad dreams. In fact, my little guy now wants to be a paleontologist AND a marine biologist. He said that way, he can study extinct sharks.
Title: Sharkopedia: The Complete Guide to Everything Shark
Publisher: Time Home Entertainment in conjunction with Discovery Channel
Publication Date: June 2013
Cover Price: $19.95
Available: Online at www.sharkopedia.com and wherever books are sold.
[disclaim]This is not a sponsored post. I received a copy of the book to facilitate this review. All thoughts and opinions remain my own. And the book really is super-cool. [/disclaim]