Living like La Familia de Hoy
This is a compensated campaign in collaboration with Johnson & Johnson and Latina Bloggers Connect.

In December, we wrote about Johnson & Johnson Family of Consumer Companies looking for La Familia de Hoy. Fast forward to now and we see that the Jiménez family, Juan, Biviana and their three children: Elisa, Diego and Benicio, are now the official modern, active, multicultural family – all of which represent the values that Hispanics relate to and care about.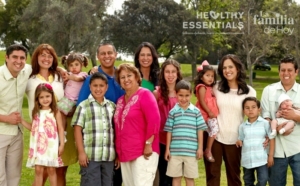 I think la familia Jiménez is just like mine. They are constantly looking out for each other, they babysit each other's children, attend family gatherings on special occasions, get together for weekend BBQ's or go to Juan's boys' soccer games. Their commitment in life is to pass on their traditional values and Hispanic roots in the younger generation.
I grew up as a first-generation Mexican-American without any family nearby. We didn't do the family gatherings, sleepovers, etc. After marrying the hubster, I threw myself into a new way of life and now we have at least one nephew/niece sleeping over on the weekend, we have constant gatherings and nothing happens in la familia that isn't shared with others. We watch each other's kids, pick them up from school and help wherever possible. I'm really happy to be giving the kids the type of childhood that I always wanted, and I'm happy that Johnson & Johnson has chosen a family like mine as La Familia de Hoy.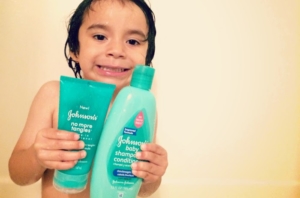 La familia Jiménez, is also like mine in other ways. They're also big Johnson & Johnson users! In each of our homes, you'll find an array of products including Listerine Cool Mint (the only flavor that the hubster likes), Johnson's Baby Shampoo & Conditioner and No More Tangles Leave-in Conditioner (my baby uses this every single day), and of course, Lubriderm Daily Moisture Lotion to keep our skin moisturized.
We're especially big fans of the shampoo & conditioner combo along with no more tangles. My youngest has thin hair, the complete opposite of my oldest. He also has shoulder length hair and so it gets tangled every day. We do our best to keep tangles at bay with Johnson's baby shampoo and conditioner along with a leave-in conditioner after his daily shower. However, for best results, it's recommended to also use Johnson's no more tangles detangling spray to unlock wet and dry hair.
It will be fun to see what comes next for the Jiménez family throughout the year. I know that whatever they're doing, we'll be living parallel lives over here.
This is a compensated campaign in collaboration with Johnson & Johnson and Latina Bloggers Connect.