Celebrate
Letting go of my oldest boy, and getting closer to my youngest
[disclaim]This is a part of a compensated campaign with Latina Mom Bloggers and Huggies. However, all opinions expressed are my own. [/disclaim]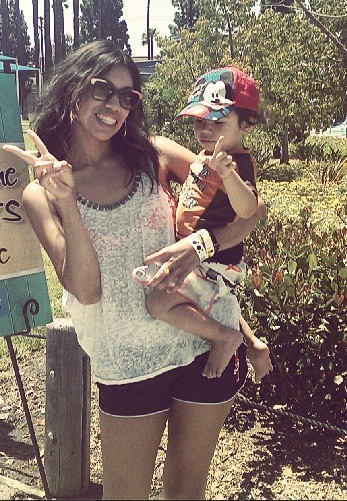 My five year old started school this week. It has been bitter sweet as I have seen him walk through the halls of his new school, let go of my hand and head into class with his friends, and even eat lunch with his classmates all by himself. After three and a half years of being a stay-at-home mom, it really hit me just how fortunate I have been to be able to do that. It also makes it that much harder to see him go off on his own for four hours a day.
Meanwhile, my two year old is running up and down the halls of the school, being silly as we walk back to the car every morning after dropping off big brother at school, and then just hanging out with each other at home. So although I have let go of my oldest just a little, I'm hanging even tighter to my little one. I'm going to squeeze out as much bonding as I can during the hours where it's just us two; realizing just now that it hasn't been just us two since his birth. It makes me content to know that our alone time in the morning is a gift that I have because my oldest is away at school making a mark of his own.
I'm thinking of making a bucket list of things to do with the baby during the school year. Capturing our experiences together via a journal and giving it to him once he's older. Zuleyka's second webisode in Spanish talks about how much she dances with her boy and how much he wants to keep dancing, even after she's tired. Something as small as dancing barefoot would be perfect for my buckletlist! You can see the full video here: and leave your feedback in the comment section of the video: http://www.youtube.com/watch?v=FALPi5pDleY. I'm also taking suggestions for my bucket list. Must be easy enough to do within a two hour span and suitable for my boy, who is two years old. Let me know what you suggest!
Don't forget to grab a pack of Huggies Snug & Dry Diapers with New SureFit Design and Huggies Natural Care Wipes with New Triple Clean Layers and join Zuleyka as she puts Huggies to the test. Visit 
Huggies.com/tuprueba
 for more information on the new Huggies products and follow and join in the conversation on Twitter at
@Huggies
and
#HuggiesLatino.