Enter our current contests for a chance to win. ¡Buena suerte!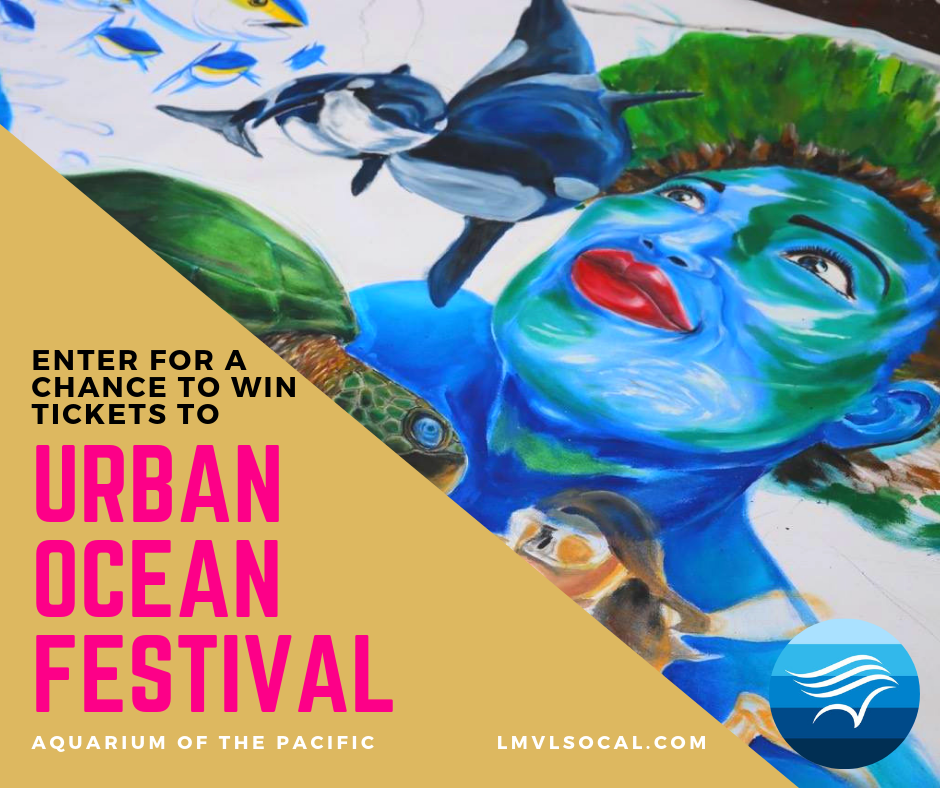 Urban Ocean Festival at Aquarium of the Pacific Giveaway
Enter for a chance to win a four (4) Aquarium of the Pacific tickets!
–> Mobile-print coupon: adults receive $10 OFF admission. Regular $29.95, just $19.95 with coupon.
· The tickets will be at Will Call only on the festival date(s) from 9:00am to 5:30pm.
· Will Call is located on the plaza in front of the Aquarium, near the ticket window. Will Call is moved inside around 4:00pm, sometimes earlier. You can go inside the Member's Entrance and ask for Will Call tickets at the info desk
· If you need help, ask the Will Call staff member to call the Guest Services Supervisor.
· Tickets are valid for one day per festival.
· Tickets for festival include Aquarium admission.
You can enter using the entry form below. ¡Buena suerte! and don't forget to share with your friends and family!
Official Rules for Contests and Giveaways
• Entrants must be 18 years of age or older and have lawful access to the Internet and a valid e-mail address.
• Living Mi Vida Loca (LMVL) team members, and friends and family of POC team members are ineligible.
• No purchase is necessary to enter or win. Only one entry per person, per household.
• In the event that an attempt is made by an entrant to damage or influence contest results by any means, Pattie Cordova, owner of Living Mi Vida Loca, reserves the right to render a contest or giveaway null and void.
• All Giveaways are selected at random through a computer randomization process, unless otherwise specified on the contest or giveaway entry page.
• All prizes must be claimed within 30 days of winner notification, or prize is forfeit to another randomly selected winner.
• Contest winners will be notified by email unless another form of notification is specified on the contest entry page.
• Prizes cannot be redeemed for cash or substituted for any other items by the winners. The winners cannot assign or transfer prize. Living Mi Vida Loca reserves the right to substitute a comparable prize of like or greater value, including cash, for any prize, for any reason.
• All winners are responsible for all local, county, state, and federal taxes on prizes based on the value of the prizes set forth.
• Odds of winning depend on the number of valid entries received.
• This giveaway is subject to all applicable laws and regulations and is void where prohibited or restricted by law, including without limitation, in jurisdictions requiring registration, filing, trust account, or posting of a bond, or any other requirements or disclosures that are not expressly satisfied by these rules. Sponsors are not responsible for typographical or other errors in the printing, offering, or administration of the giveaway, or in the announcement of the prize.
• By entering, participants represent that they are eligible, and agree (a) to be bound by these rules and the decisions of the judges, (b) to release Sponsors, their parent companies, subsidiaries, affiliates, directors, officers, employees, and agents from any and all liability for any injuries, losses, or damages of any kind caused by any prize or resulting from acceptance, possession, use, or misuse of any prize.